After the COVID-19 pandemic, many companies including govt organizations were forced to remote work and large-format interactive displays became an essential tool for the remote conference. If you're one of them and looking for the best interactive display, You've landed in the right place, this guide is all about large touchscreen monitors which are known as interactive displays.
Not only remote conferences but corporate business presentations and digital classrooms also adopt a larger touchscreen monitor for presentation and team collaborations. Modern interactive touch displays took the projector's place by storm and this trend will continue. If you're still stuck with a projector, it is high time to replace your projector with a touch interactive display.
Some interactive displays have integrated computers, allowing users to edit an existing document as well as write functionality. The built-in whiteboard features deliver a pen-paper-like writing experience. For Business users, you can draw or modify your work plan with your colleague to brainstorm ideas. Cloud integration makes document sharing simple even if you're not physically attending the meeting.
JYXOIHUB Smart Board: Dual OS Interactive Display
Jyxohub smart board houses a brilliant 20-point 4K UHD infrared touch display powered by a dual OS system. It can switch operating systems with a single button, which is nice. Moreover, there is a built-in 20MP camera and 8-array microphone for video conferencing, so you don't need to spend extra money on extra components. The integrated speakers are also powerful 2x 20W, and the overall display is sturdy.
The Android system has 4GB RAM +32 ROM and shipped with Android 11. You can install your favorite apps similar to mobile. On the side, the Windows system has a 9th generation 9300H processor along with 8GB RAM and 128GB SSD, which gives an all-in-one PC experience with this interactive display.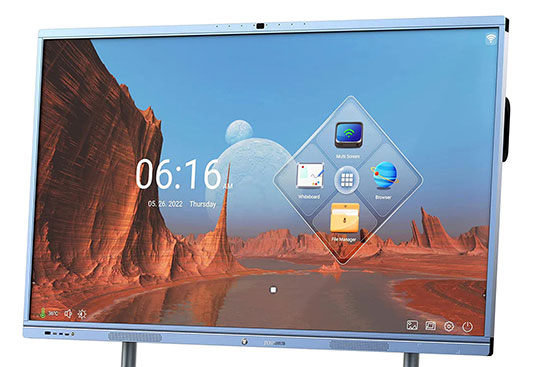 More Screen Size: 55″ | 75″ | 85″
We reviewed the 65-inch variant, but the company also offers up to 86-inch screen size. The default package contains a wall mount bracket, in case you don't want to use the stand. You'll also get a magnetic stylus, 1x regular stylus, and a remote control with the devices.
This high-end 4K IPS display supports up to 1.07B colors with 8bit+FRC in a 16:9 ratio. The color quality is excellent and bright enough for indoor use, with 300 nits standard brightness. But, as a nature of IPS screens, some IPS glow is also noticeable in very dark rooms.
This interactive display might be new, but the company offers a 3 years replacement warranty along with dedicated R&D support. The only problem is if you're outside of the USA, it is hard to find. For a similar price range, this is a much better choice than the Vibe Interactive display in terms of both hardware and software side. But Vibe has been producing interactive displays for a while now and also demands more premium than this one.
Pros
Affordable Price
Dual OS System
Built-in Webcam Mic and Speakers
Cons
Hard to find outside the USA
Vibe Interactive: Best 4K Interactive Display
Based on a customized Android OS, the 55" Inch Vibe provides an all-in-one solution for business and digital classrooms. The 55" inch whiteboard is close to Microsoft Surface Hub for less than ⅓ price. Of course, it doesn't provide all the features of the expensive Surface Hub, but a robust Android ecosystem is not far behind.
The Vibe OS contains all necessary applications for remote collaboration including Microsoft Team, Slack, Zoom, Dropbox, and Google Drive. Moreover, you can install any Google Play Store app in experimental mode.
Powered by a Rockchip 3399 processor- a combination of a Dual-core 1.8Ghz Cortex-A72 and a 1.4Ghz Quad-core Cortex-A53 chip, this machine features 4GB DDR3 Ram and 32GB EMMC storage. A Mali-T864 GPU delivers the necessary horsepower for a 4K resolution.
The standard 16:9 ratio screen comes with a moderate 300nits brightness and 60hz refresh rate. This IPS panel has a 1200:1 contrast ratio and delivers vivid and crisp images. An 8bit+FRC processor is at the heart of the color processing unit and provides 1.07b colors. The screen has an anti-glare coating to prevent reflections from the outside.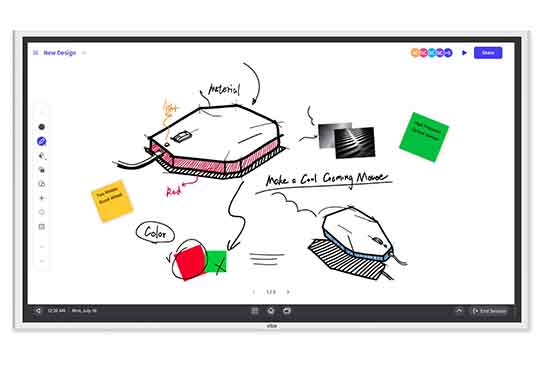 For touch functionality, Vibe uses infrared touch technology that can detect 10-point multitouch at the same time. A 3mm tempered glass protects against touch damage and finger dust, and touch sensitivity is very smooth and processed without any noticeable lag. The package includes two passive pens, you can buy an additional stylus for extra bucks.
Vibe integrated powerful 2x 10w speakers into the system. The available connectivity options are HDMI IN/OUT, 3.5mm Audio I/O, USB ports, Wi-Fi, and RJ45 Ethernet connection. There is no integrated webcam on the package but supports a range of third-party webcam models.
This interactive whiteboard has 200x200mm VESA mount compatibility. However, a moveable stand is also available, which is sold separately. If you often need to mode the whiteboard room to room, we recommend the additional stand.
Overall, Vibe is one of the best interactive displays, take your presentation to the next level. This all-in-one solution is also cost-effective at the same time.
Samsung Flip 2 WM85R: The Surface Hub Killer
Samsung Flip 2 comes in three variants, 55", 65″ inches and the largest one is 85" inches. We pick the larger 85" inch for our review, but the smaller Flip 2s aren't bad by any means. If you want to save some bucks you can go with the smaller one, which also offers the same 4K resolution and feature set at a lower price point.
An open Android system would be great but Samsung goes with their Tizen OS 5.0. Samsung Flip 2 is packed with a 1.7 GHz quad-core CA72 processor along with 2.5GB LPDDR4 ram. The internal storage is also limited, the OS itself takes 2.65 storage and leaves only 5.35GB of usable storage from a total of 8GB of storage.
The 85"/65″ inch Flip comes with a 400x 400mm wall mount compatibility, the smaller 55" inch can be attached to a moveable trolley. Wall mounting kit and moveable trolley are excluded from the base packages and sold separately.
While most of the interactive displays are IPS panels, Flip 2 has a 60Hz New Edge Panel – an enhanced VA panel that delivers a strong 4000:1 contrast ratio. The touch functionality is excellent as Samsung uses InGlass touch technology which delivers an accurate touch experience compared to the infrared-based touch display.
The average touch response time is about 7ms, Samsung includes a pair of passive pens for drawing and writing on the board. The display can detect 4 simultaneous touches at the same time. The screen has an anti-glare hard coating treatment to prevent reflections and finger dust while drawing on the board.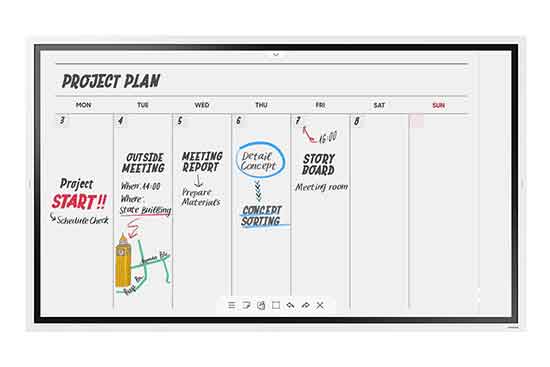 Samsung states an 8ms response time on the specification, response time isn't as crazy important as a gaming monitor but it is related to touch performance. For the extremely slow response time, you'll get touch lag. Hopefully, this display is fast enough we didn't notice any lag during drawing and writing.
Without the glass, Flip 2 has a 350nit peak brightness which is 200nit brightness when attached to the protection glass. A 200-nit brightness is moderate for any indoor display. The interactive board also has decent viewing angles-178o in both directions.
Samsung includes 2x 10W speakers, HDMI IN and OUT ports, USB Hub, RJ45 Ethernet Port, Wi-Fi, and 3.5mm Audio I/O ports. The extended tray, which is optional and sold separately provides more I/O functionality including USB, HDMI IN, HDMI OUT for screen sharing, Touch Out, and NFC.
You can import your existing pictures or document and go for live editing with the magnet pen or touch. Furthermore, you can secure your content with a password after editing. Tizen OS 5.0 are highly optimized for Flip 2, The OS is pretty fast and it delivers the best drawing experience without any noticeable lag, but the main drawback is the limited app compatibility.
The integrated app collections are fine for educational use as well as brainstorming ideas with team members, but there is no app for remote collaborations. The Flip 2 has no popular software like zoom for remote conferences, and neither it has any built-in webcam.
To turn a Flip 2 into a remote collaboration display, you'll need a separate PC and third-party software suite. Apart from the collaboration feature, the Flip 2 is an amazing interactive display, providing the best whiteboard features.
DELL C8621QT: Best Business Class Interactive Display
The 86" inch Dell C8621QT is the biggest display of the Dell interactive series and offers the same 4K UHD resolution at a lower price point compared to the 86″ Microsoft Surface Hub. The Windows-based Dell C8621QT doesn't contain any built-in computer and relies on a secondary laptop or PC. The good news is it has a compartment on the backside for Dell Optiplex Micro, without the need for a separate power cable.
Using a separate 500-600$ USD Micro PC isn't a bad idea as you can upgrade the computer over time, while the all-in-one interactive display will be stuck with the same PC hardware. Moreover, the overall setup cost is almost the same for these two types of display.
The InGlass touch panel allows 20 multi-touch points and 4 pen inputs at the same time, ideal for team collaboration for up to 8 people. You can draw, write text, or edit business documents with the included stylus. The C8621QT is a perfect fit for the business environment but also for educational use as provides a whiteboard feature. Dell doesn't include any webcam in the package, they recommend the Logitech webcam for remote team collaboration.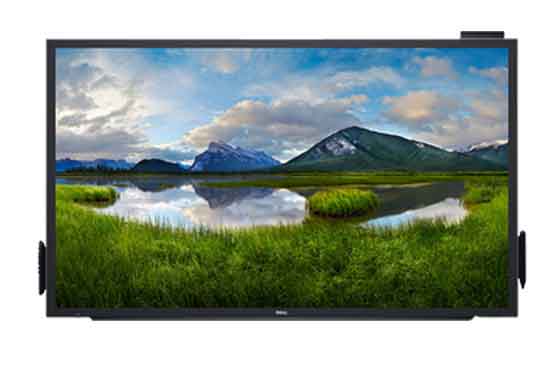 For the display side, this IPS panel delivers sharp and crystal clear imagery through a massive 4K 3840 x 2160 resolution, the screen is optimized for clear text rendering in MS WORD, EXCEL, and PowerPoint presentations. It has a 9H anti-glare coating with scratch resistance to prevent reflection and finger smudge.
Touch sensitivity is decent, but not smooth as Microsoft Surface Hub 2 which is extremely expensive and probably out of reach for many. The monitor has an 8ms response time, 1000:1 contrast ratio, and 350nits peak brightness. Similar to other IPS panels, The C8621QT has superior color reproduction (10bit 1.07b colors) and 178o wide viewing angles.
The integrated 2x 10w speakers deliver excellent sound, other I/O options are an RJ45 Ethernet port along with 3x HDMI, 1x DP, 1x VGA, 3.5mm Audio IN/OUT jack, and USB 3.0 Hub. Dell includes a remote control and two stylus pens.
Microsoft Surface HUB 2S: Premium Touch Display
Microsoft Surface HUB 2S is an amazing product from the Surface series, also one of the most expensive hardware from Microsoft. While the base Surface Hub 2S is 50" inches, a larger variant is available at 85" inches with an eye-watering price tag.
Surface HUB 2S comes with tight integration with Microsoft Windows 10, and seamless integration with Microsoft Team for remote collaboration, Office, and Skype Business. The interactive whiteboard feature opens a new era for brainstorming with team members. Undoubtedly, Surface Hub has the best touch sensitivity among all interactive whiteboards.
On the hardware side, Surface Hub 2S is packed with an 8th Gen Core i5 processor, 8GB RAM, and 128GB SSD storage. Intel UHD 620 Graphics accelerator, which is embedded with core i5 fuels the 4K screen.
This all-in-one machine is equipped with a USB-C with DisplayPort Input, HDMI, Mini-DisplayPort Video Output, and Ethernet Port. It also has Wi-fi 5 and Bluetooth 4.1 for wireless internet and other peripheral connectivity.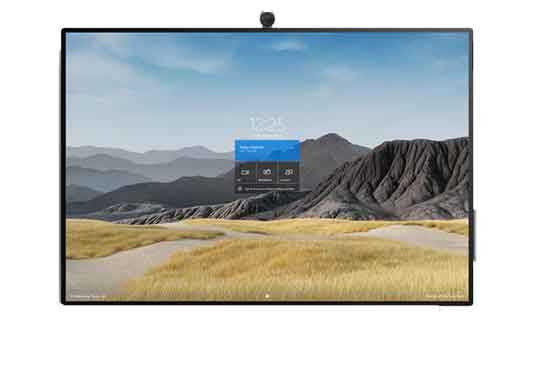 The add-on stand has a wheel, which helps to move the whiteboard room-to-room, and a lithium-ion battery runs the display for over two hours. Of course, you have to pay extra bucks for these add-on features.
The 3:2 aspect ratio screen comes with an extremely thin bezel, just 15.5mm around all sides. The Surface Hub 2S uses an IPS panel, Microsoft named it as PixelSense Display, which offers 10bit colors, and outstanding color accuracy out of the box. Alongside finger touch, you can draw on paper with an active pen.
For the remote conference, the included 4K camera delivers excellent image captures. The camera can be attached to all sides of the display. There is a full-band 8-element MEMS microphone array to ensure a smooth voice in the conference, the integrated stereo speakers also deliver crystal clear sounds.
As Surface Hub is combined with an already-known software suite like Microsoft Office, there is no special training required for most users. You can install additional software from Microsoft Store. Unfortunately, Microsoft Store still has limited third-party applications compared to Google Play.
ViewSonic IFP6550: Best 65-inch Interactive Display for Business
The 65" Inch ViewSonic Viewboard IFP6550 provides an excellent digital whiteboard experience and incredible collaboration features. The IFP6550 has a much larger 65" inch screen and similar computing power as Vibe at a slightly lower price.
A quad-core ARM CPU – a combination of 2x A73 at 1.1Ghz and 2x 1.5Ghz A53 fuels the ViewBoard OS, which is based on Android 8.0. There is built-in 32GB storage and 3GB Ram for smooth operation. The OS provides integrated cloud-based storage solutions, – a simple and easy implementation for real-world scenarios. Moreover, the interactive display has optional slot-in PC compatibility for computing-intensive interactive applications.
This large display is 600 x 400 mm VESA mount compatible, you can install this on the wall as well as use a moveable trolley. There are 2x 10W speakers and a 15W subwoofer integrated into the display. Sound quality is exceptional compared to other available interactive displays.
For connectivity, the IFP6550 offers 2x HDMI 2.0 IN, 1x HDMI OUT along with a legacy VGA port for display connection. A pair of 3.5mm Audio IN/OUT jacks also presents with a USB 3.0 and USB 2.0 hub. There is a composite RCA port and SPDIF Audio OUT port, A RJ-45 ethernet port available for internet connectivity. Unfortunately, It doesn't contain any built-in Wi-fi module, but a Wi-Fi slot is available for further expansion.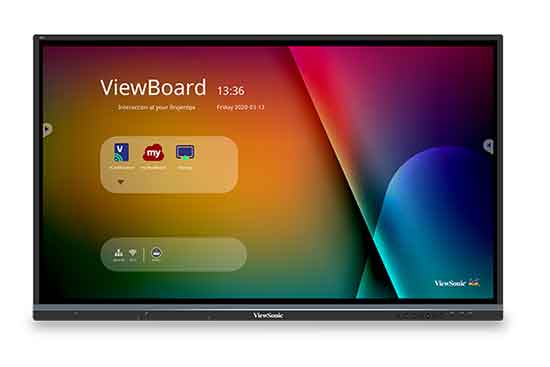 The screen rocks a 4K resolution and delivers vivid and vibrant image quality. The overall color reproduction is superb due to the high-end IPS panel. ViewSonic has manufactured industrial displays and computer monitors for a decade now. The IFP6550 is perfectly tuned and calibrated as expected from a high-end display unit.
A 1200:1 contrast ratio is higher than the typical 1000:1 contrast ratio found on the average IPS display. The viewing angles are 178o in both directions and color distortion is minimal even from extreme viewing angles. The ViewBoard has a 350nits peak brightness, which is sufficient for an indoor display. The panel surface has 7H anti-glare tempered glass protection.
With 20 Point infrared touch, multiple people can simultaneously draw and write on the whiteboard. ViewSonic included two styluses with the package. The software ecosystem is great, a good range of third-party software is available in the ViewSonic store for different purposes. Of course, they are not free, but you can purchase your desired software based on your demand.
Hushida 4K Interactive Whiteboard: Budget 4K Touch Monitor
Hushida 55" inch whiteboard is one of the cheapest interactive displays. The company also offers larger 65" and 75" inches variants, but they are almost identical except for the screen size. The operating system and computing units are quite interesting, it runs Android and Windows dual OS configuration.
Running an Android and Windows dual boot is a bit tricky process as both of them are unique from the architectural viewpoint. The Android OS is designed for RISC-based ARM architecture, while Windows relies on X 86-64 architecture. Microsoft has released an ARM-based Windows 10 recently, but still a pet project due to a poor app compatibility issue.
To resolve this issue, Hushida goes for two different CPU configurations for this display. The Windows 10 system runs on a 4th Gen Intel Core i5 processor with 4GB RAM and 120GB SSD configuration. The Intel HD 3000 GPU which is embedded with the processor handles the graphics accelerations. The system has Wi-Fi and Ethernet port along with HDMI, VGA, Audio I/O, and USB HUB.
For the Android system, A quad-core ARM Cortex A53 fuels the necessary horsepower. The system also has 1.5GB RAM along with 16GB of internal storage. The Android version is a bit old and runs on an Android 6.0 operating system. Switching between the OS is pretty simple, just switching a button changes the booting OS.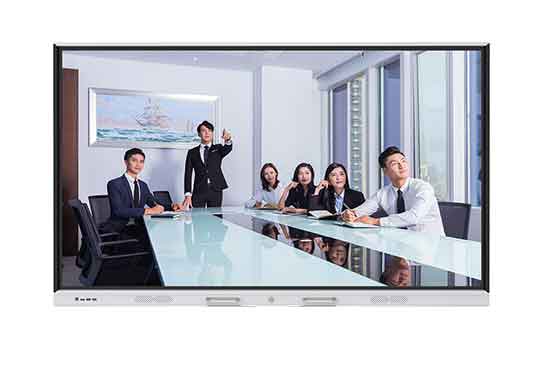 The display resolution is 4K similar to other interactive displays, the monitor has a 400nit peak brightness and 1200:1 contrast ratio. The default color temperature is a bit warm, you can adjust the color settings to get a natural color tone. Response time is good on paper just 7ms, the actual response time is a bit slow on average.
20 infrared touchpoints sound good, but only 2 people can simultaneously draw at the same time, a bit low against other interactive boards that support up to four simultaneous drawings and writing at the same time. The touch sensitivity is good, but some minor lag is noticeable in the extremely fast drawing. The package contains 2 stylus pens to draw or write alongside with a finger touch.
For video conference webcam and microphone is an essential tools, but the display has none of them integrated. The good news is the company supplies a third-party webcam as a gift for remote team collaboration.
Finally, if you're looking for an extremely cheap interactive display, Hushida 55" inch is a perfect display. Of course, A 2000USD price range isn't cheap by any means but remember that you're dealing with a large 4K monitor.
DTEN ON: Best Touch Screen Monitor for Zoom
Zoom becomes the most popular remote conference application for a while, the 55" inch DTEN ON is specially designed and optimized for Zoom meetings. This interactive display has similar pricing as Vibe interactive and also features similar specifications and features. At the heart of the display is a customized Windows 10 with Zoom Administrator Login.
DTEN has another D7 series interactive display, which offers more connectivity options and higher computing power, but those models are slightly expensive. DTEN ON is more than sufficient for regular zoom conferences, but if you use heavy compute-sensitive applications, DTEN D7 will fit you best.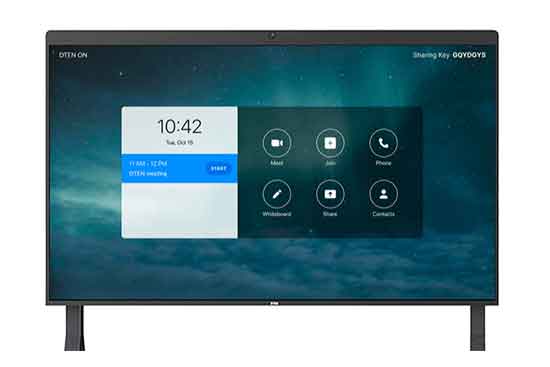 The display is amazing, rocks a full 4K screen resolution at a standard 16:9 aspect ratio, and delivers vibrant and clear imagery. DTEN uses a capacitive multi-touch screen similar to mobile displays. The display has whiteboard features that provide drawing and writing facilities. Touch response is up to mark, some minor hiccup is noticeable in extremely fast touch.
Unlike other interactive displays, DTEN attached a 4K webcam that can capture images from 120o angles. The integrated 16-microphone array is also excellent and can pick up sound from 60 feet distance. The microphone's noise-filtering capability is excellent, removes unwanted background noise, and delivers crystal clear voice during zoom conferences.
For internet connectivity, DTEN has built-in Wi-Fi and an RJ-45 ethernet port. The display also includes 1x HDMI IN and a 3.5mm audio port. The overall build quality is fine, the bezels are thin compared to the other interactive displays.
Final Verdict
By the end of this article, we reviewed a series of large touch interactive displays. Some of them have a built-in computer and others do not. All of our reviewed interactive displays are 4K and start from a minimum 50" inch diagonal size.
Of course, none of these interactive displays are cheap. But after considering the screen size, resolution, and touch functionality, the price is fair enough compared to a regular 4K 32-inch IPS monitor.