A budget All-in-One Desktop computer under $500 not only saves your wallet but also provides a clean and minimalist desk setup. There are no reasons to buy a high-end PC for basic computing tasks like web browsing, word processing, or video conference as you can run these applications smoothly with a cheap All-in-One computer.
Of course, some high-end AIO- Apple M1 iMac or Microsoft Surface Studio offers top-class desktop performance. But those units are pretty expensive and overkill for basic applications. In light applications, the performance difference is barely noticeable between budget AIO and high-end PC.
Getting a cheap mini pc is another popular budget option. But, you'll need a separate monitor, webcam, and speakers for a mini PC, which ultimately costs even higher than a budget All-in-One computer.
HP 22-dd0010: Best Cheap All-in-One Desktop Computer
AMD Athlon Silver 3050U based HP 22-dd0010 is our first pick for the best budget All-in-One computer. This All-in-One PC offers an incredible price/performance ratio. You won't find any Windows AIO cheaper than HP 22-dd0010, though AMD Athlon Silver 3050U has only 2 active cores and no SMT support.
While the integrated dual-core Athlon Silver 3050U has only 2 threats, some SMT-enabled Athlon processors have 4 threats. The newest HP 22-df0022 also replaces Athlon Silver 3050U with Athlon Gold 3150U for a few extra bucks. The Athlon Silver 3050U is a 2.3 GHz processor and boosts to a max turbo of 3.2 GHz, the Gold series processor sports a slightly higher clock speed along with SMT benefits.
All processors in this series are based on Zen+ architecture and manufactured in 14nm process node. The system is great in terms of power efficiency, the low 2.3Ghz clock speed allows it to run at the 15W TDP limit. For the graphics, the integrated 2X Vega Graphics engine at 1100Mhz provides smooth graphics accelerations and handles HD playback or light games easily.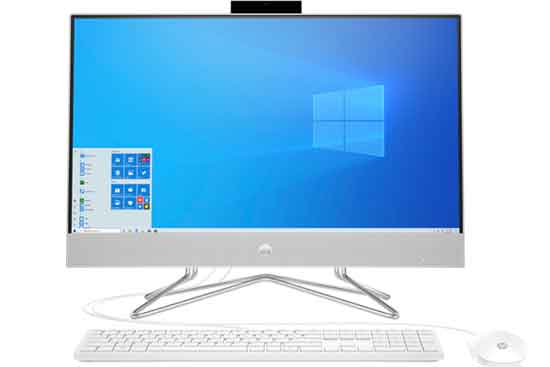 Next, the display is 21.5-inch, which is a bit smaller screen size than the rest of AIO in our list. The 1080P(1920×1080) display has thin bezels except for the bottom part. While the 22-dd0010 is based on a standard 60Hz VA panel, the newer model features an IPS panel. The FHD resolution delivers an overall great viewing experience. There is no touch support on this AIO.
The included 4 GB DDR4 2400 memory is OK unless you open many apps at the same time. Opening many tabs in chrome like ram-hungry applications surely slows down the machine. However, the memory is upgradable to a maximum 16GB size for an extra charge. The primary storage is 256GB PCIe NVMe M.2 SSD which is sufficient for most users.
HP also includes a DVD writer, not sure how many people still use DVD RW. Excluding the DVDRW could save some bucks as the budget is our primary concern. The 22-dd0010 has a popup webcam and integrated stereo speakers. Available connectivity options are 10/100 ethernet port along with WiFi 5 and Bluetooth.
The build quality is pretty decent and polished. Though, the wire-frame base looks a bit ridiculous. HP provides a nice wired mouse and keyboard with this package. You'll need no additional components to run this PC.
Acer Aspire C24-963-UA91: Budget All-in-One PC with Wireless Keyboard Mouse
The Aspire C24-963-UA91 packs a 10th Gen Intel Core i3-1005G1 processor behind the 24-inch (23.8" Viewable) display. This is the cheapest AIO from Aspire C24 Family, the higher-end i7 or i5 models are out of our reach as they exceed our budget limit by a large margin.
While the counterpart HP model has a wired keyboard and mouse, Acer sweetens the deal by including a wireless keyboard mouse in the package. The machine includes 8GB DDR4 memory, which is essential for everyday computing. You can open many tabs in google chrome or open many apps at a time without any lag.
You'll get approximately 480GB of free space after windows installation from the 512GB SSD storage. Acer confirmed a free Windows 11 update, now shipping with Windows 10 Home edition.
If you're interested in the Intel Core i3-1005G1 performance figure, it outperforms AMD's Athlon-based processor by a large margin despite having a lower 1.2Ghz base clock frequency. However, a 3.4GHz boost frequency does match the AMD equivalent.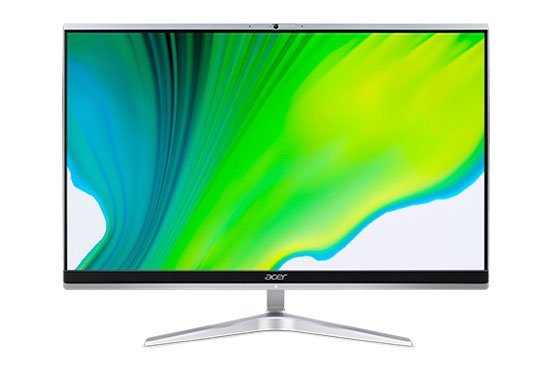 The Core i3-1005G1 processor is manufactured with Intel's 10nm process node, Intel claims that the 10nm process node is denser than TSMC 7nm process node. However, Intel's 10nm node was delayed countless times before they achieve a matured 10nm portfolio. The integrated Intel UHD graphics improved significantly and performed better than VEGA parts found on AMD Athlon Gold/Silver processor. Though, AMD Ryzen mobile parts such as 4300U deliver better performance over Intel UHD graphics.
The display is Active Matrix TFT LCD, featuring a full HD 1920×1080 resolution without touch support. A 1.0 Megapixel HD webcam and microphone are attached to the top bezel. Thankfully, the webcam has a security shutter so you can turn it off when you're not using it.
I can't remember the last time I used my DVDRW. Acer didn't include any DVDRW on this model, which is great for cost reduction. The built-in stereo speakers are fairly loud but not extreme as expected.
The slim profile Aspire C24-963-UA91 comes with excellent build quality and performance is overall great. This is a perfect All-in-One for students, kids learning, or everyday computing for a cheap price.
Lenovo IdeaCentre 3: AMD Ryzen Excellence
Lenovo goes with AMD Ryzen 3 4300U processor for IdeaCentre 3, which is a 7nm APU manufactured at TSMC. This power-efficient machine packs 8GB RAM, 256GB NVMe SSD, DVDRW with a wired keyboard and mouse.
As far as performance is concerned, The IdeaCentre 3 performs very well against competitor intel-based solutions. The Ryzen 3 4300U has 4 dedicated cores vs dual core intel i3 processors. Technically, hyper-threading enabled Intel processors can process the same amount of threats as AMD disabled SMT on Ryzen 3 4300U.
As Ryzen 3 4300U has 4 dedicated cores for 4 threats and performs exceptionally well in multithreaded workloads, and single-thread performance is not far behind counterpart Intel processors. Moreover, the 2.7GHz base clock is also higher than intel-based systems. Now, the 11th Gen Intel Core i3 mobile parts have a 4.1 GHz boost clock, which is much higher than the 3.7 boost clock found on AMD Ryzen 3 4300U processor.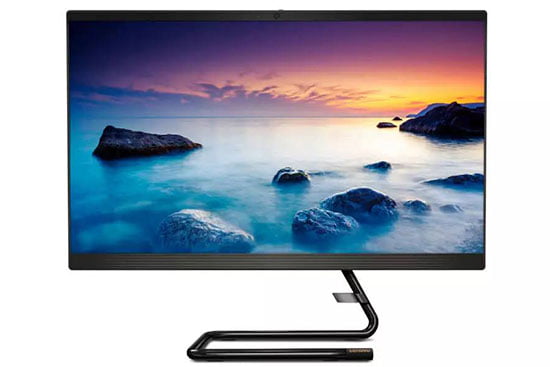 There is a naming conflict between AMD desktop and mobile processors. The Ryzen 4000 series (Renoir) processors are a part of Zen 2 architecture. AMD's mobile series are monolithic chips where Zen 2 desktop parts use a chipset-based design.
Moving on, the 24" inch (23.8" inch Viewable) IPS display features a Full HD (1920×1080) resolution without touch support. Unfortunately, we can't recommend the Lenovo Touchscreen AIO due to our tight budget limit. Top and bottom bezels are comparably fat as webcam and speakers are placed on them, two side bezels are extremely thin. The display has an HDMI input, so you can connect it to the gaming console. Due to the nature of the IPS panel, color reproduction and viewing angles are exceptionally good against some VA or TN-based All-in-One computers.
Five VEGA cores clocked at 1400MHz fuels graphics acceleration for IdeaCentre 3. Compared to other AMD-based HP AIO, this high core count VEGA is extremely powerful. Of course, you can't play AAA titles with this integrated GPU, but it can handle casual games like CS: GO, Minecraft easily.
A bent metal pipe base holds the computer on the desk and doesn't take much space. I don't know why Lenovo includes an external power brick to make cable clutter. For connectivity, the machine provides built-in ethernet, WiFi, and Bluetooth. The included memory card reader and DVDRW could be useful sometimes.
Finally, The IdeaCentre is a balanced all-in-one with strong performance. This Windows 10 machine boots extremely fast due to the fast SSD drives. It would be a great machine for remote work, online learning with regular daily use.
HP 24-dd0010: Best Selling All-in-One Computer
The HP 24-dd0010 is a carbon copy of HP 22-dd0010 except for the larger 24" display and extra 4GB RAM. At the time of writing, this budget machine ranked top on the best-selling AIO list. Similar to 22dd0010, this one also features a 2.2GHz AMD Athlon Silver processor and 256GB NVMe primary storage.
Due to the 8GB RAM, this machine can handle regular tasks better than its sibling. You can upgrade the memory to a maximum of 16GB DDR 2400 RAM. AMD Athlon Silver is a less powerful processor than Ryzen 4300U found on Lenovo IdeaCentre 3 or Intel i3 based Acer Aspire C24. Another model in this series has an Athlon Gold processor with touch functionality at a higher price.
Surprisingly, AMD-based solutions dominate our budget all-in-computer list. It wasn't the scenario until AMD brought Zen architecture to light. At that time Intel dominated the market in every segment including AIO. Now, the wind has changed. AMD's excellent price/performance ratio attracts system manufacturers and we have some excellent All-in-one computers at affordable prices.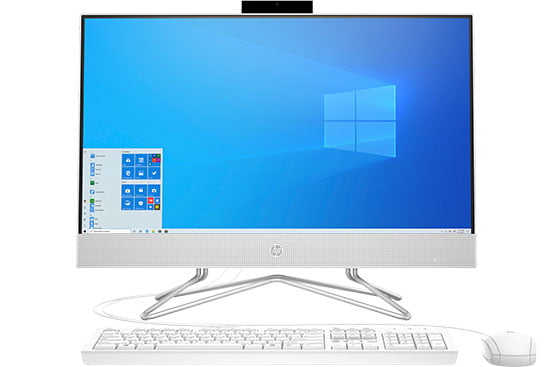 So what makes the HP 24-dd0010 special? Well, its beautiful design and excellent pricing attract people despite having a less powerful CPU than competitors. HP is a renowned brand for decades and the name is trustworthy to many people.
The 24-dd0010 has a moderate 250nits brightness on the 1080P display. Though, the brightness isn't extreme but OK for watching movies, browsing, or word processing. Viewing angles and contrast ratio is fine.
For the graphics, the integrated Athlon Silver 3050U contains 2 AMD Vega cores clocked at 1100MHz. The VEGA architecture is quite old now, but AMD still uses VEGA on their APUs and keeps optimizing the architecture to extract performance juice.
The integrated pop-up webcam design is great for security concerns, and image quality is decent for regular video conferences. The pair of stereo speakers deliver excellent sound, you can watch movies, youtube without any issue.
HP 24-dd0010 is a complete setup, including a DVDRW, Card Reader, USB Ports, HDMI, 3.5mm Audio, and an RJ-45 Ethernet port alongside Wifi and Bluetooth connection. The package also includes a wired keyboard and mouse combo, so there is no additional cost.
Finally, HP 24-dd0010 is a great all-in-one computer that provides excellent performance at an affordable price. This machine will be a great gift as your kid's first computer.
ASUS V241: Compact All-in-One Computer
AMD Ryzen 3250U based V241 is the cheapest all-in-one computer from Asus's portfolio. This Ryzen based All-in-one includes 8GB RAM, 256GB NVMe SSD, 720P Webcam with dual array microphone. Asus also has a slightly expensive Intel Pentium Gold AIO, but we choose the AMD Ryzen 3250U model for price/performance ratio.
AMD Ryzen 3250U is far more powerful than the Athlon Silver/Gold processor as it sports a higher clock frequency with SMT enabled. The combined cache is also much higher than the Athlon series. This first-gen Ryzen mobile processor is made by GlobalFoundries 14nm process node.
For Graphics acceleration, Asus V241 features 3 Vega cores clocked at 1200MHz, which is a 100MHz speed bump over the Athlon Silver 3050U found on HP 24-dd0010. Sadly, it can't stand up with Lenovo 3 AIO which contains 5 VEGA cores built on the Ryzen 4300U.
The V241 is a very polished computer, but I didn't like the webcam on the bottom bezel as it has no physical security shutter. However, Asus has moved the webcam position to the top with its Zen series AiO. The 24" FHD IPS panel provides excellent color reproduction and viewing performance.
Asus ships Windows 10 Home edition with this machine, but a free Windows 11 update is uncertain as first zen Ryzen parts are not present in the Microsoft list. The V241 features a USB HUB, HDMI, RJ-45 ethernet, WiFi, and Bluetooth connections for ports and connectivity.
Dell Inspiron 24 5000: Cheapest Dell AIl-in-One Computer
Our best All-in-One list looks incomplete without a Dell machine as the company has a lot of brand loyalists. Though, the cheapest Dell All-in-One from Inspiron 5000 series crossed our $500 budget guideline by a little. This All-in-one packs an 11th Gen Pentium Gold 7505 processor with 8GB RAM, 256GB NVMe SSD, WiFi 6, and Bluetooth 5.1 connection.
This touch-devoid 24" inch (23.8" inch viewable) all-in-one provides great everyday computing without destroying your wallet too much. This beautiful machine comes with a TV-like Bipod stand and the bottom part contains a textured design. The display bezels are very thin except for the bottom part. A popup webcam with a microphone is placed behind the top bezel.
Dell Inspiron 5400 features a full HD (1920×1080) resolution fueled by the 11th Gen Intel UHD graphics engine integrated with Pentium Gold 7505. The Pentium Gold 7505 is a 2.0 GHz dual-core processor with hyper-threading support and allows 4 threats simultaneously. The processor has a max turbo of 3.5 GHz similar to counterpart Ryzen parts.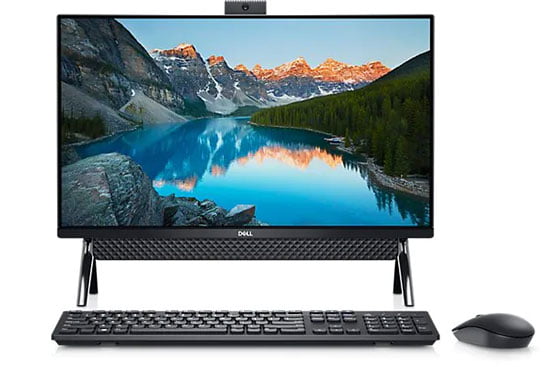 Thanks to the intel's 10nm process node, the power-efficient Pentium Gold 7505 processor comes with only 15W TDP and runs extremely cool. Moreover, Intel also increased cache size to boost performance to tackle AMD Ryzen processors. As a result, we have a 4MB smart cache available on the budget-oriented Pentium Gold processor.
At this point, you might be wondering how well the Pentium Gold 7505 based Dell Inspiron 5000 performs against its competitor HP and Lenovo IdeaCentre AIO in real-life applications? Well, due to the strong single-threaded performance, single-threaded applications run quicker than the equivalent AMD systems. Also, Intel's system boot-up time is much faster compared to AMD Ryzen Mobile parts.
Of course, this low TDP machine isn't suitable for hardcore gaming or heavy application load but you can smoothly run the web browser, word processing app, and skype or zoom video conferencing software.
There are no additional costs as Dell includes a wired keyboard and mouse with Inspiron 5000 desktop. Moreover, the built-in pair of stereo speakers can play decent sounds from youtube and NetFlix videos.
Final Thought
We have reviewed a couple of cheap AiO computers in this article. Yes, some of them cost a little over our recommended $500 budget guideline, but an extra $20-$50 is surely not a big deal for a computer.
If you're on an extremely tight budget, you can get the 22" inch HP 22-dd0010 for around $400, that's even $100 cheaper than our budget guideline. The 24" inch HP model is also very close to $500, and it is one of the best selling All in One Desktop.
The Acer C-24 is our most recommended AiO in the list for the larger 512GB NVMe Storage and wireless keyboard mouse. Moreover, the 10th gen core i3 processor provides much faster operation. The Lenovo IdeaCentre is the fastest AMD-based solution on our list, Zen 2 core with 5 VEGA cores delivers seamless performance.
All of our selected AiOs are extremely power efficient as they are usually 15-20W TDP mobile processors designed for laptop computers.