Gaming on a Mini PC? Maybe it sounds weird only a few years ago, but when a modern smartphone holds more processing power than a gaming computer that came a few years ago, why not gaming on a Mini PC? Through this article, we will find out the best Mini PC for gaming available on the market.
Over time, the semiconductor node shrinks to the smallest 4nm, and the CPU/GPUs become more powerful and efficient than ever. Now we have faster memory chips, fast M.2 SSD cards replace mechanical hard disks. Thanks to fast SSD memory, we forgot that once we have to wait about a minute for Windows to boot up.
Of course, games have become more realistic and their hardware requirements have skyrocketed over time. Some modern AAA games can now utilize up to 16GB VRAM at 4K resolution, and top-tier graphics cards contain 20-24GB video memory with several teraflops of computing power to feed the latest demanding game titles.
A lot of people use Mini PCs for media servers or running light applications such as word processing, spreadsheets, web browsing, etc. Though they don't require high computing performance and even a budget Mini PC under $150 can easily handle these tasks.  
But gaming Mini PCs need to be powerful as gaming requires heavy CPU/GPU power. Hopefully, some Mini PCs can deliver playable frame rates even at 4K resolution. However, 4K gaming is still a luxury due to expensive monitors and CPU/GPU requirements. Now, 1440P gaming has become a sweet spot but the majority are 1080P gamers.
Thankfully, all listed Mini PCs are capable of 1080P gaming while some premium Mini PCs can fuel 4K/1440P gaming depending on their configuration.
MINISFORUM Neptune HX99G: Best Mini PC for Gaming
Need a compact but powerful Mini PC for 1080P/1440P gaming at high settings? The Neptune HX90G is simply the best-balanced Mini PC for gaming. Not only 1080P gaming, but it also delivers a decent 1440P/ 4K gaming experience with the FSR enabled. This excellent Mini PC is powered by AMD Ryzen 9 6900HX processor with a dedicated AMD RX 6600M graphics card.
The vanilla HX90 dominated the market for quite a time, which is also a very popular Mini PC that comes with an integrated Vega 8 graphics engine. But HX99G's dedicated Radeon RX 6600M GPU fuels a smooth 1080P gaming experience while HX90 can provide 720/1080P gaming with the 2100 MHz graphics engine.
Under the hood, the HX99G uses an AMD Ryzen 9 6900HX – an 8C/16T Zen3+ chip fabbed in 6nm FinFET technology. The chip runs at a 3.3 GHz base clock that can boost to a maximum 4.9GHz clock speed. Memory configuration starts at 16/512 GB and goes through 32/512GB up to 64/512GB.
The front design reminds me of the HP Blackbeard stripes which were released almost a decade ago. The body construction is solid and made of high-quality carbon fiber that gives a premium look. As there is a dedicated GPU, the heat dissipation system includes two separate coolers with copper heat pipes – which keeps the machine cool under full load.
We have 1X USB Type-C port along with 2X HDMI, and 2X DP ports for display connectivity. There are 4X USB Type-A ports for peripherals, 1X RJ45 for ethernet, Wifi 6, and Bluetooth 5.2 for wireless connectivity.
Unlike the chiplet-based Zen Desktop parts, this mobile CPU is a monolithic chip so we don't have infinity fabric's bandwidth penalty, but total cache memory also (4 MBL2+16MB L3) has been reduced compared to desktop parts. But we have the same PCI-E 4.0 bandwidth as ZEN 3 desktop processors.
That said, the less PCI-E bandwidth and slightly old processor didn't stop us from placing this Mini PC at the top of our list. Thanks to Minisforum, for the first time we have seen a dedicated RX 6600M available on a mini PC. Though it was launched around a year ago and some high-end laptops with RX 6600M are available in the market.
The RX 6600M is a product of the AMD RDNA 2 family, featuring 8GB DDR6 memory, 28 compute units with 1792 stream processors and 2177 Mhz clock speed in turbo mode. The integrated RDNA 2 RX 680M can't compete with the dedicated RX6600M, even though they are built on the same GPU architecture. Not to mention the 8GB DDR6 memory but we also have more compute units and stream processors on the RX 6600M compared to RX680M.
As far as gaming performance is concerned, the RX 6600M is the direct competitor for Nvidia RTX 3060M, both GPUs are aimed at 1440P gaming. So how about 4K gaming? Well, it can drive the popular AAA game Forza Horizon 5 over 60FPS at high settings without any supersampling. We're not going to include a full gaming benchmark here, but this might give you an idea about gaming performance.
Intel's NUC 12 Enthusiast Mini PC is the nearest competitor for HX99G as both of these machines have dedicated Mobile GPUs packed with high-end mobile processors. But MINISFORUM HX99G is our top choice due to the insane pricing of Intel's NUC 12 Enthusiast Mini, costing almost double of HX99G. Even though Intel's solution is superior in terms of performance, the Minisforum Neptune HX99G is ahead considering the value.
Intel Serpent Canyon NUC 12 Enthusiast: MINI PC With ARC Alchemist
How much VRAM do you expect from a Mini PC? Most would say 6GB or even 8GB is enough, but the latest Intel NUC 12 Enthusiast Mini offers a 12th Gen Intel Core i7-12700H processor paired with Intel's flagship ARC Alchemist 770M mobile that contains a whopping 16GB of dedicated video memory.
Looking at the spec, the 12 Gen Enthusiast Mini is a huge upgrade over the previous generation in CPU and GPU on both fronts. Now we have i7-12700H – a 14 cores processor that can process 20 threads simultaneously, 6 of these cores are performance cores and can reach 4.7GHz clock speed, and the rest 8 cores are known as efficient cores with much lower 3.5GHz max turbo speed. Thanks to AMD, for starting the core war that forces intel to increase the core count to remain competitive in the market. If AMD failed to deliver with their ZEN architecture, we might never have seen this picture.
On the front side, we have a Thunderbolt 4.0, 3.5 mm Audio, USB 3.2 Gen 2, and a full-sized SD card reader. Now moving around the back, there are 4X USB 3.2 Gen 2, 1X 2.5GB ethernet, another thunderbolt, optical I/O, 1X full-sized HDMI 2.1, and 2X DP ports available. Thankfully, Intel didn't solder the WIFI and Bluetooth module to the board and can be replaced if there is a problem in the future. The package includes a vertical stand, you can use this Mini PC in both dimensions. A fancy semi-transparent RGB module is present inside the case, which can be customized via UEFI or Windows.
The system can be configured with a maximum of 64GB of DDR4 3200MHz Ram and 1TB of Gen4 NVMe storage. This is a Windows 11 compatible machine, Intel did not mention anything about Linux, we tried the Ubuntu 22 but it fails to boot. Maybe it will get Linux compatibility later but for now, Windows is the only option.
The 11th Gen Phantom Canyon was also popular among content creators and gamers though it only had a 4C/8T CPU paired with 6GB Nvidia RTX 2060. So we have a massive 250% increase in core count alone beside the cache memory and IPC improvements. This machine smashed all previous-gen NUC and AMD-based Mini PC in synthetic benchmarks as expected.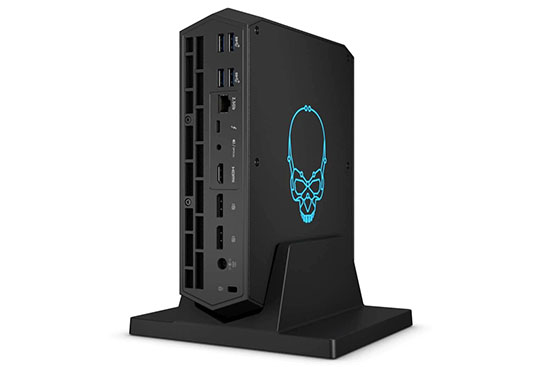 Of course, this stunning performance uplift doesn't come for free, Itel charges a 40% extra premium over the previous model which is sad. Moreover, Intel NUC 12 series are still in the 3200MHz DDR4 era where the latest AMD-based solutions get faster DDR5 memory treatment.
Moving to the ARC 770m, the flagship mobile GPU from the ARC Alchemist family consists of 32 Xe and the same amount of Ray tracing cores with 256-bit 16GB DDR6 memory. The total power consumption is between 120-150W depending on the load. With the ARC Alchemist series, Intel becomes the third player in the GPU market.
It is still early to make a judgment about the ARC Alchemist as the platform is entirely new and Intel needs to optimize drivers. Even though it shines on synthetic benchmarks the real-world gaming performance is not that fancy. It simply can't outperform the competitor AMD RX6600M or Nvidia RTX 3060M in gaming though it contains a huge 16GB memory.
According to Intel the ARC 770M is on par with the Nvidia RTX 3060M. Unfortunately, they can't even match the RTX 3050 in some titles due to poor optimization. Intel still has a great chance to prove ARC Alchemist supremacy, only if they can properly optimize drivers as AMD optimize their Polaris and Vega architecture to extract performance juice over time.
To be honest, VEGA and Polaris both are still relevant for today's standards as they deliver excellent performance in 1080P high settings or sometimes even better 1440P in low-demanding titles. This doesn't mean that ARC is bad, it is very much capable of doing excellent gaming, you'll get a playable frame rate at 1440P high settings in most demanding AAA titles and it will get better over time as soon as intel starts polishing the software side.
Finally, The NUC 12 Enthusiast Mini is simply the best solution for content creators who also love to play games. We can't recommend it only for gaming alone as the competitor MinisForum HX90G has similar gaming ability for a much lower price. But if you need a Mini Gaming PC that has huge computing horsepower for content creation, The NUC 12 Enthusiast Mini PC is your ultimate destination.
Beelink GTR6: DDR5 Mini PC with Mobile RDNA 2
Chinese manufacturer Beelink became a brand name in the Mini PC industry since the company dominated the Mini PC sector for 12 years. Beelink's GTR6 is the company's latest offering packs a Ryzen 9 6900HX processor with an integrated RX 680M graphics engine.
Just a width of 6.62 inches, 4.72 inches in length, and 1.7 inches in height made this machine very compact. You can easily mount it on the backside of your TV/monitor with the supplied brackets. Interestingly, this little machine includes a fingerprint scanner which is usually found on the high-end Laptop.
At the heart of this Mini PC- an 8C/16T Ryzen 9 6900HX is a 6nm ZEN3+ chip that rocks a 3.3GHz base and 4.9 GHz boost clock frequency. The TSMC 6nm architecture is much more mature now and delivers better yields. We also have a nice 300MHz boost over the Ryzen 9 5900HX through cache memory remains a 4MB+16MB 20MB total as the previous generation.
Even though the Ryzen 9 6900HX isn't an entirely new architecture, the optimization and clock speed bumps help to achieve around 30% improvements with the help of speedy DDR5 memory. Beelink includes Crucial DDR5 memory in this Mini PC with 32/512GB as the default configuration.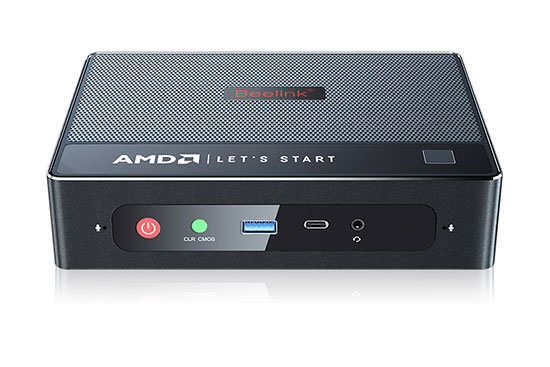 Intel-based Mini PCs including the latest Intel NUC 12 Enthusiast still rely on DDR4 memory. But GTR6 is one step ahead as it supports DDR5 memory. We also elements the PCI Express 3.0 limitation of the Ryzen 9 5900HX. Finally, AMD includes PCI Express 4.0 on mobile platforms.
Aside from the memory and chipset changes, the other main difference is in the embedded graphics engine. After a long time, AMD finally ditched their beloved VEGA graphics engine with the modern RDNA 2 mobile GPU. Of course, VEGA wasn't a bad GPU architecture and is still relevant against Intel's iGPU. Even though AMD retired VEGA arch from their latest lineup, it will receive updates at least for a couple of years.
Let's discuss the RX 680M performance as gaming is our main concern. This integrated mobile GPU consists of a 12 RDNA 2 core at 2400MHz clock speed against the 8C/2100MHz VEGA engine. AMD claims about 130% performance uplift with greater power efficiency compared to GCN-based solutions. The chipmaker skipped first-generation RDNA graphics and stuck with VEGA, which was disappointing. Finally, they decided to integrate this mobile GPU in the Ryzen 9 6900HX – the top-of-the-line mobile processor.
No, the Beelink GTR6 is not the machine for 1440P/4K gaming due to the integrated graphics. But you should consider that AAA gaming was laughable even at low settings 720P resolution on integrated graphics. The GTR6 Mini PC can drive a smooth 60FPS in the GOD OF WAR 5(FRS Enabled) ultra setting, which is pretty good as the older VEGA 8 struggles to maintain 60FPS 720P.
This machine includes 4X HDMI 2.1 ports that can support quad screens 8K display at 60Hz. The remaining I/O ports are 4X USB 3.0 ports, Gigabit ethernet, WiFi 6, Bluetooth 5.2, and a 3.5mm Audio jack along with a power adapter.
Coofun UM700: Best budget Mini PC for Gaming Under $300
The Coofun UM700 is a rebranded MinisForum UM700 for $50 less than the original, and much cheaper than Beelink SER3 while offering almost the same hardware specifications. This unit is also the cheapest Mini PC on this list and is available for around $300 with the discount coupon.
Of course, this machine isn't suitable for current-generation AAA gaming but could be an excellent choice for retro gaming and low-demanding titles such as Overwatch, Fortnight, and Rocket League at 1080P with low/med settings. A bit more demanding titles like GTA 5, and Doom Eternal are playable at 720P low settings.
This budget gaming Mini PC is a bit old now and that's the reason behind this cheap price. Looking at the specifications, it rocks a 12 nm (Globalfoundries) ZEN+ AMD Ryzen 7 3750H processor with 16GB DDR4 (2400 MHz) RAM, and 256GB SSD storage. The maximum memory capacity is 32GB and storage can be upgraded with an additional 2.5' SATA drive.
Default 16GB DDR4 memory is sufficient for this machine, and probably no one will expand the memory as there will be a huge CPU/GPU bottleneck even if your application or games can allocate more than 16GB memory. However, storage update features could be useful as there is always storage demand for games and movies.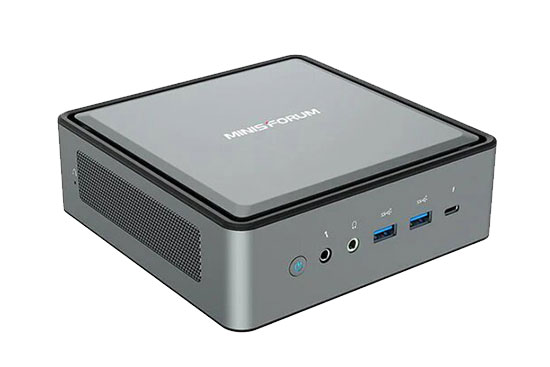 The Ryzen 7 3750H is the highest-end notebook processor of AMD's Picasso family, a 4C/8T processor operating between 2.3GHz- 4.0 GHz at a 35W TDP limit. Even though ZEN+ was the first iteration of AMD's famous ZEN architecture, but first introduced for mobile platforms when AMD launched ZEN back in 2017.
Before ZEN, AMD was about to go bankrupt. But after a massive 45% IPC improvement over the previous Bulldozer processor, it not only saved AMD's future but also became competitive against Intel after Athlon's 64 glorious days.
On paper, the Coofun UM700 has a 10 VEGA graphics engine which is embedded in the Ryzen 7 3750H, but for some reason, we didn't get the specified 1400MHz maximum clock speed mentioned in the book. Maybe the power limitation prevents the GPU engine from reaching the max turbo speed. The GPU operates between 200MHz-1050MHz which is not bad, but gaming results could be much better if we get the full 1400MHz clock speed.
For the display connection, we have one HDMI, DP, and USB-Type C connection. All of these ports are capable of delivering 4K @60Hz. If you have a wired keyboard and mouse, there are 1x USB 3.0 and 3X USB 3.1 ports available. It also has WiFi and Bluetooth along with a default RJ45 ethernet connection. In addition, you'll get a standard 3.5mm audio jack along with a digital mic.
CHUWI RZBOX: Best Mini PC for gaming For 500
When it comes to Mini PCs, only a small portion of buyers willingly spent over $1000, and the problem with the cheapest one is that it can't handle smooth 1080P gaming. So we were desperately seeking an affordable mid-range Mini PC that can deliver excellent 1080P gaming and also doesn't require selling kidneys! The Chuwi RzBox reserves that sweet spot in our best gaming Mini PC list. The default configuration starts with 16GB/512GB storage capacity.
No, CHUWI RzBox wasn't the only option in this price range, it had tough competition with the popular BeeLink SER5 which is slightly cheaper. But after considering the overall build quality and performance we finally choose the RzBox Mini.
This is not a cheap-looking device. The 7" x 7" x 2.4" inches Mini PC is constructed with a mixture of aluminum alloy and polycarbonate and looks very premium on the desk. I'm not sure how many displays still have a VGA connection, if you're still stuck with an old VGA port, The RZBOX Mini has one VGA port along with a USB Type-C, HDMI 2.0, and a full-size Display port.
RZBOX comes with a combination of legacy and modern ports, containing 3X USB 2.0 ports besides the newest 2X USB 3.0 ports, 2x Gigabit Ethernet ports, WiFi 6, and Bluetooth connections. There are separate 3.5mm ports available for Headphones and a Microphone jack.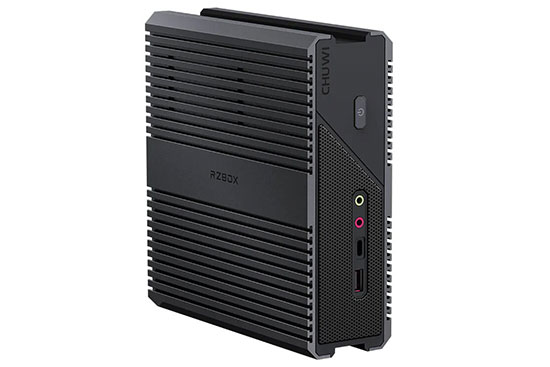 While the BeeLink SER5 is equipped with AMD Ryzen 5 5600H, the CHUWI RZBOX contains a higher-end Ryzen 7 5800H processor that has 8 CPU cores instead of the 6 found on the Ryzen 5600H. The processor is a product of AMD's 7nm ZEN 3 mobile architecture, operates between 3.2-4.4Ghz clock speed, and contains a 20MB cache (4MB L2 + 16MB L3) on a monolithic die.
On synthetic benchmarks, the Ryzen 5800H outperforms its rivals Intel and Apple M1 chip by a large margin. However, Intel's integrated graphics still remain a joke and are not comparable to AMD's mobile graphics. This is the main reason we have fewer Intel-based Mini PCs on our list, all of our Intel-based gaming Mini PCs have dedicated GPUs.
The RZBOX contains a VEGA 8 graphics engine (1750MHz) which is embedded on Ryzen 7 5800H, still capable of delivering an excellent gaming performance 1080P resolution in medium to low settings. Most AAA titles are playable with medium settings which are awesome for this budget machine. However, scaling down the resolution to 720P is useful for extremely demanding games to maintain a frame rate over 60 FPS.
The CPU is rated at a 45W power limit and we didn't notice any problem in playing games or regular use. But, full load on all cores raises the temperature high and the CPU starts throttling after sometimes in stress tests. A better cooling system could solve this problem, though most users didn't run stress testing programs.
Intel NUC 12 Extreme: Expensive but most powerful Mini PC for Gaming
The Intel NUC 12 Extreme is the most expensive but also most powerful Mini PC on this list. This amazing Mini PC is a perfect example of intel's engineering marvel, which packs a full desktop pc setup in a small form factor. Though, it doesn't contain any gaming GPU in the base package except for the Intel UHD Graphics 770 which is embedded in the processor. But, a Gen5/Gen4 PCI Express slot provides room for a discrete graphics card (Dual slot 12" inch max length) that could turn this machine into a gaming beast.
We have two variants of NUC 12 extreme, the cheapest one NUC12DCMi7 is loaded with an intel core i7 12700 – a 12 core 20 threats processor with 25MB L2 cache and 4.90GHz max turbo speed. The highest-end NUC12DCMi9 offers an Intel i9-12900- 16 cores 24 threats with a whooping 30 MB L2 with a 5.1 GHz turbo clock. Both of these processors have a 65W thermal rating. There is a minor difference in I/O port, the i7 version comes with a 10 10GbE ethernet port but the i9 variant provides an additional Intel® i225-LM with the default 10GbE (AQC113) ethernet port.
This tiny little machine supports dual channel DDR4 3200 memory up to 64GB capacity, though it should support DDR5 for the extreme premium. For storage, we have SATA M.2 Drive up to 2TB capacity. Price varies in different SKUs depending on the memory and storage configuration. Connectivity options are 2x Thunderbolt 4, HDMI 2.0b, 6x USB 3.2 Gen2, and a 3.5mm headset jack.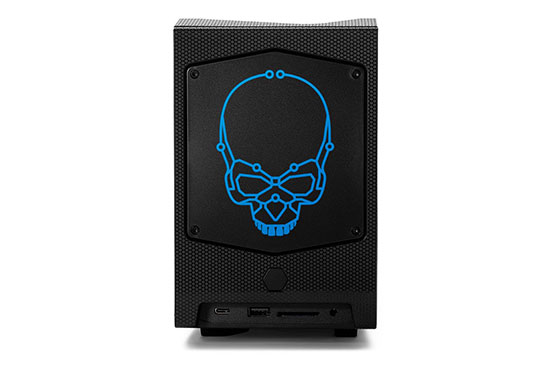 With a discrete GPU, this machine can deliver a smooth gaming experience. However, we simply can't put an RTX 4090/4080 on it as this machine has a 650W 80+ power supply. So, a slightly low-power demanding GPU such as RTX 3080/3070/3060 or their AMD equivalent is the only option for now. However, Intel's own discrete graphics card formerly known as Arc Alchemist also could be a great option.
Now the big question is does this machine provide the best value for the money? Sadly, Intel's extreme pricing doesn't allow us to put this excellent machine at the top of the list. A 50% premium over the previous generation doesn't make sense if you only consider gaming performance. You can get almost the same gaming performance with an older gen NUC if paired with the same graphics card.
Most games simply don't scale very well to 16 cores, so you won't see much performance difference in gaming over the previous generation. But, the performance really shines on the productivity side. Higher core count and increased clock speed make this machine ideal for productivity besides gaming. Intel claims a 62% performance uplift over the previous gen.
Overall, this expensive mini pc would be a great choice for gamers who want ultimate 4K gaming performance along with content creation. Even though this machine is expensive as hell It is a good alternative to Mac Studio Pro.
ZOTAC MAGNUS ONE ECM53060C: The Perfect NUC Killer Mini PC
Former graphics card manufacturer Zotac's barebone Mini series is a worthy opponent for Intel NUC extreme. Zotac's naming scheme is a bit weird similar to Sony's Xperia mobile, starting with simple, but ending with terrible words that contain strange numbers and characters. What do they mean by EMC53060C after Magnus One, enough to confuse!
We assumed that the first number indicates the processor Core i5 and the last four digits 3060 are reserved for the RTX 3060 GPU used in the specific model. We didn't bother to figure out the meaning of the rest of the characters. Zotac's engineers may have better explanations of these numbers and characters!
Zotac's store has many different SKUs of these barebone Mini PCs, some units aimed at professionals powered by Nvidia's Workstation GPU, other SKUs are perfect for gamers and content creators with Geforce Gaming cards.
Though, there are several units available with better specifications at higher price points. The combination starts with a top-tier Core i9 processor following the Core i7, the cheapest one has a Core i5 processor. The GPUs used in these models are RTX 3080 with i9, 3070 with i7, and 3060 paired i5.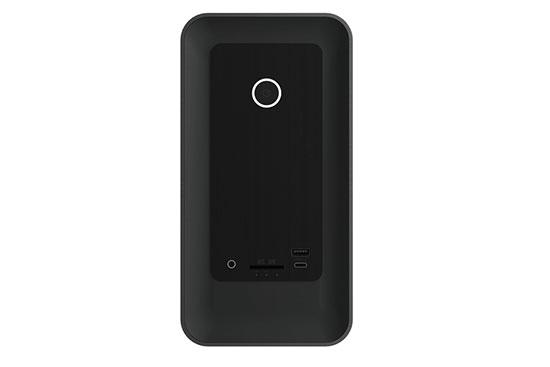 The Magnus One ECM5303C is our peak from Zotac's store, packed with a 6C/12T Intel Core i5-10400 processor with RTX 3060, 16GB DDR4 memory, and 512GB SSD+1TB HDD storage. As we're heading to the 13th Gen Raptor Lake processor, this Mini PC is a bit old compared to Intel's barebone. You might have thought, why bother with this old machine when we can get the latest one?
No, this model simply can't beat the NUC 12 Extreme, but it costs almost ⅓ of Intel's top model which is incredible. The higher-end MAGNUS one model can compete with the Intel NUC 12 extreme in terms of CPU power, but for that price level, we would recommend the Intel NUC for a longer warranty period.
As far as gaming is the main concerned, this Mini PC is still relevant even though we had a couple of generation updates on the CPU front. But GPU architecture hasn't changed in this period and RTX 4060 is still due to launch. Most games are GPU bound, and gaming performance will be the same whatever you paired with RTX 3060.
As we have a full-length RTX 3060 GPU inside this machine, it can easily handle smooth 1440P gaming with ultra settings. The GPU contains 12GB 192bit DDR6 memory and is a perfect combination for an Intel core i5 processor.
There are plenty of I/O available, including HDMI 2.1, DP, RJ45, WiFi 6, Bluetooth, and 8X USB 3.0/3.1 ports. Cooling system design is very challenging for a Mini PC, especially if you're dealing with desktop parts. Zotac tried, but not enough to keep it silent under heavy load. This machine is a bit noisy compared to the Intel NUC series barebones.
We're at the end, let's classify the different Mini PC type and their components.
CPU: Gaming Mini PC can be built with both types of processors mobile and desktop. Mobile processors are very common in Mini PCs due to their low TDP limit. Desktop processor-based mini PCs deliver insane performance but they are comparatively large and can't be mounted on the monitor's back. Managing the desktop CPU's heat is also challenging as they have less space to fit large fans or heatsinks.
GPU: Graphics cards are the main component of gaming. We have two types of graphics engines found on the Mini PC. Discrete GPU-based Mini PCs are the best for gaming. Here we have AMD RX 6600M and Intel ARC A770M for the mobile platform. Barebone Mini PC can use any type of Desktop version graphics card maintaining the specified size and power supply limit. We also have integrated graphics-based Mini PC, only AMD-based Mini PC with VEGA or RDNA 2 GPU core can deliver playable frame rates. Intel is out of this market segment as their iGPU isn't strong enough to play games.
Memory: DDR3 memory is irrelevant now and we also don't have any Mini PC with DDR3 RAM. Most Gaming Mini PCs have DDR4-3200 memory except for the BeeLink GTR 6 which has faster DDR5 ram treatments.
Memory: DDR3 memory is irrelevant now and we also don't have any Mini PC with DDR3 RAM. Most Gaming Mini PCs have DDR4-3200 memory except for the BeeLink GTR 6 which has faster DDR5 ram treatments.
FAQS
Q: Can a Mini PC be used for gaming?
Yes, Mini PCs are now strong enough for playing games. You can play games at 1080P resolution on most gaming Mini PCs except for Intel iGPU-based Mini PC. Some extremely powerful Mini PCs can drive 1440P and 4K gaming.
Q: Does a Mini PC have a GPU?
Yes, some Mini PCs have dedicated GPUs. Mini PCs usually have mobile GPUs paired with mobile processors. Some barebone Mini PCs have full-sized GPU with desktop processors.
Do Mini PCs overheat?
Every running electronic chip produces more or less heat. Depending on the CPU, Mini PCs have their own cooling system designed.
Which is the most popular mini computer?
Minisfoum and Beelink dominate the MIni PC market. There are several popular Mini PCs available from both companies.
Can a Mini PC run Warzone?
Yes, Call of Duty Warzone is very much playable on high-end Mini PC. Though, some budget Mini PCs struggle to run smoothly as COD: Warzone is a very demanding AAA games title and requires heavy CPU/GPU power.
Which is the most powerful Mini PC?
Intel NUC 12 is the most powerful mini PC available on the market.