With more than 30% growth, eSports turns into a billion-dollar industry, and this massive popularity drives manufacturers to design specialized eSports hardware. If you're an eSports addict and want to update your old monitor, perhaps recently interested in competitive gaming and looking for a new one, you're on the right planet!
You can play your favorite games on any monitor, but when speed matters and you don't want to get killed early, you'll need a super-fast monitor to compete with pro gamers. Of course, Pro-level gaming requires professional coaching and a lot of practice.
Screen Size: A 23-25" diagonal screen size is ideal for eSports gaming as most tournaments use a similar size monitor. So, why not a larger screen? You have to move your head frequently to look at the edges of the screen, which will distract concentration on a large screen. If you aim at pro-level gaming, it is better to use the same monitor size that tournament uses.
Panel Type: The old-fashioned TN panel still provides the best performance as they have a faster response time and low input lag. however, most TN panels suffer poor viewing angles. But this is not a big concern for gamers as they sit straight ahead in front of the monitor.
The same goes for color reproduction capability as they don't require professional-grade color accuracy. The IPS panels offer great color with viewing angles among all display technology. But TN panels are ahead in terms of response time, which is crucial for eSports gaming. The good news is some advanced IPS panels now can match TN-level performance.
VA panels sport the highest contrast ratio compared to IPS and TN monitors. But, we do not recommend VA monitors for pro-level eSports due to the worst response time performance along with terrible input lag.
Refresh Rate: As there is no chance to miss a nanosecond opportunity, the refresh rate plays a vital role in the smooth gaming experience. It is better to have a monitor with the highest refresh rate. Some 144hz monitors dominated this market for a while, but now 240hz monitors are widely available and we recommend getting 240hz+ monitors for the ultimate gaming experience.
BenQ ZOWIE XL2546K: Best eSports Monitor
If you're looking for the ultimate eSports monitor, BenQ Zowie XL2546K is the right monitor. The XL2546K is an upgraded model, the old XL2540 was also very popular and used in many tournaments. The new model ships with DyAc+ features turned ON, DyAc (Dynamic accuracy) is BenQ's proprietary technology that helps to reduce motion blur.
BenQ Zowie XL2546K officially supports AMD Freesync, works as an adaptive sync display when the DyAc feature is disabled. If you are looking for a native Adaptive-Sync supported monitor, BenQ also offers a cheaper Adaptive-Sync model with similar specifications.
Design and Build Quality: BenQ Zowie XL2546K comes with an excellent design package. The monitor is simple, but it doesn't look like a business monitor as there are some red highlights providing gaming aesthetics. The stand is very solid and delivers tilt, height, and swivel adjustments.
The monitor has a removable tactical shield to prevent reflection. BenQ does not bother with RGB lighting with this gaming monitor, RGB haters will appreciate this for sure.
Zowie XL2546K uses the traditional multiple button design to adjust the OSD setting. My personal preference is the joystick navigation, which is more comfortable. However, it comes with an additional S-Switch with a scrolling wheel to make the adjustment easy.
For Input/Output, the monitor includes a 1X dual-link DVI port, 2x HDMI, 1x DisplayPort 1.2 plus a headphone and microphone jack along with 3x USB ports. The monitor has a 100x100mm VESA mount hole. The overall build quality is good, and there are no issues or loose parts that could break over time.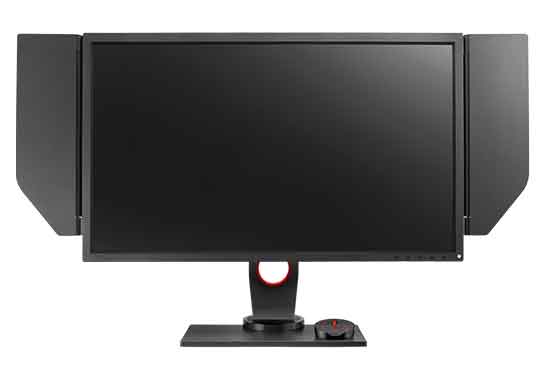 Features and Performance: BenQ XL2546K is a full HD monitor with 1920×1080 pixel resolution, it is the perfect resolution considering the 24.5" inch diagonal size. BenQ uses a TN panel for this monitor, which is well known for speed but sacrifices viewing angles and color accuracy. Overall viewing angles and color reproduction capability is good enough for TN panels. This is an 8bit (6bit+FRC) panel and can produce 16.7m colors, and it doesn't support HDR.
The high refresh rate is one of the strongest sides of the TN panel, XL2546K comes with a blazing-fast 244hz refresh rate- a most welcome feature for eSports gaming. With a greyscale DeltaE > 4.0, the default factory calibration is not so great, but the results improved marginally with hardware calibration. This is not a big problem as probably no one uses a TN monitor for professional work.
The XL2546K delivers excellent response time performance, 1ms response time is noted on the paper, it achieves a response time of 3.3ms with fast overdrive setting in the grey-to-grey test. With an exceptional 2.3ms input lag time, this monitor is the best in the category. BenQ's Dynamic Accuracy + feature reduces the motion blur by a significant amount and helps to aim the target more accurately.
Asus TUF Gaming VG259QM: Fast IPS Monitor for eSports
If you can't afford the world's fastest 360Hz monitor but looking for the highest possible refresh rate, Asus TUF VG259QM is the right choice. The Asus VG259QM rocks a native 240hz IPS panel, which is overclockable to a 280hz refresh rate.
The monitor comes with a full set of gaming features, including Adaptive-Sync, ELMB Sync, Dynamic Shadow Boosting, and DisplayHDR 400 certifications. TUF is the company's value-oriented monitor series, where the ROG lineup is aimed at the premium market segment. This doesn't mean this is a cheap monitor but has a reasonable price-performance ratio.
Design and Build Quality: The VG259QM comes with a straightforward design as this monitor doesn't have any RGB lighting on it. This is a pretty simple and clean design concept. But it doesn't look like a business monitor either, some red highlights provide gaming aesthetics. The bezels are narrow around all sides. The stand is plastic-made including the base, though some metal construction would be great. The stand ergonomics are simply brilliant, delivers height, tilt, swivel, and pivot adjustment in a good range of motion.
As per as connectivity is concerned, this monitor comes with 1X DisplayPort 1.2, 2X HDMI2.0 with HDCP support, and a headphone jack. There are 2X stereo speakers that deliver a good amount of sound. Unfortunately, this monitor doesn't have any UBD 3.0 hub. This minimal I/O connectivity helps ASUS to minimize overall unit cost.
TUF VG259QM uses four quick-access buttons along with a directional toggle to simplify OSD navigation. The OSD interface is clean and organized, includes multiple game mode presets.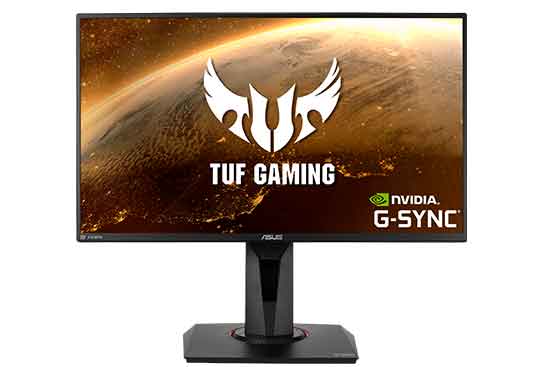 Features and Performance: Asus TUF VG259QM features a 1920×1080 resolution at a 16:9 aspect ratio. This AU Optronics 8bit AHVA panel delivers a 16.7m color. Don't get confused by AHVA naming, it's just an IPS panel type, not a VA panel as many of you may think. Asus advertises this monitor as DisplayHDR 400 monitor, but it doesn't allow 10bit color processing and neither supports a wide color gamut. However, this entry-level HDR doesn't deliver true HDR gaming performance.
The VG259QM supports a full sRGB spectrum and 80% of the DCI-P3 color. The default color accuracy is good for the average DeltaE < 2.6. The 1000:1 contrast ratio is fair, and viewing angles are good as expected from an IPS panel.
This Adaptive-Sync monitor supports low framerate compensation technology. Asus managed to run Adaptive-Sync with ELMB SYNC simultaneously. A lot of monitors have backlight strobing technology similar to ELMB, but all of them disable Adaptive-SYNC to run backlight strobing except VG259QM.
This monitor is listed as a 1ms monitor, no doubt this 1ms is mostly a marketing term. Crazy overdrive mode is unusable due to massive inverse ghosting. The optimal overdrive mode obtains an average 3.6ms response time in a full 280hz refresh rate, with an acceptable overshoot error margin. For the input lag, VG259QM has 2ms timing, this 2ms input lag is definitely a brilliant result with a 0.3ms processing delay.
Finally, Asus VG259QM is surely not the fastest gaming monitor but an excellent monitor at a reasonable price with superior color grading from the industry's best IPS panel. 
MSI MAG 251RX: Budget eSports Monitor
MSI unleashed their MAG 251RX to join the eSports momentum. This 24.5" inch IPS panel is fast enough to match TN-level performance with superior color and better viewing angles. Where most of the top-performing eSports monitors cost around $500, MSI MAG 251RX can be found under $400USD.
MSI MAG 251RX is the only eSports monitor that has USB-C connectivity, which is mostly found on professional-grade monitors. If you're looking for an eSports monitor with a USB-C port, there is no choice except the MAG 251RX.
This 240hz display is an Adaptive-SYNC compatible monitor and certified by NVIDIA G-SYNC. In addition, it supports Anti-flicker technology to keep screen flickering problems minimal. Other key features are Night Vision Mode, DisplayHDR 400, OSD App, and 1ms grey to grey response time.
Design and Build Quality: The MAG 251RX has a matte finished plastic body with an eSports logo on the backside. The body is comparably thick but the bezels are almost frameless. MAG 251RX shines with RGB lighting which can be synced with MSI Mystic Light software. If you already own MSI Motherboard, you can customize all of your RGB with this same software.
The stand has a good range of height and tilt adjustments but lacks a pivot mechanism, so you can't use this monitor in portrait orientation. Thankfully this monitor is VESA mountable if you want to add pivot support with extended monitor arms.
The OSD is controlled by a single red-colored joystick located on the bottom. However, you can use the Gamer OSD App- allows using a mouse and keyboard. MSI keeps overdrive modes simple, with only three overdrive modes available in the OSD.
For display connectivity, MAG 251RX includes a standard DP1.2 port and 2X HDMI along with a USB-C port. The monitor also has a USB hub and audio jack on the I/O board.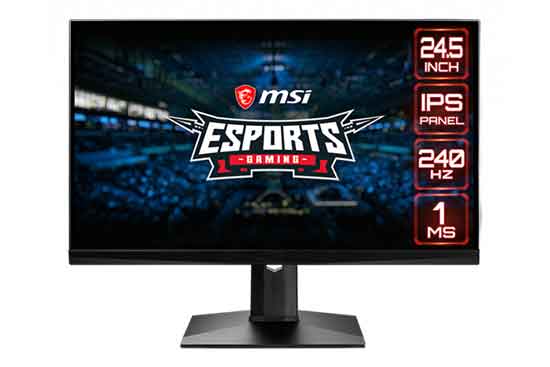 Features and Performance: The monitors feature 1920×1080 resolutions at a 16:9 aspect ratio. This HDR-supported panel supports 1.07b colors through 10bit(8bit+FRC) processing and delivers color-rich imagery. Though this basic HDR support and 10bit processing are meaningless if you're expecting the ultimate HDR experience which requires a full-array local dimming backlight.
This monitor supports a full sRGB spectrum and 84% of DCI-P3 color. There is no wide gamut support but the default sRGB mode comes with superb factory calibrations. MSI tweaked this panel very well, the default grayscale DeltaE is lower than 1.2. Saturation and ColorChecker test results are outstanding for a DeltaE <2.0 result. If you need more color accuracy, you can adjust the OSD setting or proper hardware calibration, which will lower the GrayScale DeltaE result to < 0.5. This level of professional-grade color accuracy is not required for eSports but it does matter for the content creators.
Moving on, the brightness is very good on this monitor, about 425nits of peak brightness is enough for most gamers, and with a 1230:1 contrast ratio mark, this monitor beats its competitor by a large margin.
MAG 251RX can hit an average 3.21ms response time in the fastest overdrive mode with an acceptable overshoot error margin. The response time is just 0.1ms higher than BenQ XL2546 but offers better colors and viewing angle performance. The 2.39ms input lag is simply extraordinary for any gaming monitor. The processing delay is just 0.3ms with a 5.5ms combined latency timing.
MSI MAG251RX exceeds all expectations for crazy gaming performance. This is the right monitor if you are looking for a pro-level gaming performance from an IPS panel.
HP OMEN X25f: Fast TN Monitor
As a leading PC manufacturer, HP requires no introduction. The company aimed at pro-level eSports gamers with their latest OMEN X25f. This 25" inch (24.5" inch viewable) monitor rocks a 240hz TN panel with incredible response timing. To ensure the smoothest gameplay, OMEN X25f supports Adaptive-SYNC technology, which means compatibility with both AMD Free-SYNC and NVIDIA G-SYNC.
With an expensive price tag, this monitor is not cheap by any means. HP targeted professional-level performance seekers who willingly pay a high price for this top-tire gaming monitor.
Design and Build Quality: HP OMEN X25f comes with an excellent build quality that is made justice for the price. Most of the body part is made of plastic but has a premium finish that looks elegant on the desk.
The metal stand is very solid and has 5.1" height and 5o-22o tilt adjustment. Unfortunately, it has no swivel or pivot support. The stand has a wire loop for cable management and you can use the stand top as a headphone holder. The monitor is VESA mountable but requires an additional mount adapter included in the package.
The bezels are slim on around three sides, but the monitor is a bit thick when attached to the stand. Like other premium monitors, HP OMEN X25f uses a single joystick for OSD navigation. On the connectivity side, the monitor has 1x DP1.2, 2XHDMI2.0, Headphone Jack, and USB3.0 hub. This unit doesn't include internal speakers.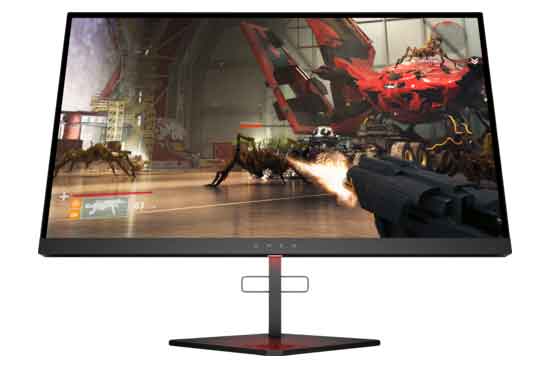 Features and Performance: The 240hz refresh rate makes the OMEN X25f a true speed monster. This 8bit(6bit+FRC) monitor can show up to 16.7m colors in 1920X1080p resolution. This new generation TN panel comes with much better color reproduction capability but still has a poor viewing angle.
The monitor supports 99.5% sRGB color and 84% of DCI-P3 color, there is no wide gamut support on this monitor. Out of the box, color accuracy performance is mediocre as the greyscale DeltaE average is 3.45, which is not bad for a gaming monitor, but it is not great either. Manual hardware calibration improves the color accuracy by a large margin but my guess is no one will calibrate this TN monitor for professional use.
This lightning-fast 240hz monitor was built for gaming and it does provide true motion in competitive gaming. In a medium overdrive setting, this monitor hits the fastest response time of 2.11ms with a minimal amount of overshoot. A crazy overdrive setting can lead this result close to the advertised 1ms response time, but we do not recommend it due to huge overshooting. Input lag is just 2.1ms, which is even lower than BenQ Zowie XL2540.
HP OMEN X25f has a decent 1126:1 contrast ratio, and the monitor is bright enough as the peak brightness exceeds 400nits in regular SDR content.
Dell Alienware AW2521HF: Great Peroformance
If you are looking for a fast eSports monitor but don't want to trade-off color performance, Dell Alienware AW2514HF is a suitable monitor that combines both speeds and color accuracy. This is a lightning-fast 240hz IPS gaming monitor that delivers superb gaming performance with stunning visuals as expected from Dell.
Alienware AW2521HF is an Adaptive-SYNC monitor that has Free-SYNC as well as G-SYNC compatibility. The asking price is slightly higher than the MSI MAG251RX but it does have much better build quality with similar performance. The monitor is equipped with a 1ms G2G response time (on paper) and black stabilizer technology to enhance the dark scene. Unfortunately, this unit has no HDR support like its counterpart MSI model, even though the entry-level DisplayHDR 400 doesn't make any remarkable performance difference.
Design and Build Quality: With beautiful design and excellent build quality, the monitor is love at first sight. If you're already bored with the traditional monitor's design, you'll definitely like this enhanced Alienware AW2521HF design. Dell makes the RGB placement creatively, an Alienware RGB logo shines in the rear including the stand's back.
The stand comes with a sturdy build, the flip back covers the I/O ports, thus makes cable management simple and elegant. The quick-release stand provides decent adjustment functionality, including height, tilt, swivel, pivot in a good range of motion.
For the OSD navigation, AW2521HF has four quick access buttons along with a directional toggle. As for the connectivity concern, the monitor offers 1X DP 1.2, 2X HDMI 2.0, 4XUSB 3.0 with charging capability on one port, 1X Headphone Jack, and 1X Audio Out.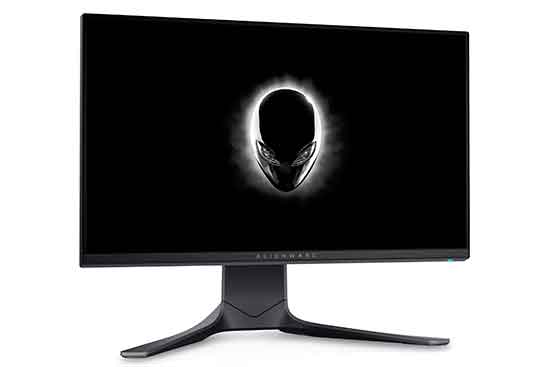 Features and Performance: If you can get a fast IPS monitor, why deal with a TN panel? The previous Alienware model was a TN panel, which was also a favorite monitor among eSports players, but this time Dell goes with an advanced IPS panel that can push performance to TN level.
This 8bit FHD panel provides 16.7m colors and supports 99% sRGB color space. The monitor provides excellent picture quality and color depth due to the IPS panel. As there is no wide gamut support, it performs better in sRGB mode due to clamped sRGB color. Wide gamut monitors come with unclamped sRGB mode, which leads to oversaturation in SDR content. Some professionals prefer sRGB only monitors for content creation as most of the real-life applications are sRGB.
Default factory calibration reports greyscale DeltaE <3, which is good for gaming but needs some OSD tweaks to improve the result for content creation. However, proper hardware calibration pushes the color accuracy to a near-perfect IPS panel as the calibrated results are close to 0.5 in greyscale, Saturation, and Color checker tests.
Like an elephant in the room, AW2521HF sucks with a poor 750 marks contrast ratio, and black tends to appear grey. There is some level of noticeable IPS glow and backlight bleed. Peak SDR brightness is around 350 nits- decent brightness for an SDR monitor.
With a 3.0ms response time in fast overdrive setting, AW2521HF has a clear lead on response time performance with a native 240hz refresh rate. The monitor has a very fast overdrive mode with an unacceptable overshoot margin. Input lag is very low, just 2.8ms input lag provides a superb gaming experience.
Gigabyte AORUS KD25F: Stylish eSports Monitor
Gigabyte is a well-known PC hardware manufacturer, especially for motherboard and graphics cards. The company is relatively new in the monitor industry but recently launched some excellent gaming monitors. KD25F is the second monitor from the Gigabyte AORUS series, featuring a 240hz TN panel in a 24.5" inch screen size featuring an FHD resolution.
This is a Free-SYNC leveled monitor but as an Adaptive-SYNC display, it has no issue with Nvidia GPU. Furthermore, it has an aim stabilizer mode that performs similar to BenQ DyAc, but Gigabyte didn't mention this feature on their website. You have to turn off FreeSync to active aim stabilizer mode.
You'll enjoy the responsiveness in gaming due to its very fast 0.5ms MPRT response time. If you're looking for a good-looking eSports monitor with superb gaming performance, the KD25F will surely meet the demands.
Design and Build Quality: AORUS KD25F is a very stylish monitor as we mentioned earlier. The bezels are very thin and look very impressive. The overall body construction is sturdy and made from premium materials. This monitor comes with RGB lighting on the backside and stand, which is customizable with their RGB fusion application.
The stand ergonomics is excellent, you can use a handle to move the monitor around. It provides height, tilt, swivel, and 90o pivot support to rotate this monitor to portrait orientation. Gigabyte uses a directional toggle to manage the OSD setting, which is simple than the layout of the button.
The monitor has no additional power brick as it contains a built-in power board. For display connectivity, KD25F provides 1X DisplayPort1.2 and 2X HDMI 2.0. There are no built-in speakers, but has a headphone jack and a microphone input. Other connectivity features include a USB3.0 hub with 5W charging support.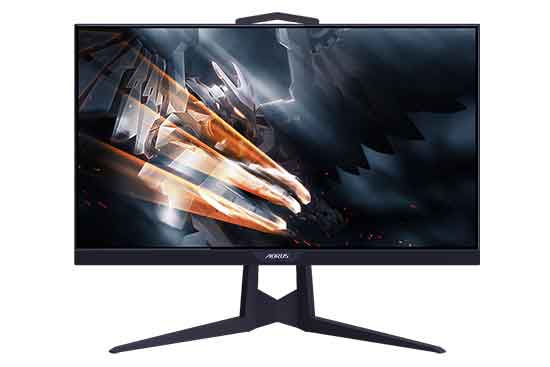 Features and Performance: AORUS KD25F is a gaming-oriented monitor and performs very well in high FPS games due to the 240Hz refreshing rate. Built on a new generation 8bit(6bit+FRC) TN panel that delivers good color accuracy with an average DeltaE <3, surely a decent result for a gaming monitor. TN panel is known for the worst viewing angles, the horizontal viewing angle is decent, but some grade of color washout is noticeable from the vertical angle. For eSports gamers, this viewing performance is acceptable.
The monitor caught so much attention as it claims about 0.5ms MPRT time. However, the actual response time is not fancy as MPRT sounds, the fast response time is 1.5ms with the fastest overdrive mode, but this crazy overdrive mode generates an irresponsible overshoot error margin, which introduces significant inverse ghosting. The balanced overdrive performance is excellent as it doesn't have any overshooting problem and the response time is just 3.1ms.
Input lag is quite good, only 4.1ms, but the monitor trails behind in contrast ratio as it has about 800:1 contrast ratio. AORUS KD25F comes with 400nits peak brightness, excellent for a non-HDR monitor. For balanced features and performance, KD25F is a great eSports monitor.
BenQ Zowie XL2746S: Best 27″ inch eSports Monitor
BenQ established a good reputation among eSports players and their latest XL2746S is our top pick for the best 27-inch eSports monitor. Though the ideal tournament size is 24-25" inch, 27" inch screen size provides much more visual details due to the larger viewable area. The XL2746S offers much flexibility for entertainment use besides gaming.
This 240Hz FHD monitor comes with enhanced DyAc+, 0.5ms response time, black stabilizer, and Adaptive-SYNC support. Adaptive-SYNC support could be useful for demanding AAA titles, but the DyAc+ has its own advantage on FPS games like CS: GO. Price is comparatively high for 1080P monitor but delivers for the high price with remarkable gaming performance.
Design and Build Quality: XL2746S is pretty much identical to its sibling XL2546S by design and build quality. The bezel's edge is angled to the screen, which helps to minimize screen reflection. The sturdy stand provides excellent adjustment ergonomics with height, tilt, swivel, and rotate functionality.
The monitor has an additional S-Switch along with the traditional button layout for OSD navigation. The S-Switch option could be handy for quick navigation as it has a scroller wheel. The XL2746S comes with a removable anti-reflective protection shield and a headphone hanger.
XL2746S contains an old-fashioned 1X DVI port along with a modern 1X DP1.2 plus 2XHDMI port for display connectivity. Other options included a USB 3.0 HUB, Headphone, and Microphone jack. The RGB-devoid XL2746S comes with a premium build quality that exactly reflects the hefty MSRP.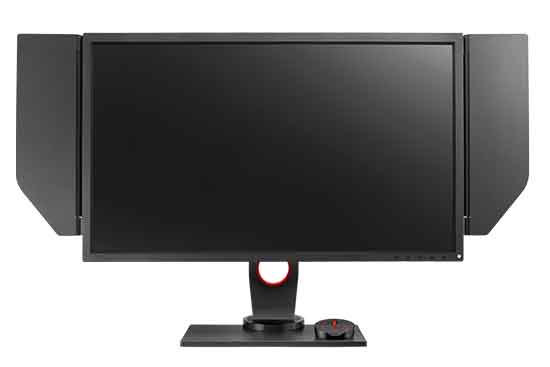 Features and Performance: The monitor isn't meant to be an all-rounder, designed for eSports addicts, and delivers immersive gameplay on eSports titles. Like the old model, this 1080P monitor also rocks a 240Hz panel, but response time and input lag improves significantly over the upgrade.
Official 0.5ms response time sounds amazing but doesn't take it seriously as maximum overdrive settings generate horrible overshooting. The balanced overdrive response time is 1.6ms with an acceptable overshoot margin. Furthermore, the monitor has a 2ms input lag without almost zero processing delay. BenQ Zowie XL2746S is the best 27 inch TN monitor available on the market in terms of response time and input lag.
XL2746S has around 360nits peak brightness in regular SDR content- a fair brightness level for an SDR monitor. The contrast ratio is around 800 marks as expected from the TN panel.
Now about the color performance, the 8bit monitor covers 98% sRGB color with factory-calibrated grayscale DeltaE < 3.0 color accuracy. Hence, this is not an ideal monitor for color-sensitive work, manual calibration can deliver excellent sRGB color accuracy. Viewing angles are bad as there is a significant color shift from different viewing angles, which is a common drawback for all TN monitors.
Finally, XL2746S is an excellent monitor for eSports players with outstanding gaming performance. No 27" inch gaming monitor in the market can compete with this beast in terms of gaming performance.
HP OMEN X 27: 1440P eSports Monitor
The 1080P world is not enough for many of us and the larger 27" inch screen size is a bit large for FHD resolution. Unfortunately, the choice is limited as only a few monitors can push the resolution to 1440P maintaining a 240Hz refresh rate. HP OMEN X 27 is chosen one that features a 2560X1440 resolution and a 240hz refresh rate.
Of course, running a 1440P monitor at 240hz requires massive GPU horsepower. Hopefully, the latest GPU can feed the bandwidth for 240hz at 1440P. The monitor features a Radeon FreeSync 2 HDR with low frame rate compensation technology. This monitor is more of an eSports monitor that offers flexible productivity due to the larger screen and 1440P resolution.
Design and Build Quality: OMEN X 27 comes with unique design aesthetics, the square metal stand is pretty solid. The stand provides regular height and tilt adjustment but no swivel or pivot mechanism is a bit disappointing. With the additional mount plate, this monitor has VESA mounting capabilities.
HP OMEN X 27 is a bit thick and bulky compared to similar monitors. The composite material body has a very good finish and looks lucrative as a premium monitor should be. The backside is beautifully crafted with a textured design. The OSD is fairly clean and simple, but a bit difficult to adjust as this monitor comes with an old-fashioned button layout for OSD control.
Unlike many other gaming monitors, OMEN X 27 lacks RGB lighting. The monitor doesn't contain any built-in speakers as well. HP equipped OMEN X 27 with 1X DP1.4, 2X HDMI 2.0, Audio Jack, and USB 3.0 HUB for connectivity.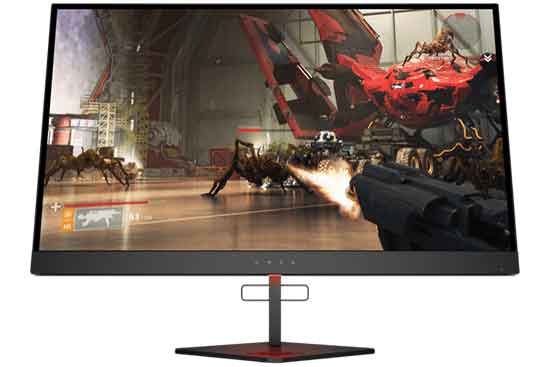 Features and Performance: The monitor is based on an 8bit TN panel and features 2560x1440P resolution, this is a huge step up from regular 1080P panels. The monitor produces 16.7m colors similar to other 8bit panels. There is no true 10bit HDR processing as HP claims, this HDR support delivers a slightly better peak brightness level.
The monitor covers 100% sRGB color space with a decent calibration result of 0.8 GreyScale DeltaE, 0.5 sRGB DeltaE in ColorChecker, and 0.48 DeltaE in Saturation test.
In the maximum overdrive setting, this monitor hit the lowest 1.5ms average G2G response time at a full 240hz refresh rate, but this maximum overdrive mode generates around 36% overshoot error margin, leads to a significant amount of inverse ghosting.
With the level 3 overdrive mode, the G2G response time is close to 3.2ms with a tolerable overshoot error margin. The monitor has two more slow overdrive settings, delivers 6-10ms response timing without overshoot.
In terms of input lag, HP OMEN X 27 has a clear lead compared to other gaming monitors. With a 0.02ms processing delay, the total latency does not exceed 2.2ms in optimal overdrive mode.
The contrast ratio is average for the 830:1 contrast mark, but the brightness level is pretty good as this monitor can hit a 366nits peak brightness level. This brightness level is far from a true HDR monitor, but surely excellent for regular SDR content.
Similar to other TN panels, this monitor also suffers from poor viewing angles-only downside from this gaming monitor. There is nothing HP can do about viewing angles as all TN panels have this issue by nature.
Conclusion
At this point, you might figure out what you are looking for. We have discussed a lot of eSports monitors in this article, all of these eSports monitors have pretty much similar specifications and it is hard to choose one as they perform very close.
To make the selection process easy, we covered an in-depth review of each unit with detailed performance results. Now it's up to you to filter the right monitor which will fulfill your requirements.