Ultrawide monitors are popular among gamers and creative professionals for amazing visuals. If you're from a regular 16:9 monitor and using an ultrawide monitor for the first time, the experience should be wow! We aren't here for the ultrawide only but also for the best ultrawide HDR monitors available on the market. Check our best 4K HDR monitor guide if you're interested in a regular 16:9 monitor.
HDR is a relatively new technology and there are only a few ultrawide monitors available that deliver true HDR performance. Of course, a lot of ultrawide monitors in the market have basic HDR support, most of them are just regular ultrawide with slightly higher brightness levels with VESA DisplayHDR 400 certification.
Technically, VESA DisplayHDR 400 monitors can process HDR 10 signals, but shouldn't expect any remarkable HDR performance as most of them don't have a full-array local dimming backlight, which is also known as FLAD. If you're looking for an ultrawide HDR monitor for gaming or productivity, You are in the right place. Through this article, we are going to sort out the best ultrawide monitors with HDR capability.
Acer Predator X35: Best Ultrawide HDR Gaming Monitor
If you're looking for the absolute best HDR ultrawide gaming monitor and don't care about the price, the Acer Predator X35 is your ultimate destination. It is one of the most expensive ultrawide HDR gaming monitors that money can buy. This beast delivers an insane HDR gaming performance for an eye-watering price tag.
So what makes the Predator X35 expensive? Well, this is a 35" inch ultrawide monitor that sports a 200Hz(180Hz native) refresh rate with NVIDIA G-SYNC Ultimate support. The display is rated as a VESA DisplayHDR 1000 monitor, packed with 512 zones of full-array local dimming backlight.
We've seen some extreme 1000R curve monitors recently but the Predator X35 comes with a modest 1800R curvature design. The monitor is pretty good-looking, built with a regular plastic body with a metal base stand – a common design pattern for gaming monitors.
There is RGB lighting on the back, barely noticeable if you're looking from the straight front. The I/O includes 1x DP 1.4, 1X HDMI 2.0, 3.5mm Headphone-out, 2X 4W Speaker, and a USB 3.0 HUB. The Predator X35 uses active cooling that makes noise, this noise level is very distracting in a quiet room.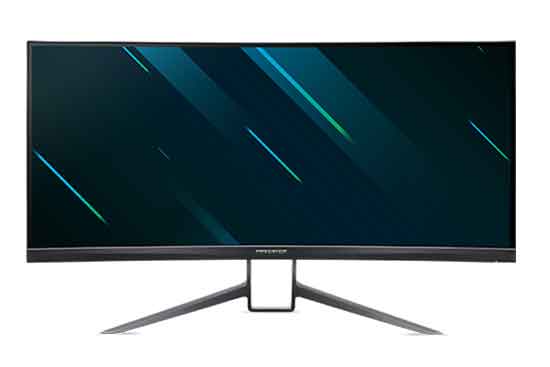 Image Quality and Performance: Predator x35 features 3440 x 1440 resolution at a 21:9 ratio, and image quality exceeds expectations, especially on HDR gaming mode. The monitor supports 10bit(8bit+FRC) color in HDR content and supports 1.07b colors.
For a wallet-destroying price, it's normal to expect top-notice color accuracy, though the Predator x35 is a gaming monitor and Acer didn't care too much about color accuracy. The monitor has full sRGB coverage along with an 80% DCI-P3 color spectrum.
Default factory calibration is not bad for GreySclale DeltaE <3.16, but not great as the competitor Asus PG35VQ has a much better color accuracy. Again, this uncalibrated result improves significantly to DeltaE <2.16 after manual hardware calibration with Spyder 5.
Predator X35 achieves a 6ms G2G response timing at a maximum 200Hz refresh rate without overshooting. The response time is close to 4.27ms with an acceptable 9% overshoot error margin. However, an irresponsible inverse ghosting will occur if you try to achieve the advertised 2ms response timing with crazy overdrive settings.
The monitor has 1000nits peak HDR brightness as we mentioned earlier, but SDR brightness is limited to 600nits, we tested a 548nits SDR peak brightness, slightly low from the official specification, but enough bright even for outdoor environments.
Finally, the X35 delivers extraordinary gaming performance. If you need a true HDR gaming monitor, Acer Predator X35 is simply the best of best.
ASUS ROG SWIFT PG35VQ: True HDR 1000 Ultrawide Monitor
Asus PG35VQ is more or less an exact copy of Acer X35, featuring the same 200Hz VA panel with Nvidia G-GYNC Ultimate in a 1800R curved design. Despite having a similar MSRP, PG35VQ costs a little higher than the counterpart Acer X35 due to Asus ROG branding and better color accuracy.
The Asus PG35VQ has launched about a year ago before the HDMI 2.1 device appears on the market. So you won't get a full 3440 x 1440 resolution with HDMI 2.1 based PS5 and Xbox Series X/S. If you want to play games on the next-gen console, the resolution is limited to 1920x1080P @ 120Hz refresh rate. We can expect that the next updated model will use HDMI 2.1 interface and elements resolution issue for the latest console.
We have seen some 4K 16:9 DisplayHDR 1000 monitors are facing the DP 1.4 bandwidth issue and forced to use DSC or 4:2:2 chroma sub-sampling, PG35VQ has the same issue despite having fewer pixels than a16:9 4K monitor, but it can support 10bit HDR color up to 144Hz without DSC or 4:2:2 sub-sampling.
Asus PG35VQ comes with 1x HDMI 2.0 along with a DP1.4b port for display connectivity. Additionally, it has an ESS 9118 DAC to convert digital to analog audio amplifier built into the monitor itself. I've never seen any monitor with a built-in audio DAC. PG35VQ includes a standard USB 3.0 hub.
The OSD is very responsive and easy to manage as there is a directional toggle along with 4 quick access buttons. The overall build quality is excellent as a premium monitor should be, the stand provides excellent ergonomics except for the pivot support due to the ultrawide screens. It has RGB lighting on the textured backside and a projection light on the stand's bottom.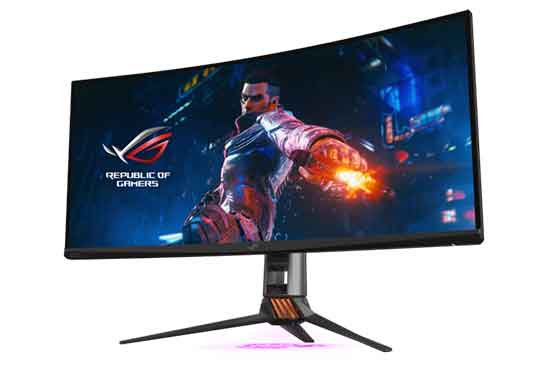 Image Quality and Performance: As a true HDR monitor, the PG35VQ can process 10bit (8bit+FRC) colors and 1.07b colors. Asus claims to have a 90% DCI-P3 coverage, but the test result is much lower, can't exceed 72% DCI-PC color gamut while the counterpart X35 has much better 80% DCI-P3 coverage out of the rated 90% DCI-P3 coverage.
For a content curator sRGB matters the most, PG35VQ has a 99% sRGB color gamut support. Asus manage good tweaking on this panel, the monitor has near-perfect color accuracy with factory calibrated DeltaE <2.0. After a manual calibration, sub GreyScale <0.5 is achievable with a similar result on Saturation and ColorChecker tests. If you're a content creator besides gaming, we recommend the PG35VQ over the X35.
VESA DisplayHDR 1000 rated PG35VQ rocks a 1048nits peak HDR brightness and 570 nits SDR brightness. Without any doubt, brightness is very strong with a tested 2717:1 contrast ratio. Gaming Performance is similar to X35, so we won't repeat it, both of the monitors have mouthwatering HDR performance. If you're seeking a great HDR monitor with decent color accuracy for content creation PG35VQ should be your next monitor.
LG 38GN950-B: Best HDR 600 Ultrawide Monitor
Slightly cheaper than the top-performing Acer X35, but LG 38GN950-B is not cheap at all. The newest LG 38GN950-B is upgraded to DisplayHDR 600 standard from the existing DisplayHDR 400 model. The previous one was a dedicated G-SYNC monitor with a physical G-SYNC module inside, the newest model supports G-SYNC and FreeSync Premium Pro as Adaptive-SYNC implementation.
There is another HDR 600 monitor in this family- LG 38WN95C-W, which is a productivity-focused and RGB devoid monitor featuring Thunderbolt 3 connectivity. Both monitors use the same panel and offer similar performance.
Undoubtedly, the 38WN95C-W is the best ultrawide hdr monitor for productivity, but we won't bother a separate review as there is no technical difference except for the visual style.
LG3 38GN950-B has a much larger 38" diagonal screen size as the name suggests. Unlike the X35, LG uses a Nano-IPS panel for this monitor. The curve is gentle but not extreme, LG decides to with less curve where other manufacturers push aggressive curvature.
There are no built-in speakers or USB TYPE-C port, included I/O ports are 1x HDMI, 1xDP port along with a USB HUB. Similar to other Ultragear gaming monitors, 38GN950-B has RGB lighting on the back.
LG overhauled the OSD interface a lot, the design is much cleaner and simple. Navigating through a directional toggle is easy. Moreover, software adjustment using mouse and keyboard is also supported.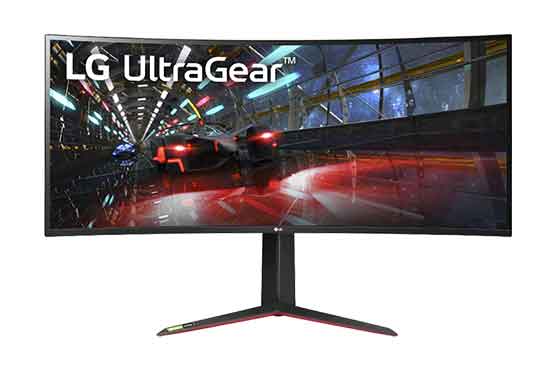 Image Quality and Performance: Thanks to the Nano-IPS panel, the 38GN950-B delivers better color reproduction and viewing angles compared to the VA-based ultrawide. LG starts a new QHD+ trend with this 38" inch monitor series, featuring a 3440x1600P resolution.
As a wide gamut monitor LG 38GN950-B supports around 94% DCI-P3 coverage, though LG states a 98% DCI-P3 coverage. The monitor is equivalent to 140% sRGB support, A dedicated sRGB mode is present in the OSD with clamped color.
As far as color accuracy is concerned, the monitor comes with exceptional color accuracy. This factory-calibrated monitor has DeltaE <2.0 color accuracy, ready to use for professional color-sensitive applications. However, you can improve color accuracy with proper hardware calibration for a near-perfect DeltaE <1.0 accuracy.
LG advertises this monitor as a 1ms monitor, technically it can achieve a 1ms response time but only with the crazy overdrive setting. But this mode is almost useless due to massive inverse ghosting. The standard overdrive setting achieves a respectable 4ms response time at a full 160Hz refresh rate.
The contrast ratio is always the Achilles heel for IPS monitors and LG 38GN950-B is no exception, performing 948:1 against the official 1000:1 figures. But the brightness is good for a 530nits peak HDR brightness as this monitor has limited FALD zones to deliver exceptional HDR performance. But this result is surely better than most IPS monitor available on the market.
MSI Prestige PS341WU: Best Budget HDR Ultrawide for Productivity
If you're looking for an HDR ultrawide for your creative workstation, MSI Prestige PS341WU could be an excellent choice. This 34" inch flat ultrawide is based on an LG Nano-IPS, LG also offers a similar 34" inch Nano-IPS ultrawide. Moreover, the Prestige PS341WU has superior build quality, MSI manages very good tweaking on the panel and delivers better performance in some matrices.
This is a DisplayHDR 600 certified monitor aimed at creative professionals. There is no gaming feature like adaptive sync, and the refresh rate is limited to 60Hz. However, the Prestige PS341W is not a gaming monitor and there is no need to satisfy gamers.
In terms of build quality, the Prestige PS341WU is just a piece of art. A solid bar on top of a rectangular base with height, tilt, and swivel adjustment holds the mighty screen. The bezels are slim around all four sides.
The monitor features 1x DP 1.4, 2x HDMI 2.0, and 1x USB-C for display connectivity. The HDMI 2.0 interface is limited to 3840 x 2160P resolution instead of the full 5120X2160P resolution, don't know why MSI included two of them. There are USB 3.0 HUB and 3.5mm audio IN/OUT ports available.
MSI creator app can manage the display settings easily, moreover, you can use the physical joystick to adjust the OSD settings.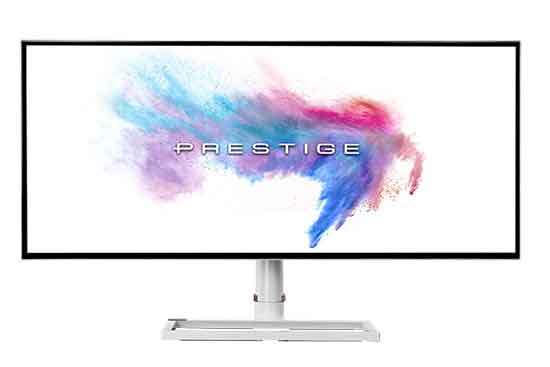 Image Quality and Performance: The Prestige PS341WU features an amazing 5K2K resolution, powered by a 10bit (8bit+FRC) Nano-IPS panel that delivers vibrant and crystal clear images. There is no issue regarding viewing angles, even from the extreme positions.
As an IPS panel this monitor provides exceptional color reproduction, touting a 98% DCI-P3 coverage. Though, a 97% DCI-P3 support is tested which is close enough to official claims. The DCI-P3 color standard is widely used for TV/Movie production while the rest of the professional applications still relies on the sRGB color gamut.
The monitor supports a full sRGB color spectrum, a dedicated sRGB mode is present on the OSD that comes with clamped color. Most DCI-P3 monitors have oversaturation but you can work flawlessly with the dedicated sRGB mode.
It is normal to expect a top-class color accuracy from a productivity monitor and MSI PS341W didn't disappoint here, ensures a DeltaE <2.0 in all color profiles including Greyscale, Saturation, and ColorChecker test.
While most IPS panel struggles to hit 1000:1 contrast ratio, the Prestige PS341WU rocks a 1248:1 contrast ratio against the 1200:1 figure in the specification. As a VESA DisplayHDR 600 monitor, technically it should have 600nits peak brightness. However, we've recorded a 530nits peak brightness on the HDR scene.
No gaming features like adaptive-sync, backlight strobing, and response time are a bit high for an 8ms G2G response time. However, this monitor is not aimed at gamers but creative professionals. Though, some gaming features would be nice but MSI decides not to include them.
Overall, The Prestige PS341WU is a top-performing productivity monitor, if you don't care about gaming features. This Nano-IPS monitor is ready for mission-critical color-sensitive applications out of the box without any calibration.
Gigabyte G34WQC: HDR 400 Gaming Ultrawide Monitor
Top-tire VESA DisplayHDR 1000 and 600 monitors are awesome only if you have enough budget, the entry-level VESA DisplayHDR 400 monitors are the only option for the rest of us. Gigabyte G34WQC is our top best DisplayHDR 400 ultra-wide monitor.
The G34WQC has a balanced 34" inch HDR ultrawide with excellent pricing. Of course, this EDGE type ultrawide monitor can't deliver the same HDR experience as the FLAD backlight monitors but a basic DisplayHDR 400 certified monitor is still better than nothing.
Nowadays extremely curved ultrawide becomes trendy and this one is 1500R curvature, a bit deep compared to the 1800R design but not extreme as the 1000R design. The overall build quality is impressive. The included stand provides 100mm height adjustment along with 5o-20o tilt movement. Moreover, it is 100x100mm VESA mount compatible.
Gigabyte includes 2x HDMI 2.0 and 2x DP 1.4 port for display connectivity, there is no USB 3.0 port available on this monitor. A pair of 2W speakers are present in case of emergency use. The remaining I/O port is a 3.5mm headphone out. The G34WQC uses a directional joystick instead of the button layout, which I preferred most for easy OSD navigation.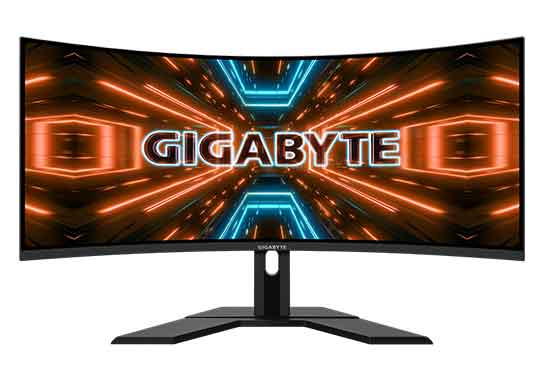 Image Quality and Performance: This 21:9 VA panel features 3440x1440P resolution and pixel density is quite good. Gigabyte claims to have 90% DCI-P3 along with 120% sRGB color spectrum, and we found 88% DCI-P3 and full sRGB color gamut support.
Gigabyte doesn't care about color accuracy too much as color accuracy isn't the main purpose for a gaming monitor and that's reflected in a DeltaE >5.5 GreyScale average. However, some OSD tweaks improve color accuracy, but we recommend manual calibration if you want to use this monitor for productivity. After a manual calibration, this gaming VA monitor can achieve near-perfect DeltaE < 0.6 color accuracy.
Apart from the 1ms MPRT marketing terms, the G34WQC rocks a 5.10ms G2G response time with the fastest overdrive settings at a full 144Hz refresh rate. The overshoot error margin is acceptable even at crazy overdrive settings and inverse ghosting is minimal.
The balanced overdrive mode has 7.1ms best G2G response timing with improved overshoot error margin but we recommend the fastest overdrive mode as the error margin didn't exceed the 7% mark on fastest settings. Less than a 0.8ms processing delay with a 9.5 ms input lag result is okay for the VA panel.
A 350nits brightness is fair enough for a basic HDR ultrawide, but the contrast ratio is above expectations, rocks a stellar 3640:1 contrast ratio.
The other key features are AMD FreeSync Premium, Aim Stabilizer, and Black Equalizer. While other HDR ultrawide monitors are expensive, this cheap ultrawide monitor provides excellent gaming performance at a reasonable price.
Samsung Odyssey G5 Ultrawide
After a massive success with the Odyssey G9- our top peak for the best 49" super ultrawide gaming monitor, Samsung recently released the Odyssey G5- an ultrawide variant of the regular 27" Odyssey G5. Of course, the G5 doesn't offer the same HDR brightness or high refresh rate compared to the mighty 49" inch G9, but this basic HDR-supported monitor still delivers excellent gaming performance for less than ½ price. Powered by a 165Hz VA panel, this monitor beats average IPS monitors in terms of gaming performance.
While the G5 holds the crown for the best-performing 34" inch ultrawide gaming monitor, but build quality isn't that impressive. The included stand features limited tilt adjustments and that's it. The plastic-made body comes with an average finish and doesn't feel premium.
This monitor has a thick body and requires a larger desk to fit. Samsung pushes the curvature boundaries to an aggressive 1000R design. This extreme curvature provides eye-comporting views. A single toggle located on the screen bottom manages the OSD settings- a convenient way to adjust display settings.
1x DP 1.4 and 1x HDMI 2.0 are the available display connectivity options along with a 3.5mm audio out, there is a USB port for the firmware update. The HDMI 2.0 port is capped at 100Hz at full resolution and doesn't support FreeSync. The G5 LC34G55T doesn't have any built-in speakers.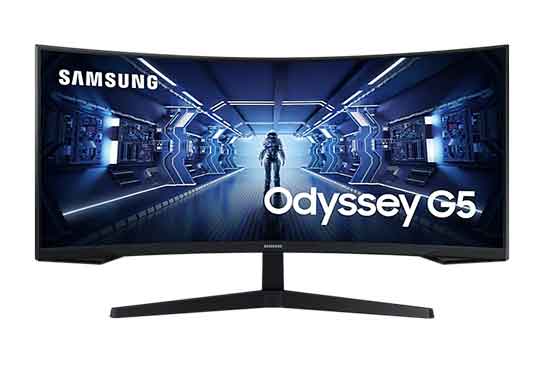 Image Quality and Performance: While the regular QHD G5 has a 2560x1440P resolution, the ultrawide variant offers a higher 3440x1440P resolution. This extra resolution does cost a hefty premium over the regular 16:9 model.
Due to a high 108PPI pixel density, this monitor delivers strong sharpness and image quality is outstanding. The monitor is based on an 8bit(6bit+FRC) panel and supports 16.7m colors. There is no 10bit color support, though Samsung marketed this monitor as an HDR monitor.
The G5 LC34G55T doesn't have wide gamut support, but sRGB performance is excellent. As far as color accuracy is concerned, the default factory calibration is almost perfect for a Greyscale DeltaE< 1.56. However, the manual calibration result is almost near-perfect DeltaE< 0.5.
When it comes to gaming performance, the G5 does a great job. This 165Hz monitor rocks a 6ms G2G response timing against the official 1ms MPRT time. The Input lag is excellent, just a 4ms input lag is barely seen on the VA panel. AMD FreeSync Premium is used to prevent screen tearing and stuttering, but FreeSync is only available over DP connection.
HDR support is somehow questionable, a 250nit brightness is not enough to render a true HDR scene neither the monitor supports 10bit colors. However, some HDR effects are noticeable with the help of high contrast ratio.
Surprisingly, this monitor sports a 4600:1 contrast ratio against the noted 2500:1 contrast ratio. The contrast ratio can vary from unit to unit, Samsung probably listed the minimum contrast value.
Overall, the G5 ultrawide is solid gaming ultrawide in a 1000R curved design. It may have lackluster HDR support but gaming performance is the key selling point.
LG 34WP65G-B: Cheapest HDR Ultrawide Monitor
If you don't have enough budget for a true HDR ultrawide like Acer X35, looking for a cheap ultrawide monitor with some HDR capability, the LG 34WP65G-B is the right monitor. With VESA DisplayHDR 400 certification, this HDR-supported ultrawide can process HDR10 signal, though the difference is very minimal. After considering the price, the HDR support is a bonus.
While the best performing HDR ultrawide monitors are 1440P or 2K5K, the cheapest LG 34WP65G-B is a 34" inch FHD( 2560x1080P) ultrawide. The build quality is decent, though the stand ergonomics is not great and supports only limited tilt adjustment. Similar to the flagship model, LG uses the same joystick navigation for OSD control, which is a simple and easy way to manage OSD settings.
There is no USB HUB or built-in speakers but a modern USC-C sweetens the deal for productivity users who want to connect the display with MacBook. The USB-C supports only Display Alt Mode, but no power delivery over the USB-C port to charge extended devices. The others I/O ports are 1x DP, 1x HDMI, and a 3.5mm Headphone out.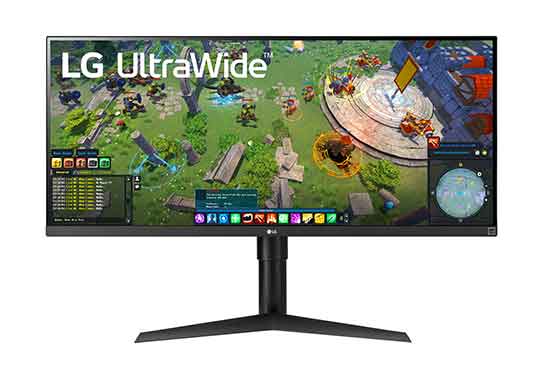 Image Quality and Performance: This 21:9 FHD 2560×1080 ultrawide offers 33% more screen resolution compared to the regular 16:9 FHD monitor. Thanks to the IPS panel, color reproduction, and viewing angles are amazing.
LG mentions a 99% sRGB coverage but we notice that it is a full 100% sRGB monitor. There is no wide color gamut as expected from a super cheap ultrawide. This is a factory-calibrated monitor with great color accuracy with deltaE<2.0.
AMD Freesync with Low Frame Compensation elements screens shuttering, though this 75Hz monitor isn't a dedicated gaming monitor but a most welcome feature for casual gaming. An official 5ms official G2G response time indicates moderate gaming performance, the tested response time is a bit slow for a 7-9ms response timing but definitely better than VA-based Monitors.
Again, this is a basic HDR monitor as we mentioned earlier. A 400 nits peak brightness is decent for a regular in-door monitor and passes the HDR 400 certifications. Technically, this monitor can process HDR signals and you'll get some benefits in HDR effects turned on. The HDR contents such as youtube HDR and images look much better compared to the regular SDR content.
LG states a 1000:1 contrast ratio, we revealed the highest 946:1 contrast ratio after some OSD tweaking. However, this result can vary from unit to unit. Finally, LG 34WP65G-B is an excellent balanced ultrawide HDR-supported monitor. You won't find any other ultrawide that feature a UBC-C port on this price range plus the 100% sRGB IPS panel with FreeSync.
Final Thought
The regular ultrawide Monitors are usually expensive and the best HDR ultrawide monitors even cost more premium. The truth is HDR support becomes a key selling point and the market becomes flooded with HDR-supported monitors. Of course, the number of true HDR monitors is still limited due to the sky-high pricing.
If you're a hardcore gamer there is no alternative other than VESA DisplayHDR 1000 certified Acer X35 or Asus PG35VQ. Technically, they are almost identical by feature and performance, Asus cost a little more for the ROG branding.
For DisplayHDR 600 ultrawide, Nano IPS-based LG 38GN950-B is a great monitor for both gaming and productivity but my personal recommendation goes for the Prestige PS341W for productivity uses.
If the DisplayHDR 1000 and 600 monitors are out of your reach, the DisplayHDR 400 certified GigaByte G34WQC will become your savior. Odyssey G5 ultrawide performs better than the Gigabyte G34WQC in gaming but HDR performance is worse.
Without any doubt, the LG 34WP65G-B is the best cheap HDR-supported ultrawide monitor for excellent image quality and performance. If you're not crazy about the true HDR monitor, this little beast will fulfill your most requirements.