The best 4K HDR gaming monitor surely enhances your gaming experience to the next level, but making the right selection isn't easy as the market is now flooded with HDR leveled monitors. We cover the regular 16:9 4K monitor on this guide. If you're interested in an ultrawide HDR monitor, check our ultrawide HDR monitor guide.
HDR (High Dynamic Range) is the major display technology enhancement after the G-SYNC/Free-SYNC era, provides a wide color range, deep black level, and bright highlights compared to a typical SDR monitor. Most AAA titles including Far Cry 5, Battlefield 1, and Call Of Duty now have HDR support and the numbers are rapidly growing.
HDR is a relatively new technology in the gaming industry, and it's easy to get confused as most entry-level monitors are now have HDR-supported levels. Yes, some monitors are officially VESA certified, and others are self-defined by manufacturers.
Based on peak luminance, VESA defines HDR specifications in several categories. The DisplayHDR 1400 for ultra-premium range, DisplayHDR 1000 for Premium, and DisplayHDR 600 for enthusiastic, and the lowest tire is DisplayHDR 400 – you will find the most HDR supported monitors in this category.
Before buying an HDR gaming monitor, some key features need to be carefully checked. We have done the task for you and shorted the best 4K HDR gaming monitors list. Not only the peak luminance, but we also consider the refresh rate, contrast ratio, color accuracy with real-world gaming performance. This list is sorted according to VESA DisplayHDR specifications. Yes, the HDR monitor's price usually is much higher than the regular SDR monitor. Let's start with the top category.
ROG SWIFT PG32UQX: Best 4K HDR Gaming Monitor
DisplayHDR 1400
Asus tagged this monitor as the power to wow! With a massive 1152 zones of full-array local dimming backlight, ASUS Rog Swift PG32UQX is the best ultra-premium HDR gaming monitor available on the market. A promise of a lifelike 4K HDR gaming experience ever seen before – this monitor stands alone in DisplayHDR 1400 category.
With excellent features and performance in HDR gaming, this beast simply generates wow! as manufacturer Asus tagged. This is the most expensive gaming monitor available in the market. If money is no problem for the ultimate HDR gaming experience, this is the right monitor to buy.
Design and Build quality: Similar to other ROG products, this monitor also comes with the premium build quality and unique design features. The body is pretty solid and made of highly finished plastic material. The stand ergonomics are excellent, delivers decent height, tilt, swivel adjustments, but no pivot support.
The backside has some textured designs with a large LED RGB ROG logo, which is customizable via Aura Sync software, makes feel premium on the desk. A set of quick access buttons with a directional joystick placed on the backside delivers seamless OSD navigation. This monitor comes with a comparably thin bezel when compared to its predecessor ROG PG27UQ. The ROG Swift PG32UX provides 3X HDMI 2.0, DisplayPort 1.4 (DSC Supported) for display connectivity.
The rest of the I/O ports are 2X USB 3.1 and 1x USB 2.0 ports along with a 3.5mm headphones jack. There is a micro OLED panel to display notifications. Previously, many rumor suggests that the PG32UX will feature HDMI 2.1 port. Sadly, Asus decides to stick with the older DP 1.4 port with DSC support, which disappoints many including me.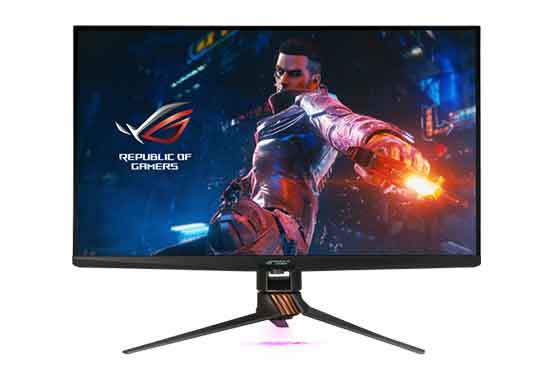 Image Quality and Performance: Asus ROG Swift PG32UQX supports 98% DCI-P3 color gamut that translates into a 160% sRGB color spectrum, usually a full sRGB gamut support. A 10-bit (8bit+FRC) panel produces a broad range of colors 16.7m on SDR content, and respectively 1.07b in HDR mode.
This Quantum-dot 4K Mini LED panel provides much excellent viewing angles (178°) than any VA/TN panel. ROG Swift PG32UQX comes with decent factory-calibrated color accuracy to meet the demands of any professional monitor. Asus claims to have an △E≦ 2 accuracy, the sRGB profile is a bit saturated similar to other unclamped sRGB monitors.
Thanks to the 1400 nits peak brightness, the HDR gaming performance of this monitor simply obsolete all other HDR gaming monitors available at this moment. The standard 500nits SDR brightness is also much higher compared to the regular monitor. A 200-350 nits brightness is a common scenario in most SDR monitors.
The monitor comes with a standard 1000:1 contrast ratio on SDR mode, and the 400,000:1 HDR contrast ratio delivers pure dark scenes. This mini-led panel delivers state-of-the-art image quality, and the larger 32" inch display is ideal for 4K resolution.
Refresh Rate: For SDR content, PG32UQX delivers the 144hz refresh rate at a full 4:4:4 chroma subsampling rate without DSC, but this mighty panel can deliver the highest 144hz refresh rate on HDR gaming at a full 4:4:4 ratio with DSC due to DP 1.4 bandwidth limit. Besides, this monitor offers smooth tear-free gameplay with premium Nvidia G-Sync Ultimate technology.
Response Time: With 4ms gray-to-gray response time, this monitor delivers smooth gameplay with minimal ghosting. Of course, it is not the fastest gaming monitor. Some fine-tuned Nano-IPS panels have better response timing, but after considering a vast 4K resolution in the quantum-dot IPS panel, you simply can't ask for more.
Acer Predator X27: The Ultimate HDR Experience
DisplayHDR 1000
Acer has some excellent monitors on their Predator series aimed at high-end gamers. Powered by 384 Dynamic Backlight Zones LED Acer Predator X27 able to produce typical 600 nits and a peak brightness of 1000 nits, which meets the official requirements for VESA DisplayHDR 1000 certification. With the impressive build quality and top notice HDR support in 4K, Acer Predator X27 is a clear winner in the premium gaming monitor segment.
Design and build quality: The overall look of X27 is excellent and doesn't look cheap. On a beautiful metal stand, Acer Predator X27 has comparably thick bezels and a high-quality plastic material body. The stand provides height and tilts adjustment. Unfortunately, this monitor can't rotate to portrait orientation as there is no pivot mechanism.
On the backside, there is a joystick along with four navigation buttons for easy access to the OSD menu. It does have RGB lighting in two different zones. This monitor includes a pair of speakers, but I assume that the majority of the gamers wouldn't use that.
Similar to other Nvidia G-SYNC Ultimate technology monitors, Acer Predator X27 also uses an active cooling design. For connectivity, Acer Predator X27 features a standard 1x DisplayPort 1.4, HDMI 2.0, 1x USB 3.0 for Upstream, and 4x USB 3.0 Downstream.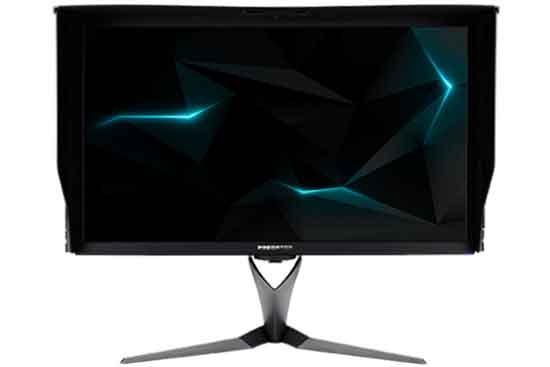 Image quality and performance: The Predator X27 supports a 4K resolution at a standard 16:9 ratio. Powered by a 10 bit (8bit+ FRC) panel, this monitor technically supports up to 16.7 Million colors in SDR and 1.07b in HDR content. The display technology uses an IPS (In Panel switching) panel, which provides 178° horizontal & vertical viewing angles.
This monitor covers 93% of the DCI P3 color profile along with full sRGB coverage, more than enough for any gaming monitor. The Predator X27 is factory-calibrated with △E≦ 1 accuracy, and when comparing an apple to an apple in terms of color accuracy, Predator X27 beat its competitor ROG Swift PG27UQ by a large margin. Due to the peak brightness of 1000 nits, the quality of HDR gaming on this monitor is incredible, even other popular SDR games look way better, especially in any high contrast scene.
Refresh Rate: The Predator X27 supports a native 144hz refresh rate on Display Port similar to its competitor ROG Swift PG27UQ. A full 4K resolution 120Hz is achievable at full 4:4:4 chroma subsampling in SDR gaming mode, while the refresh rate goes down below 98Hz in HDR mode due to bandwidth limitation of Display Port.
If you want to run games at a full 144Hz refresh rate, you'll have to use 4:2:2 chroma subsampling. When connected via an HDMI port, the refresh rate is limited to 60hz in full 4K resolution. To prevent tearing and ghosting, Acer Predator X27 utilizes Nvidia G SYNC Ultimate technology.
Response Time: On the paper, The Predator X27 has a 4ms grey-to-grey response time, but in the real scenario, this IPS panel can produce a fast response time close to 6.62ms when overdrive is disabled. With an extreme overdrive setting, response time is close to 4ms, but some transition occurs due to overshooting.
Asus ROG Swift PG27UQ: Best 27″ Inch HDR Monitor
DisplayHDR 1000
Before the DisplayHDR 1400 monitor arrives on the market, Asus ROG Swift PG27UQ was the best HDR gaming monitor from ASUS. With a massive 4K resolution powered by a quantum-dot IPS panel in a 27-inch diagonal size, ROG Swift PG27UQ is the dream monitor. Nvidia G-SYNC ultimate with an overclockable 144hz IPS panel makes this monitor the best in class DisplayHDR 1000 gaming monitor.
Design and build quality: Asus ROG Swift PG27UQ is aimed at the premium high-end market segment, its build quality is also pretty solid as a premium monitor should be. A well-designed plastic material stand with a metal leg shines the desk through an LED projection light, though a full metal stand would be fair considering the price. It is fully adjustable in height and rotation, allowing this monitor to portrait orientation. Comparably a bit large bezel about a size of 17mm holds this mighty 4K panel.
On the backside, there is a well-placed software customizable RGB LED in a textured design and a joystick with four other buttons for managing the display setting. It does have a pair of speakers. For tearing prevention, Asus ROG Swift PG27UQ uses the latest Nvidia GSYNC ultimate technology, which requires an active cooling solution.
For input and output, PG27UQ contains a 3.5mm mini-jack with a standard DisplayPort 1.4, 1x HDMI2.0, 1x USB3.0 Type-B, and 2x USB3.0 Type-A port.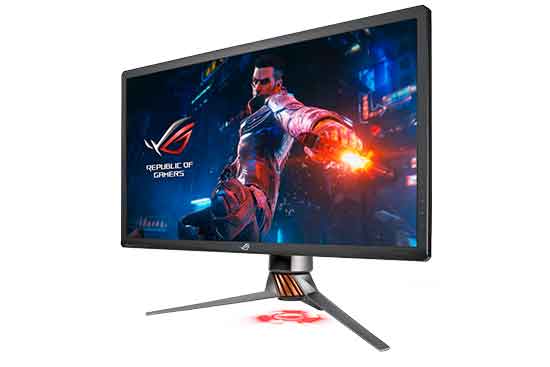 Image quality and performance: As ROG Swift PG27UQ uses a 16:9 ratio IPS panel consisting of 384 zones of full-array local dimming, this beast can produce superior image quality. Even this monitor comes with a gaming tag, with factory-calibrated △E≦ 3 color accuracy, it is not bad for any professional color-sensitive workstation.
An 8bit+FRC panel produces a range of 16.7 million in SDR content and respectably 1.07 billion in HDR mode (10 bit with dithering). The PG27UQ has 92% DCI-P3 color coverage on the test, though Asus claimed about 97%. In a head-to-head comparison with Acer Predator X27 in terms of color and accuracy, Asus ROG PG27UQ falls behind a bit. HDR gaming experience with this 4K resolution is genuinely pushing the boundaries with great details and deep black level you can ever imagine.
Refresh Rate: Even though there is not enough GPU hardware to accelerate such horsepower to run games at 144Hz in full 4K resolution. ROG Swift PG27UQ can achieve a respectable 120hz refresh rate in full 4:4:4 chroma subsampling in SDR content while HDR is limited to 98Hz.
The monitor can run a 144Hz refresh rate as Asus advertises with 4:2:2 chroma subsampling. Using 4:2:2 subsampling remains unnoticeable in games but compromises some quality in desktop apps. Don't blame Asus; technology is just not there because of DisplayPort 1.4 bandwidth limitation. When connected via an HDMI port, this monitor can deliver a refresh rate of 60Hz.
Response Time: Asus ROG Swift PG27UQ is made of a quantum-dot IPS panel and delivers a response time average of 4.18ms, which is very close to its official specification. In terms of input lag and response time, the PG27UQ is ahead when comparing to Acer Predator X27, which has a 6.62ms grey to grey response time.
LG 27GN950-B: Best HDR 600 Gaming Monitor
DisplayHDR 600
If you're looking for the best DisplayHDR 600 gaming monitor, the LG 27GN950-B is an unbeatable gaming monitor. Packed with a 4K Nano-IPS panel that supports a 144Hz refresh rate, Nvidia G-SYNC, and ultra-fast response time turns this monitor into a best-selling gaming monitor.
Design and Build Quality: The Ultra-Gear gaming monitor has a clean design pattern- a solid stand on a simple V-Shaped metal leg makes the overall design simple and minimalist. Similar to other premium gaming monitors, this one also has RGB on the back. Though, RGB lighting doesn't make any difference in gaming performance and is not visible if you're looking from the front side.
We've seen LG branding on the bottom bezel for a long time but this one has no LG branding on bezels that makes the bezels very slim around all four sides. The stand's ergonomics are excellent, delivers excellent height, tilt, pivot, and swivel adjustment. The OSD is pretty simple and managed by a single directional toggle.
A full-sized DP 1.4 with DSC support is the primary display connectivity option. It also features two HDMI 2.0 ports with DSCP support. Others connectivity option includes a standard USB 3.0 HUB. There are no built-in speakers on LG 27GN950 but include a 3.5mm Headphone Jack.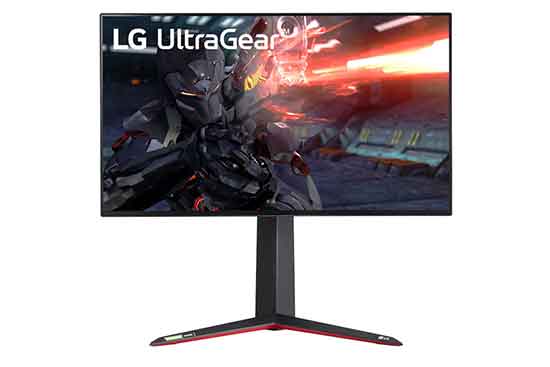 Image Quality and Performance: LG 27GN950-B isn't the first 4K gaming monitor but surely a masterpiece that supports 4K resolution with a high refresh rate and DisplayHDR 600 certifications. Again, this is an 8bit+FRC panel that can produce a 10bit color depth in HDR content.
As an HDR monitor, the LG 27GN950-B has excellent DCI-P3 coverage – almost 98% of DCI-P3 coverage is tested along with a full sRGB spectrum support. The default color profile uses an unclamped DCI-P3 mode similar to other wide gamut monitors and generates some over-saturation in sRGB content.
This is a factory-calibrated monitor with △E≦ 2.0 accuracy. Though the sRGB performance is a bit worse due to the unclamped color, LG didn't include a clamped sRGB mode which is a bit disappointing. However, the manual calibration does fix the gap with △E≦ 1.0 accuracy in both color profiles.
While the older Nano-IPS monitors suffer from a poor 750-800 contrast ratio, the 27GN950-B can manage a much improved 1048:1 contrast ratio against the official 1000:1 contrast mark. The monitor has 450nits brightness for regular SDR content that exceeds 750nits on HDR content.
The HDR performance is good for the high peak brightness, though there are only 8 zones of edge-lit backlights. Technically, this is a semi-HDR monitor against a FLAD backlight HDR monitor.
Refresh Rate: The LG 27GN950-B supports a 144Hz native refresh rate that can be overclocked to a maximum 160Hz refresh rate. The monitor is Nvidia G-SYNC certified along with AMD FreeSync Premium Pro. Unlike other HDR monitors, you'll not face the 4:2:2 chroma subsampling with LG 27GN950-B for the DSC. Technically, DSC does sacrifice some quality but the difference is very minimal and barely noticeable.
Response Time: The fascinating 1ms response time remains a myth but only in marketing papers. The same truth is applicable for the LG 27GN950-B, though the fastest response time is close to 1ms with crazy overdrive settings, sadly unusable for the massive inverse ghosting. The fast overdrive mode, which is the default setting performs an excellent 4.1ms response time without any overshooting at all.
The input latency is also outstanding for a 3.4ms input lag with a 0.1ms processing delay. The combined latency at full refresh rate remains under 7.6ms, which is simply best in its class.
LG 32UL950: Productivity Champions
DisplayHDR 600
LG introduced the Nano IPS (In panel switching) with the Ultrafine 32UL950 series. This Nano IPS panel supports a wide color gamut and better accuracy in comparison to the regular IPS panel. With 600nits of peak brightness, this monitor fulfills Vesa DisplayHDR 600 criteria and delivers all-around remuneration for both gamers and content creators.
This 4K UHD monitor has a large 31.5-inch panel with a 16:9 aspect ratio. LG32UL950 has one great advantage as it has a Thunderbolt 3 port that can connect with a MacBook. There is another model in this family that comes with a cheaper VA panel despite having the same level of peak brightness but compromises the thunderbolt connectivity costs almost half price. LG targeted both content creators and gamers with a balanced feature set.
Design and Build Quality: LG 32UL950 comes with a very stylish and slim design. The thinnest bezel around all four sides makes this panel visually borderless. The silver color metal stand is also very compact, just a solid pillar on a curved leg gets the job done.
The stand height is adjustable along with tilt and pivot support, which is useful for some content creators and coders. Besides gaming, this monitor comes with an all-around purpose, so there is no RGB LED like some other gaming monitors.
The backside is a plastic material made and white color on it, all connectivity ports placed just beside the stand tilt. This monitor comes with an external power adapter due to its very slim design. A single directional toggle button in front of the display controls all settings in the OSD menu.
LG 32UL950 includes a 1x 3.5mm Audio, 2x USB, 1x DisplayPort 1.4, 1x HDMI 2.0, and 2x Thunderbolt 3. The Thunderbolt 3 port supports Daisy Chain, which means one port can be used for input-output simultaneously; another port allows a 60W power delivery to charge your Macbook.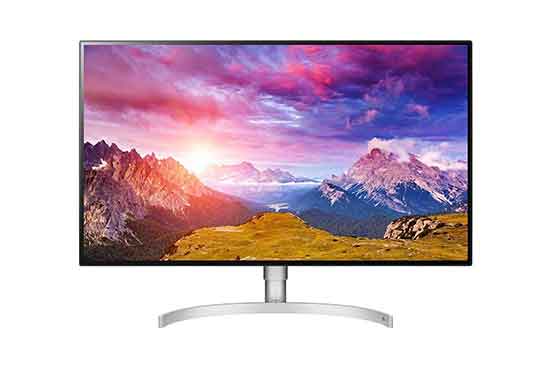 Image Quality and Performance: This monitor is built with a nano IPS panel and provides excellent quality images. Due to the high peak brightness level, images look razor-sharp even on regular SDR content.
It's a typical 8Bit+FRC Panel that supports 98% of DCI-P3 color coverage as LG claimed, almost about 97% DCI-P3 found on the test, which is pretty excellent for any color-sensitive work. For DCI-P3 color accuracy, default factory calibration is not so great (△E≦ 3.87), while sRGB performs even worse. With proper hardware calibration, this panel can achieve very excellent sRGB accuracy along with DCI-P3 and we recommend a manual calibration for color-sensitive workloads.
Viewing angles are pretty good -178° in both directions as expected from a top-tier IPS monitor, and the SDR gaming experience of this 4K UHD monitor is quite excellent. Be sure to turn on the Freesync setting, which is off by default. Even though this monitor does not have FALD(Full-array local dimming backlight) as some high-end gaming monitors, it does provide a decent HDR gaming experience with a 600nits peak brightness level.
Refresh Rate: LG 32UL950 supports up to 60Hz refresh rate over HDMI and DisplayPort, which is acceptable as this monitor has an all-rounder feature set. In reality, a very demanding GPU can drive its limit 60Hz in full 4k resolution.
Response Time: With fast overdrive setting, LG 32UL950 can achieve an average 8.04ms grey-to-grey response time. In the best-case scenario, the response time is close to 5ms as the manufacturer advertises. AMD Redon FreeSync prevents shuttering and delivers a smooth gaming experience.
Acer Predator XB273K: Best Budget HDR Monitor
DisplayHDR 400
When looking for a 4k UHD HDR-supported monitor without destroying the wallet too much, Acer Predator XB273K might be an interesting choice to consider. Packed with a high 144Hz IPS Panel, which provides top-quality images and excellent viewing angle with gaming features like FreeSync and GSYNC, Acer Predator XB273K is a beautiful gaming monitor for the money.
Certified by VESA DisplayHDR 400, this monitor is capable of delivering 400 nits peak brightness in HDR content. However, without FALD (full-array local dimming backlight), it can't achieve such real HDR gaming performance as its big brother Acer Predator X27. Still, considering the price for a 4K UHD 144Hz IPS panel Acer Predator XB273K is a stellar deal.
Design and Build quality: With a moderate bezel size, Acer Predator XB273K looks overall good on the desk. The stand is made of silver metal arrangement with plastic and allows height and tilt adjustment, but lack of pivot motion support this monitor can't rotate to portrait orientation.
It does have an RGB on the bottom, and the backside thankfully can be disabled by OSD setting. The body is plastic material and nothing fancy as it's a bit thick body like Predator X27. One directional joystick with four other quick menu access buttons performs the OSD navigation task.
A pair of two-watt speakers are available if anyone wants to use a built-in sound system. Like the elephant in the room, this model also comes with an active cooling fan, which is a bit annoying. Acer includes a standard 1x HDMI, 1x DisplayPort 1.4, 1x USB 3.0 Upstream and 4x USB 3.0 Downstream port.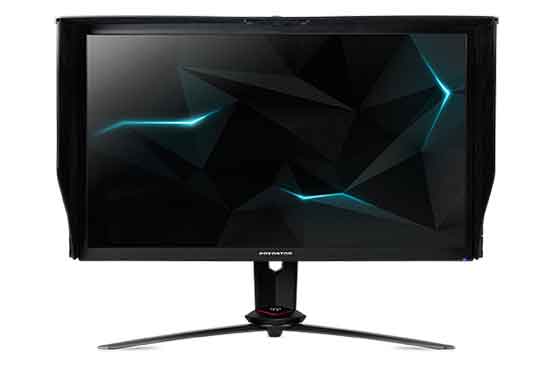 Image Quality and Performance: Due to the nature of the IPS panel Acer Predator XB273K does provide superb image quality. Viewing angles are also pretty good and look identical from all sides. This 4K(3840 x 2160) UHD monitor allows 10bit processing for HDR content via 8bit+FRC panel and technically supports up to 1.07b color.
Acer claims about 90% DCI-P3 wide color gamut, approximately 87.65% result found on the test. In terms of accuracy, Acer promises △E≦ 1 factory calibration out of the box. The default sRGB color gamut accuracy is close to △E≦ .7722 and, respectively △E≦ 2.0461 in DCI-P3 mode. However, color accuracy in gaming monitors is not such a big deal and should take as a bonus.
The good news is, with some adjustments, this panel can achieve even more professional-grade accuracy. VA-Panel is typically well known for producing high contrast ratio, surprisingly this monitor scores a stellar 1035 mark in the test. With 440 pick brightness, HDR gaming performance is pretty much acceptable, considering this panel does not contain any local dimming backlight zones.
Refresh Rate: Acer Predator XB273K is a fast IPS panel capable of delivering a 144Hz refresh rate in overclocked mode. A native 120Hz is available in regular SDR content without any chroma subsampling issue. HDR content requires massive bandwidth in full 4K resolution running at 144Hz, which is out of reach of the DisplayPort 1.4 bandwidth limit and delivers a 98Hz refresh rate without compromising quality. Nvidia G-SYNC hardware minimizes the ghosting and tearing problem.
Response Time: Usually, the TN panel provides fast response time, but now with the help of advanced technology, IPS narrows the gap and delivers quick response time similar to the TN panel.
An average 4ms response time was noted on the specification, and it can achieve 7ms with the overdrive setting disabled. An extreme overdrive setting can be more aggressive but causes noticeable overshoot problems. Input lag is pretty low to match any fastest TN panel easily.
LG 27UL650-W: Cheap HDR 400 Monitor
DisplayHDR 400
True HDR-supported monitors consisting of local dimming backlight zones are as expensive as a white elephant. Only a few monitors have such true HDR capabilities and all target ultra-premium price segments. For the rest, LG 27UL650-W is an ideal choice for those who are looking for a decent HDR-supported 4K UHD monitor for PC or next-gen console under 400USD. It's a 27" inch IPS panel that comes with VESA DisplayHDR 400 certification, and its overall performance makes it very attractive in this price range.
Design and Build Quality: The monitor is mostly elegant-looking plastic, with a skinny bezel on three sides made it virtually borderless. The stand is straightforward and solid with height, tilt, and pivot adjustment. Besides gaming, this monitor can rotate vertically aligned, usually useful for coders and content creators.
Thankfully this monitor doesn't have any built-in speakers, and it is better to have no built-in speakers at all rather than having low-quality 2W speakers to increase the cost. Only one directional toggle placed at the bottom manages the OSD setting.
The backside is white and clean-looking. The overall build quality is straightforward, considering no shiny RGB light on it. On the connectivity side, LG includes standard 1x DisplayPort 1.4, 2x HDMI, and a 3.5mm audio jack.
Images Quality and Performance: Using advanced IPS technology, LG 27UL650-W produces brilliant image quality. It is a 16:9 ratio 4K UHD panel that supports 1.07b colors via 10bit(8bit+FRC) processing. Viewing angles are pretty good, and color doesn't wash out very much from different viewing angles.
LG specified this monitor as capable of 99% sRGB support- an excellent gadget for professional graphic designers and content creators. Our test unit performs a slightly lower 91% sRGB gamut with △E≦ 2.67 color accuracy. With proper calibration, the result can be more accurate. This monitor does not support a wide color gamut.
LG 27UL650-W comes with a native 1207:1 static contrast ratio against 1000:1 mentioned on paper. It does have a black stabilizer technology, which makes the overall image quality even worse. On the gaming front, LG 27UL650-W provides an overall excellent gaming experience. Unless you're are a hardcore FPS gamer, this is the best 4K 60Hz gaming monitor at this price point.
To eradicate ghosting and tearing, LG utilizes AMD Freesync technology. It is also usable for the Nvidia card (GTX 10 Series and later) owner as the latest Nvidia cards detected this monitor as an adaptive sync display. HDR gaming performance is overall good for an entry-level HDR monitor.
Refresh Rate: LG advertises a 60Hz refresh rate in full 4K resolution. On 8Bit mode, this panel is capable of delivering a 60Hz refresh rate over HDMI and DP with full 4:4:4 Chroma subsampling. HDR 10Bit is only limited on DisplayPort 1.4 and uses a 4:2:2 Chroma subsampling rate, which is visually unnoticeable in games.
Response Time: This monitor sports a 6.8Ms (5Ms on paper) G2G average response time using fast overdrive mode with minimal overshooting. Input lag is also very low, just 8.7ms, which is excellent for smooth gameplay.
Conclusion
At the end of this article, now it's up to you to select the best 4K HDR gaming monitor that suits you best. Most of the 4K HDR monitors are expensive except the LG 27UL650-W, which is an entry-level VESA DisplayHDR 400 monitor. While the average 4K monitors are marginally expensive than QHD or FHD monitors but HDR-supported 4K monitors cost even more.
HDR gaming will dominate the gaming industry for sure and it is better to have an HDR monitor if you're buying a new 4K gaming monitor. We recommend the ASUS ROG SWIFT PG32UQX for the ultimate HDR gaming experience if you can afford it. Some Reddit geek prefers the LG CLX48, which is way cheaper than PG32UQX also features HDMI 2.1 connection.
The LG CLX48 is not comparable to PG32UQX in terms of HDR support, not even close. Though the OLED monitors feature superior image quality but have their own burn-in issue and they simply can't deliver high brightness same as the IPS panel. The Acer x27 and Asus PG27UQ were the first true HDR monitor with DisplayHDR 1000 certifications and both deliver splendid HDR visuals.
The all-rounder LG 27GN950-B is the best 4K HDR monitor in DisplayHDR 600 categories. This Nano-IPS monitor delivers excellent gaming performance with a balanced price and feature set. Now the choice is yours, Happy gaming.