While the regular ultrawide monitor provides great productivity and gaming performance, the super ultra-wide monitors enhance this experience to the next level. If you're looking for the best 49 inch monitor, you've landed in the right place.
49″ inch is the largest ultrawide monitor size, which is equivalent to two 27-inch monitors running side by size. Compared to the regular 16:9 ratio, a 49-inch monitor have a double- 32:9 aspect ratio, a lot of space to organize multiple document windows on the same screen. Coding and video editing have significant advantages on the large 49″ inch monitor.
Panel Type: There are only two types of panels available for super ultrawide monitors- IPS and VA. Both panels type have some advantages and drawbacks. The IPS panel has superior color reproduction and viewing angle performance, but suffers from a poor contrast ratio, makes it a bit unsuitable for very dark rooms. The average IPS monitor's price is typically much higher than VA monitors.
On the other hand, the VA panel sports a higher contrast ratio and is usually cheaper than IPS based monitor but suffers from poor input lag performance and less color reproduction. Moreover, text rendering is a bit awful compared to the counterpart IPS panel. The TN panel is the oldest one, now becomes obsolete for the worst viewing angles and poor color reproduction. Thankfully, there are no 49-inch monitors with TN panels except some eSports monitors.
Resolution: High-end 49-inch super ultrawide monitors support 5K (5120X1440P) resolution, equivalent to 2X 27-inch 1440P monitor. This huge screen provides an insane visual experience, but the real problem is sky-high pricing. The second available option is the 1080P model that features a 3840x1080p resolution at a lower price point.
Refresh Rate: A 60Hz refresh rate is enough for a productivity monitor, but gaming monitors require a high refresh rate panel for smooth gameplay. The top-tire Samsung Odyssey G9 features a rock-solid 240Hz refresh rate, while the regular ultrawide is limited to a 60Hz refresh rate.
Samsung Odyssey G9: Best 49 inch Gaming Monitor
Samsung Odyssey G9 unleashed superb gaming performance with a stunning 240Hz quantum-dot VA panel. The Odyssey G9 is also one of the most expensive super ultrawide gaming monitors but delivers unbeatable gaming performance for the eye-watering price tag.
Samsung has some advantages as a panel manufacturer of its own. While the VA panels are known for slow response time and input lag, this enhanced quantum-dot MVA panel catches up with IPS/TN level gaming performance in terms of response time and input lag.
Samsung designed this monitor to dominate the super ultrawide gaming market segment. If you're looking for the absolute best 49-inch curved gaming ultrawide, this is the right monitor to buy.
Design and Build Quality: Samsung comes with a 1000R radius curvature design to ensure a comfortable viewing experience. The Odyssey G9 is 1-meter deep curve, and the monitor takes about a 6-feet size on the desk. At the time of writing, it is the only 1000R curved 49-inch monitor available on the market.
Overall build quality is attractive as a premium monitor should be. The back part is white and has shiny customizable RGB light on it. Though, this RGB doesn't make sense when looking from the front side.
The stand has a decent amount of height adjustability, but tilt and swivel have limited use due to the large panel. Odyssey G9 includes 2x DP 1.4, and 1X HDMI 2.0 ports for display connectivity. The lack of a modern USC-C port is a bit disappointing, especially at this price point. However, there is a USB 3.0 HUB for additional connectivity concerns.
Odyssey G9 comes with a single joystick toggle to navigate and adjust the OSD settings. The OSD interface is clean and built with a brilliant interface design.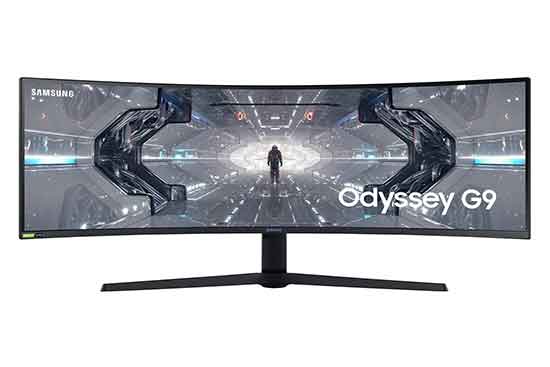 Image Quality and Performance: Odyssey G9 features a massive 5K 1440P resolution- equivalent to two dual QHD monitors without having the annoying borders in-between. This huge resolution provides an immersive viewing experience.
The monitor supports a full sRGB spectrum, Samsung claims about 125% sRGB, 92% Adobe RGB, and 72% of the NTSC color spectrum with1.07b colors via 10-bit processing. This VESA DisplayHDR 1000 certified monitor can hit 1000 nits peak HDR brightness. The G9 comes with the latest Display Stream Compression (DSC) technology to address Displayport 1.4 bandwidth limitation.
DSC unlocks the full potential of the Odyssey G9 as it doesn't have a 4:2:2 chroma subsampling issue. However, older GPU rather than Nvidia Turing /AMD Navi can't utilize the DSC and the monitor is stuck to 8bit color with a 120hz refresh rate. This image compression technology compromises some image quality, but the effect is barely noticeable.
Odyssey G9 sports a 2500:1 contrast ratio that makes it suitable for the extreme darkroom. The uniformity result is excellent, and the viewing angles are good. The monitor has a great 1ms MPRT time on paper and the actual test result is very close. This 240Hz monitor provides an excellent super-wide gaming experience, as total input lag and combined latency are better than any gaming-grade IPS/TN monitor.
AOC AG493UCX: Budget 49 inch Gaming Monitor
If you can't afford the Odyssey G9 but looking for a super ultra-wide gaming monitor, AOC Agon AG793UCX could be an excellent choice. The monitor is packed with a 120Hz VA panel, which is comparably low from the 240Hz Odyssey G9, but the overall price vs performance ratio made this monitor a solid gaming beast.
The Agon AG793UCX comes with a modern USB-C port with 60W charging capability, this is a great advantage over Odyssey G9. The 32:9 ratio monitor provides a native resolution of 5120X1440 pixels, which delivers excellent visual imagery for gaming and media entertainment.
Design and Build Quality: The 1800R curvature design is gentle and comfortable for viewing a large screen. The solid stand provides a decent height, tilt, and swivel adjustment functionality, plus the monitor is 100X100 VESA mount compatible, further adjustment option is available for the extended monitor arm.
AOC included a TV-like remote to control the OSD settings, but the OSD itself is somehow confusing. The connectivity options included 2X HDMI 2.0, 2X DisplayPort 1.4, 1X USB-C port, and a USB 3.0 hub. There is no shortage of connectivity, besides the unit includes 2X 5W speakers.
The entire monitor body is a composite plastic material with a very polished outlook. The monitor design is brilliant and the build quality is up to the mark.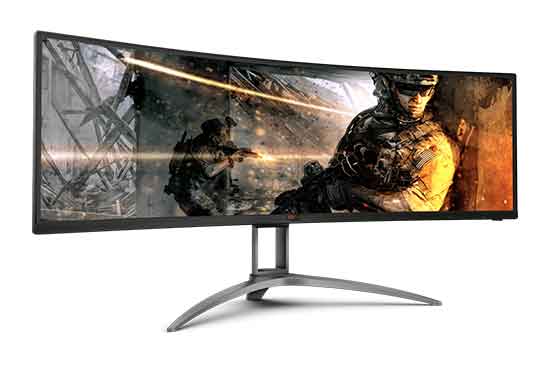 Image Quality and Performance: Agon AG493UCX provides a huge 5K 1440P resolution, that's more than 7m pixels for splendid gaming visuals. However, only a small portion of games has 32:9 optimization, but optimized games look very gorgeous.
The 8bit panel with FRC support can deliver up to 1.07b colors in HDR content, and the monitor comes with VESA DisplayHDR 400 certification, but this edge-lit monitor can't provide any meaningful HDR gaming experience without FLAD. AG493UCX can provide up to 550nits peak brightness, which is enough for most users.
Agon AG793UCX supports full sRGB spectrum, 78.2% of Adobe RGB, and 82% of DCI-P3 color space. The default factory color accuracy is not great, as the GreyScale DeltaE is higher than 3.4. However, manual calibration can improve color accuracy and make it acceptable for productivity. This should be a fair result from a gaming monitor.
The monitor supports AMD FreeSync Pro as an adaptive sync implementation that eliminates screen shuttering and provides smooth gameplay. The Nvidia card also works fine as an adaptive sync display, but the monitor is not officially certified by Nvidia. The 1ms response time sounds great, but the truth is a bit harsh, there is no true 1ms response time monitor available on the market. The cherry-picked best 1ms response time with a significant amount of inverse ghosting doesn't represent the actual real-life performance.
That doesn't mean AOC AG493UCX is a bad monitor, the overall gaming performance is excellent. The total input is less than 15.5ms with balanced overdrive settings, the fastest overdrive mode generates an unacceptable overshoot error margin that leads to huge inverse ghosting.
The 3000:1 contrast ratio is no joke but exceptional and there is no major color distortion in different viewing angles. Close to the $1000 price tag, the monitor is not cheap but for a 5K 49-inch ultra-wide monitor, this is a great deal.
LG 49WL95C-W: Best 49 inch Productivity Monitor
LG 49WL95C-W costs close to Odyssey G9, but this monitor is not made to please gamers as the refresh rate is only 60Hz. The monitor is based on Nano IPS (In-plane Switching) panel and provides a splendid visual experience with rich imagery and superior color reproduction capability.
IPS monitors are usually more expensive than the VA and TN panels but provide better color and wide viewing angles and LG 49WL95C-W is no exception. The monitor offers Dual QHD (5120 x 1440) resolution, which's plenty of space great for multitasking.
The monitor can fit your entire timeline for video and sound editing applications, it is also great for office use such as displaying stock trading applications, which requires a larger presentation.
Design and Build Quality: LG 49WL95C-W is a great-looking monitor, but the monitor is almost flat due to the 3800R curvature design. LG goes with a light curve design for this monitor where Samsung pushes the curvature to an extreme level with the latest 1000R curvature Odyssey lineup.
The body is plastic made, the stand is almost metal and heavy enough to hold the large screen properly. The stand delivers decent height adjustment, but the tilt and swivel adjustments are limited. Of course, there is no pivot option to rotate this monster display as usual. The 100X100mm VESA mount hole can extend ergonomics with a multi-monitor setup.
For the connectivity option, the monitor includes a USB-C port, 2X HDMI 2.0, and 1X DP 1.4. There is a USB 3.0 hub and 2X 10W speakers are also included. The OSD is very clean and easy to manage with a directional toggle.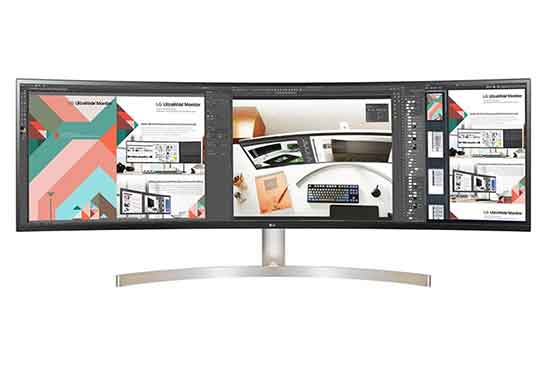 Image Quality and Performance: The Dual QHD 5120X1440 pixel resolution in a large 49-inch monitor is the multitasker's dream. LG 49WL95C-W delivers crystal clear imagery and viewing angles are excellent.
LG 49WL95C-W is powered by an 8bit+FRC panel that generates 1.07b colors. The monitor doesn't have any wide color gamut support and covers 99% sRGB color space, that's a bit disappointing for an expensive monitor.
However, the default factory calibration is decent, grayscale DeltaE is less than 3.0, and the ColorChecker and saturation results are also at an acceptable level. The monitor has great gray uniformity performance but black uniformity is poor similar to other IPS panels. The same goes for the contrast ratio, a 850:1 contrast ratio isn't impressive at all.
The monitor doesn't support any variable refresh rate technology, and gaming performance is not that great. LG didn't want to attract gamers, but LG could include at least basic FreeSync support. HDR performance with 350nits peak brightness doesn't make sense, but the monitor is bright enough for SDR content.
The monitor is listed with a 5ms response time, though those marketing numbers should be taken with a pinch of salt. The average G2G response time is about 9 ms and input lag is also 10ms at a full 60hz refresh rate.
Dell UltraSharp U4919DW: Best 49 inch Business Monitor
The business-centric 49" inch Dell UltraSharp U4919DW provides a screen real estate through 5K resolution. The monitor is pretty much identical to LG 49WL95C-W, offering the same 3800R IPS panel and 60Hz refresh rate.
The monitor doesn't have adaptive-sync support and the 5ms response time is a bit high for gamers these days. However, Dell doesn't advertise this monitor as a gaming monitor. The key focus is productivity, and the large screen can fit a video editing application's entire timeline.
Design and Build Quality: Dell U4919DW is a combination of style and elegance and a perfect fit for the office environment, the design language reflects the same traditional Dell business design pattern.
The relatively large square base stand delivers 90mm height, -5° to 21° tilt and 170° swivel adjustment. The bezels are thin and the 3800R curvature design delivers an eye comforting viewing experience, the screen surface has 3H anti-glare hard coat treatment that helps to reduce outside reflections.
The overall build quality is sturdy and the monitor is extremely heavy due to the large size. Dell used the button layout for OSD navigation instead of a directional toggle, which leads to a painful experience in adjusting OSD settings.
The monitor comes with plenty of connectivity ports including USB-C ports with 90W charging capacity. Other available connectivity options are 2X HDMI 2.0, 1X DisplayPort 1.4, and USB 3.0 HUB.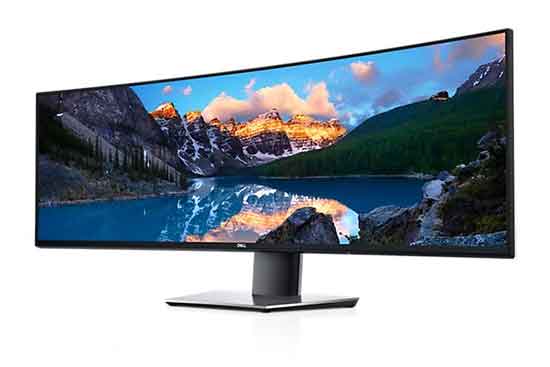 Image Quality and Performance: Ultrasharp is a premium monitor series since the beginning, and Dell targets the 5K 49" super ultrawide market segment with this IPS-based monitor. Dell U4919DW provides vibrant and beautiful images as expected from a premium IPS monitor. A 178o viewing angles are exceptionally good with very minimal color distortion from different angles.
The monitor supports 97.6% sRGB and 72% Adobe RGB color spectrum, it doesn't support a wide color gamut nor have the DCI-P3 color option. Default sRGB color accuracy is fantastic that justifies Dell's claimed DeltaE < 2.0 accuracy. After a full calibration, color accuracy is DeltaE < 0.6, which means color-accurate sRGB monitor.
A stellar 1167:1 contrast ratio from an IPS panel is excellent, though Dell only specified a 1000:1 contrast ratio on paper. For most users, 350nits is enough for a regular SDR monitor and there is no HDR option.
In terms of gaming performance, Dell U4919DW is not a great gaming monitor, but it isn't bad either for 9ms average g2g response time. A 7ms input lag is acceptable from a productivity monitor with a 16.1ms total latency.
Overall, Dell U4919DW is a great IPS monitor for office and creative works except for a few drawbacks like the absence of Adaptive-Sync and lack of DCI-P3 color gamut.
Philips Brilliance 499P9H: Super Ultrawide Monitor with Webcam
The Philips Brilliance 499P9H is another 5K monitor in the list made for professionals, but this one is based on a VA panel. Where LG and Dell have a moderate 3800R curve design for their professional ultrawide monitors, Philips comes with a bit aggressive 1800R curvature design.
A built-in pop-up webcam with Windows Hello compatibility made this monitor attractive to professionals who simply don't bother to buy a separate webcam. On top of that, the monitor is loaded with tons of features, including a built-in KVM switch, Adaptive-Sync support, and DisplayHDR 400 certification.
An extended 4 years warranty ensures a long-lasting product and the monitor has all-rounder performance for both gamers and creators.
Design and Build Quality: Philips 499P9H is a display monster whooping a large 49" (48.8" inch viewable) screen size with 16kg weight when attached to the stand. A rectangular base metal stand holds this mighty screen very well and provides height, swivel, and tilt adjustment. Moreover, it has a 100mm VESA mount hole to extend adjustability with the monitor arm.
This monitor has 2X 5W built-in speakers along with a pop-up webcam, which is fine but the LG 49WL95C-W has better 10W internal speakers. This unit has a built-in KVM switch that allows using two separate PCs on the same monitor.
Philips 499P9H comes with an old-style button layout for OSD navigation instead of a directional joystick, which makes OSD adjustment a bit difficult. The OSD menu is also confusing, Philips could improve this horrible OSD interface.
For the connectivity, Philips 499P9H has a USB-C port that can charge a 60W laptop along with display connectivity. Other connectivity options are 1X DisplayPort 1.4 and 2X HDMI 2.0, a USB 3.0 hub, and a 3.5mm headphone jack.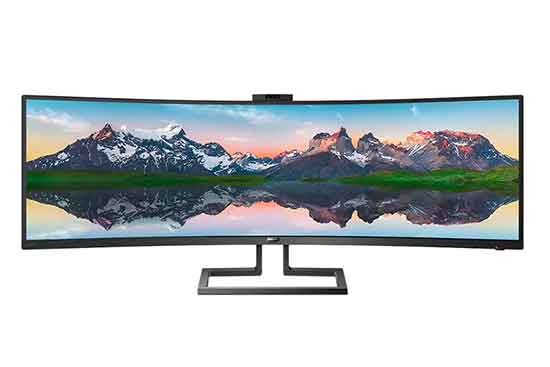 Image Quality and Performance: The Philips 499P9H offers the same 5120X1440P resolution as Dell U4919DW and LG 49WL95C-W. The monitor also has a similar 109 PPI pixel density. Pictures are sharp and clear but this 1800R curved VA monitor has a bit poor viewing angle performance compared to IPS-based Dell and LG monitors.
The 8bit+FRC panel delivers 1.07b of colors and color reproduction capability is excellent. This wide-gamut monitor supports full sRGB, 94% DCI-P3, and 91% of Adobe RGB color spectrum. Philips guarantees a DeltaE <2.0 color accuracy out of the box and the monitor delivers great color accuracy for color-sensitive applications without manual calibration.
Philips claims about a 3000:1 contrast ratio, this unit exceeds those specified numbers and hits around 3260:1 contrast ratio on the test. This HDR-capable monitor comes with 450nits peak brightness in HDR content and 350 nits brightness in regular SDR scenes.
For gamers, the Philips 499P9H has adaptive-sync features and works with both AMD and Nvidia GPU. However, the refresh rate is limited to 60Hz, and the 5ms response time is decent for casual gaming. HDR gaming performance is relatively poor and this entry-level VESA DisplayHDR 400 monitor is not recommended for true HDR gaming. The total latency combined with the input lag and refresh rate is 11ms, which is not bad for a VA monitor.
Acer EI491CR: Cheap 49 inch 1080P Monitor
Acer joined the 49" inch super wide monitor club with EI491CR- the only available 49" inch Acer monitor at this time of writing. We discussed some cool 1440P ultrawide monitors earlier, but those 5K monitors are expensive. The Acer EI491CR is a budget-oriented 49" inch monitor, offering a 3840 x 1080 screen resolution. This is also one of the cheapest super ultrawide gaming monitors.
Based on a Samsung Quantum Dot VA panel, this monitor offers an overclockable 144Hz (120Hz native) refresh rate, FreeSync 2, VESA DisplayHDR 400 at an unbeatable price.
Design and Build Quality: Acer EI491CR is a stylish monitor, a V-shape stand made from a metal-plastic combination that holds this 49" inch mighty screen. The rest of the monitor's body is plastic, but the finishing is decent.
The stand ergonomics isn't great, only 5o-15o tilt movement is the only available adjustment option. However, the monitor is 75X75mm VESA mount compatible. Built-in speakers have some use cases, but sadly Acer includes 2 x laptop-grade 3W speakers.
Nowadays RGB is everywhere, so why not in the monitor? Yes, this monitor also has a customizable LED light on the backside, and thankfully that can be disabled in OSD.
A directional joystick is always my preferred OSD navigation method, but Acer includes the same button layout as some other 49" inch monitors. Thankfully, the included remote makes the OSD adjustment less painful rather than pressing buttons. For connectivity, the Acer EI491CR houses a 1 x DP 1.2, 1 x HDMI 2.0, and 2 x HDMI 1.4 port, there is no USB HUB on this monitor.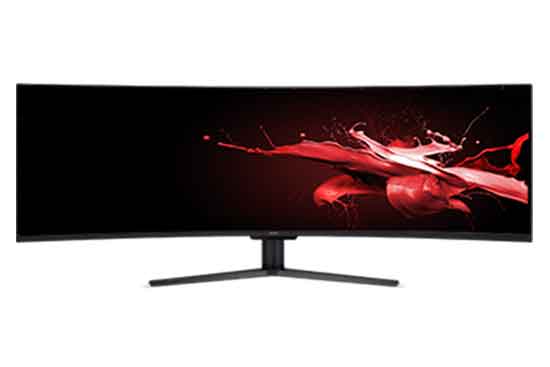 Image Quality and Performance: Acer EI491CR features a 3840 x 1080 resolution at a 32:9 aspect ratio. This 8bit VA panel delivers 16.7m colors, and Acer states about 90% DCI-P3 color along with a full sRGB color spectrum. Unfortunately, this gaming monitor comes with a low 81.41 PPI pixel density, which is comparably low from other 5K models.
This monitor ships with unclamped sRGB, which leads to a bit of oversaturation. For gaming, this oversaturation might not be a problem, but if you're seeking a color-accurate sRGB monitor, definitely this is not the best monitor with a higher DeltaE >3.46 color accuracy.
Acer advertises this monitor as an HDR-capable monitor and this unit has a VESA DisplayHDR 400 badge on it, but this lowest-tire HDR certification doesn't provide any meaningful HDR gaming performance except a higher 400 nits peak brightness. Contrast is the area where you can count on VA panels, this monitor also comes with a stealer 3000:1 contrast ratio.
Equipped with AMD FreeSync 2 with low framerate compensation support, this gaming monitor provides smooth gameplay without any noticeable shuttering. This VA panel has a slow response time, though Acer claims about 4ms response time. The average g2g response time is close to 8.4ms with a relatively large 9.8ms input lag in extreme overdrive mode.
Deco Gear DGVIEW490: Cheapest 49 inch Monitor
If you're not an extreme brand loyalist, the Deco Gear DGVIEW490 might be an interesting choice. Based on a Samsung VA panel, this 49" inch monitor offers a 3840×1080 pixel resolution with an overclocked 144Hz (120Hz Native) refresh rate.
Deco Gear DGVIEW490 is surely not the best performing super ultrawide gaming monitor, but you can't simply refuse due to the wallet-saving price tag. This large monitor features AMD FreeSync, DisplayHDR 400, and picture-in-picture support.
Design and Build Quality: The DGVIEW490 does sacrifice some build quality for being a cheap monitor. The included stand provides only a limited 5o tilt adjustment. Moreover, it has a 75x 75mm VESA mount compatibility, sadly they didn't include any mounting bracket.
A LED lighting shines on the rear and stands top and if you're not very fond of LED lighting, you can simply turn it off. Similar to other cheap 49" inch monitors, Deco also comes with a multiple button layout for OSD. However, the monitor comes with a TV-like remote to quickly adjust the OSD settings.
There is no USB-C port, USB 3.0 HUB, or built-in speakers on this budget monitor, a DisplayPort 1.20, and 3 x HDMI ports available for connectivity. One of the HDMI ports is HDMI 2.0 and the rest are HDMI 1.4 versions.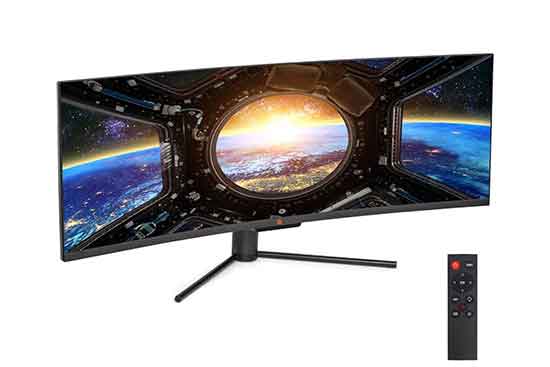 Image Quality and Performance: The DGVIEW490 is a rebranded Samsung VA panel. The 32:9 ratio monitor features a 3840x1080P resolution and supports 16.7m colors in 8bit color depth. The large 49" inch screen is great for multitasking, though 1440P monitors have much higher pixel density.
The default factory color calibration is a bit disappointing for DeltaE >3.46 in GreyScale, Saturation, and ColorChecker due to the unclamped sRGB mode. There is no dedicated sRGB mode in the OSD panel. A proper calibration would fix the incorrect white point and improve color accuracy to DeltaE< 2.0, which is acceptable for professional work.
This 144Hz (120hz native) monitor is marketed as a gaming monitor, though only tiny friction of games has proper 32:9 ratio optimization. A 4ms response time sounds promising, but this is surely not an ideal monitor for eSports addicts as the average grey-to-grey response time is almost 11ms in full 144Hz with overdrive disabled. Overdrive mode available in 120hz native refresh rate, with an improved 9ms response timing.
Input lag also has a similarly poor result, a 15ms large input lag makes it one of the worst-performing gaming monitors. However, this is the common scenario of all VA panels.
It is better not to expect magnificent HDR gaming performance from this monitor, a 400nits peak brightness only provides slightly brighter images in HDR mode. Deco states a 3000:1 contrast ratio in the spec, but this monitor exceeds a massive 4250:1 contrast ratio on our test unit.
Overall, the Deco Gear DGVIEW490 is an excellent budget 49" inch monitor with rich image quality. If you're looking for a high contrast monitor for vibrant image quality, this monitor won't surely disappoint you.
Final Word
Almost all 49-inch ultrawide monitors are fantastic, the real problem is the higher selling price, but the overall experience is insane if you can afford the price. If you're looking for the best 49-inch curved gaming monitor, our recommendation goes to Samsung Odyssey G9- the best 49-inch curved gaming monitor released so far. This beast is popular among the gaming community for its splendid gaming performance and extreme 1000R curved design.
Moreover, it can handle all productivity workloads as the color performance is excellent. However, if gaming is not the primary concern, the LG 49WL95C-W or Dell UltraSharp U4919DW is the right pick for productivity users. Both of these monitors have USB-C connectivity, while LG 49WL95C-W has DCI-P3 color gamut support against the sRGB only Dell U4919DW.
The Deco Gear DGVIEW490 is the best cheap 49-inch monitor but Acer EI491CR has slightly better gaming performance with some extra bucks. On the other hand, Philips Brilliance 499P9H has balanced productivity and gaming features. Of course, the buying decision is up to you. As most of these 49-inch monitors cost over $1000, there is no concern for lackluster build quality or creepy performance.