A few years back, a decent 4K monitor was expensive as hell. That time is passed, now 4k monitors are available at an affordable price range. As of today, 4K monitors becomes a common purchase. At the end of this article, we will sort out all the best available 32-inch 4K monitors.
Yes, there are some high-end monitors available on the market that offer even higher resolution. We can mention the LG 5K ultrafine series and Apple 6K Pro Display as examples, but those are simply out of reach for maximum. SHARP recently reveals a massive 8K display while the price remains undisclosed, but we assume that it will require selling body parts for sure.
Why 32 inches for 4K Monitor?
The display size is a prominent issue when purchasing a new monitor. As the smaller 21.5-27″ monitors are most common, why a larger 32-inch screen size for 4K? Well, the answer is a bit technical. 4K is a massive 4096×2160 pixels resolution- four times compared to the regular HD monitor. This large number of pixels is distributed per square inch of the display. The 4K image scales down to fit the available monitor size due to high pixel density.
There is nothing wrong with a 24inch monitor with FHD resolution, but a 24-inch 4K monitor is a ridiculous choice as there is no real benefit for 4K over FHD resolution. The 27-inch monitor also doesn't fit the 4K resolution perfectly for the same reason. Though, there are a lot of 27-inch 4K monitors available on the market. The 1440P resolution is the best fit for a 27-inch monitor, not the 4K.
If you want to get the real benefits of 4K resolution, the 32-inch is the ideal monitor size that'll provide an optimal 4K viewing experience. Of course, even larger 4K monitors are available on the market for presentation or gaming, for a much higher price.
LG 32UL500-W: Best 32 inch 4K Monitor Under $500
If you are on a tight budget but don't want to miss the amazing 4K experience – the LG 32UL500-W is the right monitor for you. This 32-inch monitor is based on a new generation VA panel with balanced features set. It is also one of the cheapest 4K monitors available on the market. This budget monitor is also great for console gaming.
Design and Build Quality: With a simple U-shaped stand and slick design pattern, the monitor looks elegant on the desk. The viewable screen size is 31.5-inch at a 16:9 aspect ratio makes a comfortable monitor for watching movies and entertainment. Skinny bezels around all four sides make this monitor virtually borderless. The stand provides only tilt adjustment but comes with a VESA mount hole if you want to expand adjustability.
The monitor is mostly plastic-made, but LG manages a perfect finish and doesn't look cheap. Similar to other premium LG monitors, 32UL500-W also includes a single joystick toggle to control OSD settings. The included 2x 5W built-in speakers are great and deliver decent sound quality.
LG didn't include any RGB lighting on the 32UL500-W. The I/O connectivity is also limited, an excellent approach to keep the overall cost at the minimum level. Just 1x DisplayPort 1.2, 2x HDMI, and 1x 3.5 mm headphone jack is the connectivity option.
Features and Performance: The 4K LG 32UL500-W technically supports 1.07b colors in HDR mode via 10bit processing. However, the claimed HDR support is basic and didn't pass any VESA certifications. This entry-level HDR monitor only can process HDR10 signals and doesn't make any remarkable difference.
LG 32UL500-W supports 95% DCI-P3 and the full sRGB spectrum. The default factory calibration is mediocre as this wide-gamut monitor comes with unclamped sRGB color mode, which leads to oversaturation in sRGB content. However, if you're serious about color accuracy, you can calibrate this monitor with a proper calibration tool and get fantastic color accuracy.
The monitor rocks a 3000:1 contrast ratio that provides an intense level of black and vivid pictures. Due to the poor contrast ratio, IPS and TN panels were criticized for their greyish black, but this is not the case with this VA monitor. You can enjoy almost pure black screen in movies or games with this monitor.
A 300 nits peak brightness isn't perfect for HDR scene but surely will meet requirements for regular use unless you're in a very sunny room. This 60Hz monitor has a 4ms response time on paper, an average of 8-9ms with fast overdrive mode. This should be a pretty decent result for a VA monitor.
The LG 32UL500-W supports AMD FreeSync technology to prevents screen tearing and stuttering. Along with AMD Freesync, this monitor features some additional features like Black Stabilizer, Dynamic Action to enhance performance. With superior performance at an affordable price, LG 32UL500-W is our top 32-inch 4K monitor.
SAMSUNG UR59C: Curved 32 inch 4K Monitor
Samsung has a good reputation for producing cutting-edge display technology for mobile, TV, and PC monitor. The UR59C is one of their lines that offers a brilliant 4K UHD resolution at 1500r curvature design. This monitor delivers crystal clear visual details through the high-contrast VA panel. Samsung targeted this monitor for content creators and entertainment users.
The monitor lacks Adaptive-Sync, slightly disappointing but not a big problem for regular gaming. It didn't include tons of add-on features but delivers excellent image quality for an acceptable price. Samsung UR59C provides a very comfortable viewing experience due to the curved design. If you're very fond of a curved monitor, this is an excellent 4k curved monitor.
Design and Build Quality: The overall design is polished and compelling. A simple V-shaped metal stand holds this large screen very well with a clean cable management facility. Unfortunately, limited tilt movement is the only adjustment option. To make things worse, Samsung didn't include any VESA mount hole that seizes all future adjustment opportunities with the monitor arm.
The actual screen size is 31.5-inch at a regular 16:9 ratio. The curve is gentle and eye-comporting. Though, the 1500R curvature doesn't feel extreme as the recent Samsung G9 ultrawide. Bezels are very slim around three sides except for the bottom one. The rear part is a fabric-textured plastic material, which looks elegant.
A directional joystick located in the back manages the OSD settings. The monitor includes 1X HDMI 2.0, 1X DisplayPort 1.2, and a headphone out for connectivity. There is no built-in speaker on this unit.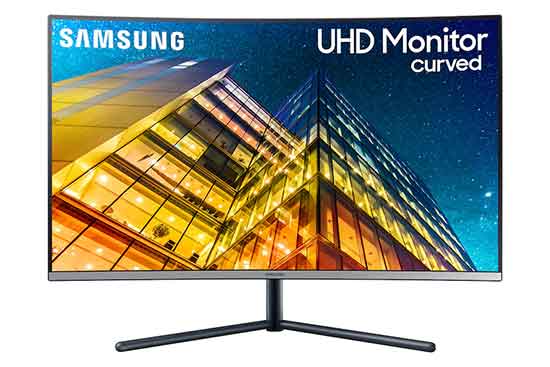 Features and Performance: The Samsung UR59C comes with a 139PPI pixel density for 3840×216 resolution. Samsung uses the UHD upscaling technique on this monitor that enhances lower-resolution content to fit the 4K display perfectly. The monitor is technically able to produce 1.07b colors through 8bit+FRC processing.
Samsung UR59C comes with decent factory calibration, which is suitable for content creators. Default GreyScale DeltaE <3.2 is not great, but after adjusting the OSD setting and proper calibration, the GreyScale DeltaE < 0.8 seems pretty impressive. The monitor has no wide gamut support, and GreyScale DeltaE < 1.0 is an excellent result for sRGB based color-sensitive work.
The monitor has a 2500:1 contrast ratio on paper, and it goes even higher to 2630:1 after calibration. Brightness is moderate for 250nits peak brightness, and viewing angles are decent.
Missing the Adaptive-Sync feature may disappoint many. However, Samsung included a game mode that adjusts the contrast ratio dynamically. Samsung states a 4ms G2G response time, while the combined latency (Response Time + Input Lag) takes around 22ms for full black to white transition.
Philips 328E1CA: Curved FreeSync Monitor
Philips 328E1CA is pretty much identical to Samsung UR59C, both monitors are 1500R curved 4K VA panels, but Philip's model comes with Adaptive-Sync support, which is a benefit over Samsung UR59C. Moreover, the monitor is much cheaper than Samsung UR59C despite having similar specifications.
Design and Build Quality: The monitor comes with a minimalistic design approach. On a square base, the metal stand has an excellent cable management option. The stand ergonomics is not great as it provides only tilt adjustment. Unlike Samsung, this one has VESA mount compatibility.
The 31.5-inch diagonal screen has an anti-glare coating, which protects reflection from the outside. The bezels are comparably thin, and the overall monitor design is clean. The 1500R curvature seems to have a deep curve, but the practical difference is barely noticeable when compared to a 1800R curved monitor.
The OSD is a bit difficult to adjust for the push-button layout. Philips 328E1CA has 2 X HDMI 2.0, 1X DP 1.2 for display connectivity. Other I/O includes a headphone jack and a microphone input.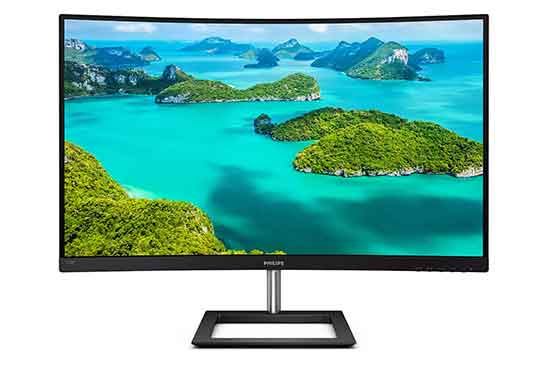 Features and Performance: Philips 328E1CA is based on an 8bit+FRC panel that supports 1.07b colors to ensure smooth gradient and superior color performance. The 32-inch 4K resolution is a large screen to organize multiple windows on the same monitor. Furthermore, it supports picture by picture technology, which allows various display input at the same time.
The monitor supports full sRGB color space and comes with factory-calibrated DeltaE<2.0 color accuracy. With manual hardware calibration, the GreyScale, sRGB ColorChecker, and saturation accuracy are close to near-perfect DeltaE<1.0.
Philips 328E1CA comes with AMD FreeSync, also supports NVIDIA G-SYNC as an Adaptive-Sync monitor. Apart from the best 4ms G2G response time, the average response time is slower than IPS or TN monitors. The monitor takes around 23ms with input lag and response time compliance with the full 60Hz refresh rate.
A 250nits peak brightness level is enough for daily use, and a 2500:1 contrast ratio produces vibrant images. Viewing angles are excellent for the curved design; there is no significant color distortion from different viewing angles. The 328E1CA offers a stealer contrast ratio due to the nature of the VA panel.
Philips 328E1CA is an excellent curved monitor for the price. The monitor is equipped with a balanced feature set and delivers visually appealing image quality. This E series monitor is ideal for entertainment, gaming, and content creation tasks like video editing.
Dell UltraSharp U3219Q: Best Business Monitor
Dell Ultrasharp U3219Q meets the business-class 4K monitor's demand. This 4K panel comes with a modern USB-C port that allows charging MacBook. With professional-grade color accuracy, this monitor provides robust productivity performance in photo and video editing applications. The UltraSharp U3219Q comes with VESA DisplayHDR 400 certification and provides up to 440nits peak brightness. This IPS-based monitor is expensive but worth every penny for its unmatched color reproduction capacity.
Design and Build Quality: The matte-finished black monitor has a sturdy build quality, also a bit heavy for the measured weight of 5.8Kg when attached to the stand. The stand is a bit large and takes a lot of space on the desk but provides almost every possible adjustment facility, including height, tilt, swivel, and pivot motion.
The monitor can rotate 90o clockwise only with a gentle hand push, great for content creators and designers. UltraSharp U3219Q has an Anti-glare coating on its matte screen that protects the display from reflection. Dell uses an old-fashioned button layout for this monitor. UltraSharp U3219Q comes with flexible connectivity options, including the USB-C port we mentioned earlier. It also includes 1X DP 1.4 and 1X HDMI 2.0, USB 3.0 HUB, and a 3.5mm audio output port.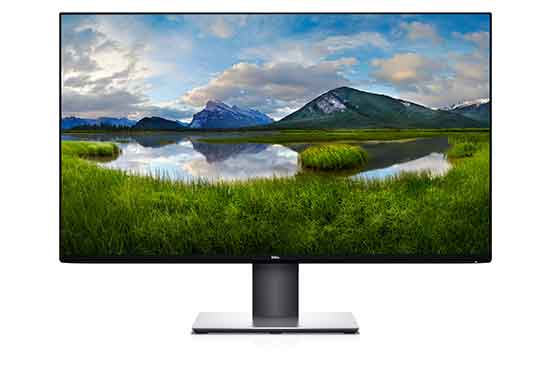 Features and Performance: The business-centric Dell UltraSharp U3219Q offers a 3840×216 resolution- equivalent to four regular HD displays, can display a whole newspaper spread without zoom. The monitor supports 99%sRGB, 95% DCI-P3, and 99% of Rec. 709 color gamut. The factory-calibrated monitor has superb color accuracy. An average DeltaE < 2.0 ensures professional-grade color accuracy.
The monitor sports an 8ms grey-to-grey response time in default mode and 5ms with the fastest overdrive setting. Unfortunately, Dell U3219Q does not support adaptive sync. An 8.8ms combined total input lag is acceptable from a professional monitor.
Dell U3219Q achieves a 1413: 1 contrast ratio against the official 1300:1 figures. This unit suffers from the black uniformity issue. In regular SDR content, the 380 nits peak brightness is more than enough for most users. The HDR brightness is slightly higher- rocking a 473 nits brightness in HDR mode.
ViewSonic VP3268: Best 32 inch 4K Professional Monitor
Mission-critical applications require great color accuracy, and ViewSonic introduced VP3268 with out-of-the-box factory calibration to target the professional market segment. ViewSonic calibrates these monitors individually and attaches a calibration report in the box. The monitor ensures DeltaE <2.0 accuracy but performs close to near-perfect DeltaE <1.0 in most color profiles, which is excellent for content creation and color professionals.
The absence of adaptive sync and a slow 14ms response time may disappoint gamers, but the truth is Viewsonic didn't target players at all. The crystal clear 4k panel delivers fantastic color performance for professional content creators.
Design and Build Quality: ViewSonic VP3286 is a well-built monitor, but it does not look stylish due to the ugly-looking stand. The stand comes with a decent adjustment facility, including height, tilt, swivel, and rotate functionality. It is a great monitor for a multi-monitor workstation setup for the slimmest bezels around all four sides.
The plastic-made monitor doesn't have built issues or loose parts that could break over time. ViewSonic VP3286 uses an old-style button layout for OSD navigation to adjust the desired color profile and other settings. However, changing OSD with multiple buttons is annoying and not ideal for a premium monitor.
The monitor includes 1X full-size DP, 1X mini DP, 2X HDMI 2.0 port for display connectivity. Four USB ports and a pair of audio input-output jacks are also present in the I/O board. ViewSonic VP3286 has 2X 5W internal speakers, which could be useful in some cases.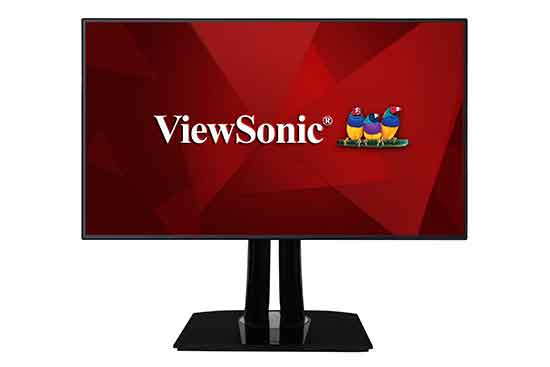 Features and Performance: ViewSonic VP3286 utilizes a real 8bit+FRC panel that can process a 14bit 3D LUT color table. It ensures the smoothest color gradient and visually appealing image performance. The monitor can process the HDR signal, but ViewSonic didn't mention this on the specification for a good reason. There is no meaningful HDR performance except windows can detect this monitor as an HDR-supported monitor.
The monitor ships with four individually calibrated color profiles ensuring DeltaE<2.0 accuracy. The bad news is brightness is locked in the most used sRGB mode. However, you can manually adjust the brightness level in the custom profile. The sRGB performance is out of the box in our test. The monitor maintains DeltaE <1.0 in all parameters, including GreyScale, Saturation, and ColorChecker test.
ViewSonic VP3286 rocks a 350nits peak brightness and 1450:1 contrast ratio. There is no noticeable backlight bleed, and the color difference remains DeltaE 0.5 in the uniformity test. Thanks to the IPS panel, this monitor delivers excellent viewing angles performance.
This 60Hz monitor has a typical 14ms grey-to-grey response time, which is not ideal for gaming by any means. With a medium overdrive setting, response time is about 8ms, but the total input latency remains over 22ms. Finally, this is not a gaming-oriented monitor, but this is an outstanding monitor for professional use.
LG UltraFine 32UN880-B
LG UltraFine lineup has been popular among professional content creators since the beginning. Their newest 32UN880-B is another excellent monitor from the UltraFine series that contains all-around performances for professional, entertainment, and gaming.
The monitor comes with an enhanced stand design called Ergo, which extends for ergonomics. It is the most flexible stand design ever made. Along with excellent build quality, 32UN880-B is a feature-rich monitor that includes AMD FreeSync, HDR support, Black Stabilizer, and more.
LG 32UN880-B is slightly cheaper than Viewsonic VP3286. While the VP3286 has superior color accuracy, LG offers gaming and entertainment features with decent color performance.
Design and Build Quality: LG 32UN880-B is the most flexible monitor with outstanding stand ergonomics, LG did a great job with this new concept stand design. It doesn't look like any traditional design and is attached directly to the table. Once connected to the desk, It performs similar to the external VESA arm and provides height, tilts, swivel, and rotate functionality with precise motion. The stand has a quick-release mounting system and VESA mount compatibility.
The bezels are thin, but the body is a bit fat, it could be lighter as this monitor comes with a large external power brick. The supplied power cable has a 2M expansion in case your power board is away from the desk. Overall, build quality is outstanding and well-finished; the monitor is a perfect fit when you need to move your monitor frequently.
Similar to other premium monitors, LG 32UN8880-B has a single directional toggle for OSD management. Navigating with a directional toggle provides fast and responsive movement in the OSD settings.
For the connectivity concern, the monitor includes a modern USB-C port with device charging capability. Other Display options include 1X DP, 2X HDMI 2.0 along with a USB 3.0 HUB, and a headphone jack. The monitor consists of 2X 5W stereo speakers to play over HDMI that delivers a decent amount of sound. The spilled accessories don't contain any DP cable, so you'll need to purchase a separate DP cable to use DisplayPort.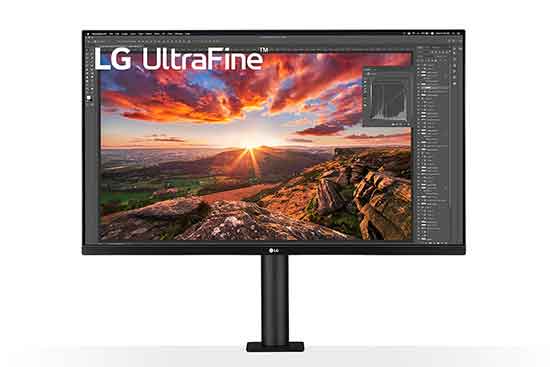 Features and Performance: The LG 32UN880-B features a 10bit (8bit+FRC) IPS panel that provides 1.07B HDR colors and respectively 16.7m color in SDR mode. LG claims about 95% DCI-PC color gamut coverage, about a 94.6% DCI-P3 gamut is recorded, which's close enough to official specifications. The monitor covers a full 100% sRGB color spectrum, but the default sRGB color remains slightly saturated until fixing the sRGB mode with manual calibration.
The incorrect white points lead to a little red tint over the curve and the default sRGB DeltaE< 2.8 is a bit high, but with manual calibration, the result is close to nearly accurate DeltaE <1.0 in GreyScale, Saturation, and sRGB color checker test. The overall viewing angles are pretty decent with minimal color distortion from different viewing angles.
LG 32UN880-B can process HDR 10 signals, but turning HDR effect will ruin the overall experience as this monitor has only 350nits peak brightness and lacks local dimming backlight to highlight shadows and enhance dark scenes properly. The monitor rocks a 1000:1 contrast ratio as other IPS panels in its class. Uniformity performance is decent, and its 1000:1 contrast ratio is average for IPS monitors.
For casual gamers, this is a decent gaming monitor. AMD FreeSYNC synchronizes the GPU frame rate with refresh rate to eliminate screen stuttering and tearing. The 60Hz refresh rate is not enough for an eSports pro, but driving a 4k resolution at 60Hz is still a great challenge for mainstream GPU.
The monitor has a 5ms G2G response time, while the average is slightly much higher. Input lag is pretty decent, and total latency didn't cross higher than 10ms, enough for gamers. Finally, LG 32UN880-B is an excellent monitor for the balanced feature set with reasonable pricing.   
Conclusion
A big 32-inch 4k monitor is a dream monitor for any pc enthusiast. We have done in-depth research about all available 32-inch monitors and shorted this list to make the purchase decision easy. However, for regular use, LG 32UL500-W or Samsung UR59C is best for budget users.
For businesses and professionals use LG 32UN880-B, and Dell Ultrasharp U3219Q provide similar benefits, but LG has some advantages with enhanced ergonomics. There are some extreme color accuracy seekers, ViewSonic VP3268 will surely meet their demands with a perfectly calibrated IPS monitor.