Playing 4K games is the holy grail of gaming, but you'll need a powerful computer to play at the game's maximum graphical settings. Even if you somehow manage a 4K capable GPU, the price of a high refresh rate 4K monitor is still very high and out of reach for many. However, the days of 1080P gaming are over, and 1440P is the new sweet spot for gamers.
Thanks to advanced GPU technology, mainstream graphics cards now deliver excellent gaming performance at 1440P resolution. Besides, some high-end 4k 144Hz HDR monitors landed in the ultra-premium price segment, makes the 1440P 144hz monitors more affordable.
The 1440P monitor is also known as QHD (Quad High Definition) and sometimes WQHD (Wide Quad High Definition) monitors. The standard 1440P monitor features 2560×1440 pixels resolution at a 16:9 ratio. The QHD resolution is 4X compared to regular HD (1280×720) resolution. However, manufacturers also tagged ultrawide monitors as WQHD, which provides the same 1440 pixels in the vertical axis, but the horizontal axis is much larger and uses a 21:9 or 32:9 ratio.
We are limited to 144Hz or higher refresh rate 1440P gaming-oriented monitors for our best 1440P 144Hz monitors list. Some ultrawide monitors are also on the list due to the same refresh rate and the 1440P resolution. However, we dropped a few 1440P monitors from our list as they cost similar to the 4K 144hz monitor. The idea is a no-brainer to get a high-priced 1440P monitor if you can buy a decent 4K monitor for the same price.
LG 27GL850
IPS technology got a massive overhaul in the last few years to compete with the high-speed TN panel. TN panels are popular among FPS gamers for their high refresh rates and fast response time. Most TN panels suffer from lackluster color reproduction capability with poor viewing angles. As of today, some advanced IPS panels provide ultrafast response timing and refresh rate similar to the TN panel. The numbers of 144Hz 1440P IPS monitors are growing, and LG brings 27GL850 to disrupt 1440P gaming.
Packed with a full set of gaming features like Adaptive SYNC, 144Hz Nano IPS panel with ultra-fast response time, the LG 27GL850 comes at a reasonable price with outstanding gaming performance. If you're looking for the absolute best 1440P 144hz gaming monitor, LG 27GL850 is a great monitor to buy.
Design and Build Quality: The UltraGear 27GL850 comes with a very compact and attractive design package. Thin bezels with a minimalistic design approach make this monitor attractive. Some red strips on the solid black color make the overall design visually appealing but not busy at the same time. The 27-inch diagonal screen at 16:9 ratio makes the perfect combination for movies and games.
The body is mostly made of plastic and looks decent on the desk. The stand ergonomics are excellent, delivers height, tilt, and pivot support that allows this monitor to use in portrait orientation. However, the stand doesn't contain any swivel mechanism. It does have a 100X100mm wall mount hole if you want to hook up with the wall or use any monitor arm.
There is no built-in speaker on this unit. LG simplifies the OSD control via a single joystick placed in the bottom part of the screen. The OSD menu is simple and easy to manage. There are a few options for several gaming modes and overdrive settings. The monitor includes 2X HDMI 2.0 port along with 1X DisplayPort 1.2 for display connection. It does have a 3.5mm audio jack, and 2X USB 3.0 port.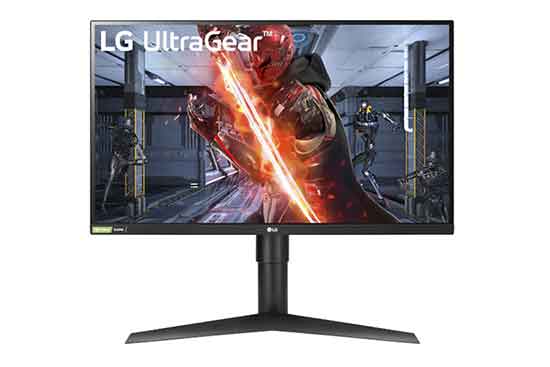 Image Quality and Performance: IPS (In-Plane Switching) developed to address the limitation of LCD (Liquid Crystal Display) display, Nano IPS technology pushes the IPS technology one step further. It supports a wide color gamut, produces more accurate color and vibrant image quality compared to the regular IPS panel.
In terms of color gamut support, the LG 27GL850 claims about 98% DCI-P3 coverage, a measured 95% coverage found on the test. However, the test result varies from unit to unit but is close enough to the official specifications. The sRGB color profile is popular among content creators, and this monitor supports a full sRGB color gamut.
The default factory calibration is mediocre, a grayscale DeltaE >3 average is slightly higher but narrows the gap to DeltaE <1.5 with proper calibration. Color is a bit saturated in default mode, not a big concern in a gaming monitor.
While this monitor comes with superior image quality and viewing angles as expected from a premium IPS panel, the contrast ratio is the frustrating side of this monitor. Only a 750:1 contrast ratio is poor by any matrix. Even the cheapest ViewSonic VX2758-2KP-MHD scores a much higher contrast ratio. LG 27GL850 has black stabilizer technology but doesn't improve the situation any better.
LG 27GL850 supports HDR10 signals with 350nits peak brightness, and it doesn't qualify for entry-level VESA DisplayHDR400 certification. Without FALD, HDR gaming performance is far away.
The monitor comes with a 144Hz refresh rate with Adaptive Sync support. Even though this monitor has a G-SYNC sticker on the front, it doesn't contain any dedicated G-SYNC hardware and doesn't provide premium G-SYNC benefits. Technically it is an adaptive sync display that works fine on both Nvidia and AMD graphics cards. AMD graphics card detects this monitor as a Free-SYNC monitor while Nvidia detects it as Adaptive Sync.
LG blows the whistle by announcing UltraGear 27GL850 as the first 1MS IPS gaming monitor, technically this monitor can achieve the advertised 1MS response time but only in a lower refresh rate with the fastest overdrive mode which occurs at an unacceptable overshooting margin. The overall grey to grey response time in full 144Hz refresh rate is close to 4.08MS makes it the fastest IPS panel available on the market. Low Input lag is one of the main perspectives of gaming monitors, and LG 27GL850 shines with industry best 4.21ms input lag with combined total latency lower than 8.7ms. Many 240hz TN panels can't hit such a low input lag.
Despite a few drawbacks, LG UltraGear 27GL850 is the best performing 1440P gaming monitor available in the market. With brilliant image quality and excellent gaming performance, this monitor is one of the best-selling gaming monitors.
ViewSonic VX2758-2KP-MHD
ViewSonic is a well-known display manufacturer for a decade and produces some awesome gaming monitors with an excellent price-performance ratio. We picked ViewSonic VX2758-2KP-MHD for the best budget 1440P 144hz IPS gaming monitor. However, the naming convention looks terrible, I don't know why ViewSonic chose such a horrible name for this excellent monitor. ViewSonic VX2758-2KP-MHD packed an IPS (In Panel Switching) panel with a 144hz high refresh rate. Considering given features and performance, VX2758-2KP-MHD is ahead in our 144Hz IPS gaming monitor list.
Design and Build Quality: ViewSonic VX2758-2KP-MHD comes with a thin bezel virtually borderless design, which is ideal for a multi-monitor setup. The plastic-made body looks elegant on the desk, though the manufacturer doesn't bother with any RGB lighting to minimize the overall cost.
ViewSonic goes with a simple design approach for this mid-range monitor as the stand is very basic and supports tilt-only adjustment. There is no height, swivel, and pivot adjustment, but thankfully it does have a 100X100 VESA mount hole in case you need further adjustments with the VESA arm.
For the OSD setting, it uses a set of buttons on the back, which is a bit difficult to adjust as there is no joystick for quick navigation. However, as you don't need to change frequently, you can enjoy a rich gaming experience with this IPS monitor after tuning the OSD setting the first time.
The monitor does contain a pair of speakers and delivers poor sound quality as expected from 2W laptop-grade speakers, but useful for emergencies. The VX2758-2KP-MHD covers a set of HDMI ports (1X HDMI 1.4 and 1XHDMI2.0) along with a standard DisplayPort 1.2 and 1x 3.5mm audio jack.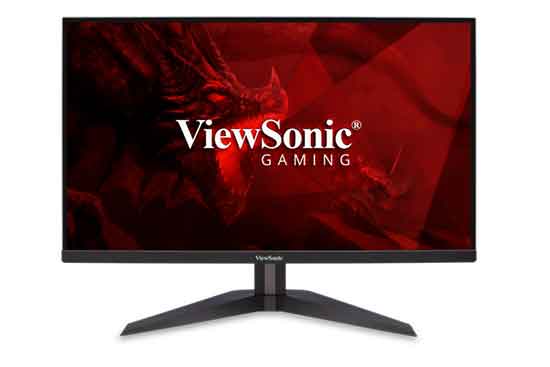 Image Quality and Performance: Due to the nature of the IPS panel ViewSonic VX2758-2KP-MHD delivers very high quality and color-rich images. The monitor supports 100%sRGB and 96% of the DCI-P3 wide color gamut – a brilliant result from a gaming monitor that meets the demand for any color-sensitive work.
But the VX2758-2KP-MHD doesn't support HDR processing even though there is a 10bit(8Bit+FRC) processor. With 360nits of peak brightness, the monitor could be an entry-level DisplayHDR 400 monitor. However, without a local dimming backlight, HDR gaming performance is questionable, and ViewSonic decides to leave HDR processing entirely.
Viewing angles are pretty good for the IPS panel and color doesn't wash out much from different viewing angles. The monitor features a 1071:1 contrast ratio against the official 1000:1 mark, a decent result for the IPS screen, but not comparable to the VA monitor.
As far as gaming is concerned, the VX2758-2KP-MHD provides excellent motion with superb gaming performance. While the build quality is a bit lackluster, Image quality and gaming performance exceed all expectations and obtained first place on our best 1440P IPS gaming monitors list. Even If you're not a hardcore gamer but still want a decent monitor for professional work with some gaming headroom, VX2758-2KP-MHD is simply the best choice.
The VX2758-2KP-MHD rocks a 144Hz refresh rate, a blazing fast response rate from an IPS panel. A few years ago, such a high refresh rate was only possible with TN panels which compromise color accuracy as well as viewing angles. The monitor supports AMD Radeon FREESYNC technology to elements choppy gameplay and delivers artifact-free gaming at any given frame rate.
ViewSonic mentions an ultra-fast 1ms response time on the specification. Considering that 1ms result with a grain of salt, this monitor achieves a fast 4.63ms average grey-to-grey response time with fast overdrive mode and maintains minimal overshooting. Input lag is also very low, in native 144hz refresh rate input lag is just 4.1ms, when connected to console at 60Hz input lag doesn't exceed over 9ms. Overall, the VX2758-2KP-MHD is an excellent IPS monitor for a budget 1440P gaming monitor.
AOC CQ27G2
While a decent 1080P 144hz costs around $200, AOC strikes hard with budget-oriented CQ27G2. The monitor is the cheapest 1440P 144Hz gaming monitor in the market. AMD FreeSync Premium and 144Hz panel delivers immersive performance at an attractive price point. If you're on a tight budget but looking for a decent 1440P 144Hz gaming monitor, the CQ27G2 is the right monitor for you.

Design and Build Quality: This budget monitor comes with an elegant design and decent build quality. The design is minimal and clean, looks good enough to compete with a premium gaming monitor. On a metal base stand, this curved monitor lets you enjoy wide viewing angles. The stand ergonomics is excellent, supports height, tilt, and swivel adjustment but lacks a pivot option like other curved monitors. It comes with a 100x100mm VESA mount to expand the adjustability. There is no crazy RGB lighting, honestly, it doesn't add any value to gaming rather than increasing the price.
The CQ27G2 has no built-in speakers and also sacrifices the USB port, AOC tries to minimize the overall unit cost by limiting add-on features which is a good initiative. The power circuit is included in the body so no additional power brick. The OSD is a bit difficult to adjust as it uses buttons instead of the joystick. To reduce cost AOC goes with minimal I/O connectivity. The monitor comes with 1xDisplayPort 1.2, 2xHDMI2.0, and a 3.5mm audio connection.
Image Quality and Performance: AOC CQ27G2 is equipped with a curved VA panel that produces a deep black level and excellent color as well. Technically this monitor supports 16.7m color through 8bit processing. The color regeneration capability and viewing angles are better than any TN panel but fall short when compared to the average IPS monitor. This monitor supports full sRGB and about 90% DCI-P3 color spectrum. There is no HDR functionality on this model as the brightness is only 250 cd/m².
CQ27G2 comes with decent factory-calibrated color accuracy, default GreyScale DeltaE average of 2.26, and sRGB color saturation is about DeltaE 2.83 on the intensive color checker tools. With proper calibration, the average DeltaE goes down less than 1, which is extraordinary from a gaming monitor. With an average DeltaE 0.52 in the DCI-P3 mode, color accuracy is also good.
The CQ27G2 is not a bright monitor, 218nits of peak brightness is found on the test, though AOC claimed about 250nit. Unless you're in a very bright room, this should not be a big problem. The contrast ratio is a deal-breaker, this monitor comes with a 3600:1 contrast ratio out of the box. Text clarity is not as sharp as the IPS panel because the VA panel uses a different subpixel method to render text. But the gap is so minimal. Without a properly trained eye, the difference remains unnoticeable.
AOC CQ27G2 sports a 144hz panel and supports AMD Radeon FreeSync Premium in the 30-144hz frequency range. As an Adaptive-Sync monitor, it is usable with an Nvidia graphics card, though this unit is not officially G-SYNC certified. However, some minor screen flickering is noticeable with Nvidia cards in very demanding gaming titles.
There is a technical difference between MPRT and G2G response time. The MPRT stands for picture appearance time, G2G refers to the transition between two colors. AOC listed CQ27G2 as a 1ms MPRT monitor, though the average grey-to-grey response time is 7.26ms, which is not bad for a VA panel. The fastest input lag was recorded at 4.94ms, where the worst is 12.20ms. Considering the price vs performance ratio, AOC CQ27G2 is the best budget 1440P 144Hz monitor you can count on.
ASUS TUF Gaming VG27AQ
Asus VG27AQ is a native 144Hz 1440P IPS gaming monitor, but overclockable to a 165Hz refresh rate. It is a serious upgrade from the dedicated G-SYNC ROG Swift PG279Q. Asus ROG lineup is expensive, but the TUF series is much more budget-friendly and does have excellent gaming features. Many websites list this unit as a 155hz monitor as it was the first announcement, the final specifications go with a 165hz refresh rate.
So why get this monitor over LG 27GL850? Well, it is the first monitor with ELMB backlight strobing features that runs simultaneously with Adaptive Sync. It can beat LG 27GL850 in few performance matrices and deliver excellent motions in gaming. The big selling point for this monitor is ELMB Sync technology, which is absent in LG 27GL850.
Design and Build Quality: Asus TUF VG27AQ is a bold and straightforward monitor. Asus didn't include any crazy RGB or gaming aesthetics on this unit. The entire monitor including the stand is plastic-made, as a result, it doesn't look premium as the Strix series.
The bezels are thin about 1cm, and it is ideal for any multi-display setup. The stand delivers excellent adjustability, though it looks a bit ugly. It provides height, tilt, swivel, and pivot adjustment. The height adjustment is noticeable as it almost touches the desk in the lower position. The monitor can rotate 90° and allows portrait orientation. The stand design is typical plastic made, but it provides excellent ergonomics. Moreover, The monitor is 100x100mm VESA compatible.
This monitor comes with 2x 2W Stereo speakers and produces poor quality sound as expected. OSD is pretty decent and managed by a directional toggle along with four quick-access buttons. The overall design and build quality are average, but not as premium as the ROG lineup. For connectivity, The VG27AQ includes 1x DisplayPort 1.2, 2x HDCP compliant HDMI 2.0, and a 3.5mm Audio Input.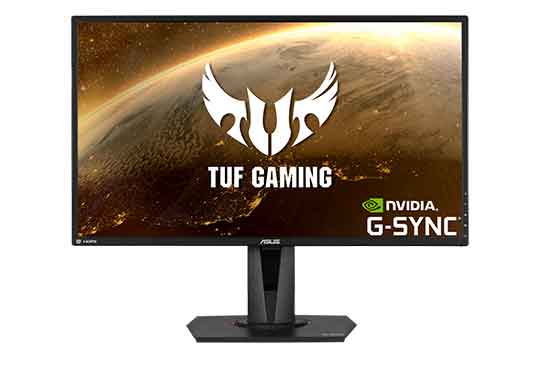 Image Quality and Performance: Asus VG27AQ delivers sharp details and crystal clear visual imagery expected from a WQHD IPS panel. The monitor uses an 8bit panel that produces 16.7m colors. Asus advertises this monitor as an HDR-supported display, the real HDR gaming experience is far away as it lacks local dimming and even doesn't have minimum brightness to pass entry-level VESA DisplayHDR 400 certification.
This monitor doesn't have DCI-P3 color mode and covers 99% of the sRGB color spectrum. Without a wide color gamut and local dimming, HDR support is fake as many others. Wide color gamut supported monitors have oversaturation in sRGB content, only sRGB mode is a blessing as most of the professional applications are sRGB.
The default factory calibration is not fancy as the Greyscale DeltaE average is 4.88, which means you can't use this monitor for professional use at default settings. The saturation DeltaE result is 3.63, and the sRGB ColorChecker test shows a similar story of DeltaE 3.83. After a few adjustments in the OSD, the calibration result becomes acceptable where the Greyscale DeltaE average stands at 2.29 with a saturation result of 2.03 and DeltaE 2.3 in the ColorChecker test.
If you're planning to use this monitor for professional use, this IPS panel can deliver extraordinary color accuracy after proper hardware calibration. The test unit shows a brilliant result of GreyScale DeltaE < 0.46, Saturation <0.31, and ColorChecker <0.54. The viewing angles are excellent and ensure minimal distortion and color shift from extreme positions. TUF VG27AQ provides an excellent contrast ratio for the IPS panel. With a 1248:1 contrast ratio, it beats LG 27GL850 by a large margin. Brightness is good enough for a gaming IPS monitor, recorded at 330nits in regular SDR content, and 357 nits in HDR mode.
The VG27AQ promises quite a lot with this 165hz panel, which supports a variable refresh rate with low framerate compensation. Asus made this monitor according to VESA's adaptive sync specifications. It works on Nvidia and AMD GPU without any issue. Nvidia officially noted this unit as a G-SYNC compatible monitor. VG27AQ runs ELMB sync and adaptive sync at the same time, which reduces motion blur in a significant amount and delivers butter-smooth gameplay.
The 1ms MPRT sure looks good on paper, but mostly a marketing term, a lot of people get confused by MPRT and G2G response time. However, the average G2G response time is 5.35ms, which is fast enough for IPS but beaten by the LG 27GL850 in a small margin. Input processing time is less than a half millisecond with an average input lag of 3.35ms, total latency remains under 8.7ms. Finally, Asus VG27AQ is an excellent gaming monitor in terms of image quality and overall visual experience.
AOC AGON AG322QC4
Not everyone has enough money to burn for a 1440P high-end IPS gaming monitor, VA panels come with an affordable price range to rescue budget seekers. While the IPS panel has better color reproduction capability and fast response time, VA panels shine with a higher contrast ratio. Most VA monitors have an average slow response time but improved significantly in recent years.
Except for some ultra-premium 4K monitors, the rest of the 1440P 144Hz IPS monitors available on the market have a 27-inch diagonal size, but if you want a larger 32-inch 144Hz monitor, the VA panel is the best option. We picked budget-friendly Aoc Agon AG322QC4 as the best curved 32-inch 1440P 144hz monitor. The monitor is a 1800R curvature display, which is perfect for a large 32-inch size. Key features include Radeon Freesync Premium, VESA DisplayHDR 400 certification, and Blue light filter.
If you are looking for a 32-inch curved VA gaming monitor and don't care too much about professional color accuracy, AOC AGON AG322QC4 is a great deal to consider.
Design and Build Quality: The AOC AG322QC4 is a large display of a measured size of 31.5 inches, a great screen size for games and movies. Overall build quality is pretty solid and does have gaming aesthetics with LED lighting in four different zones. The LED has three colors -Red Green Blue, but it lights only one color at a time. However, you can disable it via OSD.
This unit is bulky, and the metal base stand holds the screen very well on the desk. The stand ergonomics is very excellent, support height, tilt, and swivel adjustment in a good range of motion. As for a curved display, it has no option for portrait orientation usually. Thankfully the monitor uses a single joystick for OSD navigation, which simplifies the OSD management. The OSD menu is clean and simple enough to fast access and tuned up the setting as necessary.
The AG322QC4 comes with two 5W speakers that provide decent sound. The monitor has a headphone stand on the top-right side. In terms of design and build quality, AOC AG322QC4 is simply brilliant. I didn't expect an old-fashioned VGA connection from a 1440P gaming monitor, surprisingly AOC included one in the AG322QC4. The monitor included a vast array of ports and connectivity with 1X VGA, 2X DisplayPort1.2, 2X HDMI 2.0, Headphone out, Microphone jack, and a USB hub.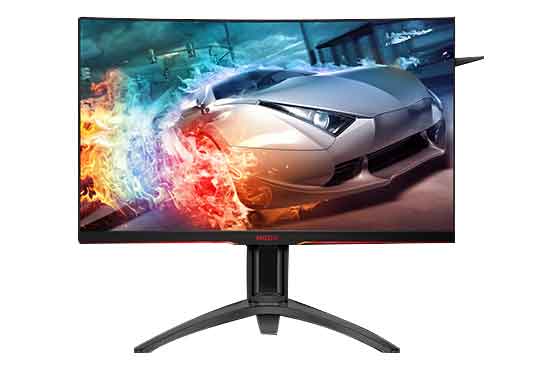 Image Quality and Performance: VA panel stands in between IPS and TN monitors in terms of color reproduction capability. The AOC AG322QC4 covers about 85% DCI-P3 color space and supports 10-bit HDR processing. The picture quality is brilliant for gaming as it comes with default DCI-P3 mode, produces a bit saturated color but adds a bit more pinch in gaming.
The out of the box color accuracy is not great for professional use for default Grayscale DeltaE > 5.0, switching to sRGB does not improve the overall situation any better. The color accuracy improves significantly after manual calibration, the monitor generates pretty accurate DeltaE < 1.08, but locks 200nits maximum brightness in sRGB mode.
AOC should unlock the brightness adjustment in sRGB mode. Decent color accuracy is achievable after proper calibration, but not recommended for professional work due to uniformity issues found in most curved panels. Viewing angles are good as expected. The contrast ratio is one of the bright sides of this monitor, rocks 2277:1 contrast ratio on default mode, the calibrated contrast ratio is over the 2500:1 mark.
The monitor comes with the VESA DisplayHDR400 certification mentioned earlier, with 400nits peak brightness on paper, this monitor achieves 379nits of peak brightness in HDR mode. HDR content looks much better than regular SDR monitors while testing Youtube HDR video. Color is a bit washed out in some games.
The AGON AG322QC4 sports a high 144Hz refresh rate and provides excellent motion in FPS games. AMD FreeSync Premium in the 30Hz-144Hz frequency range delivers smooth gameplay. The monitor is usable with GTX 10 series or later graphics cards, and the Nvidia GPU detects an Adaptive-Sync display.
AOC mentioned a fast 4Ms response time on the paper, which is the best-case scenario. With the medium overdrive setting, the average response time is 7ms, and respectively 6ms in fast overdrive mode- a brilliant result for a VA monitor. Input lag is the downside for any VA panel, AG322QC4 hits 10ms input lag, while the overall combined latency exceeds 16.7ms.
LG 32GK650F
We picked AOC AG32QC4 as the best 32-inch VA monitor, but AG32QC4 is a curved monitor, and there are a lot of people who simply hates curved panel, if you are one of them and looking for a flat 32-inch 1440P 144hz gaming monitor, LG 32GK650F could be an excellent choice. LG 32GK650F features 2560×1440 resolution at a 144Hz refresh rate.
Design and Build Quality: The 32GK650F follows LG's traditional Ultragear design pattern, the design aspect is minimal and slim. A simple V-shaped stand delivers flexible adjustability with height, tilt, swivel, and pivot motion. The monitor can rotate 90° clockwise to align vertically. The overall body is mostly plastic. A single directional joystick made OSD navigation simple and easy to use, where you don't have to struggle with multiple buttons found in the most budget-oriented gaming monitor. Unlike some other gaming monitors, this model doesn't have any RGB on it, but it provides an external power brick.
The monitor doesn't include any USB HUB or USB-C port, just a DisplayPort 1.2 and HDMI 2.0 port available for display connectivity. A 3.5mm headphone jack is present for audio output, as this unit has no built-in speakers.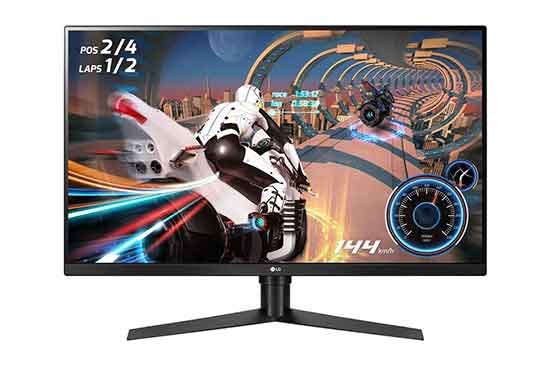 Image Quality and Performance: The viewable screen size is 31.5-inch, featuring a 2560×1440 pixels resolution at a standard 16:9 ratio. As a flat monitor, this unit is excellent for watching movies and other entertainment use. Overall picture quality is crisp, sharp, and vivid as expected from this high contrast monitor. Viewing angles are decent in both horizontal and vertical angles.
LG 32GK650F doesn't support a wide color gamut as there is no HDR processing available. As a full sRGB compliance panel, this unit has some benefits for SDR content as there is no oversaturation found on DCI-P3 color-supported monitors.
The default grayscale DeltaE is about 5.05 with an incorrect white point. A cold blue tint is noticeable in the sRGB ColorChecker test. After OSD tweaking, decreasing the brightness by around 200nits fixes the incorrect white point, and improves the greyscale DeltaE average to 1.68 along with a reduced ColorChecker and saturation result. With proper hardware calibration, the GreyScale DeltaE average is only 0.83, which meets the professional-grade color accuracy demands.
LG claims about a 3000:1 contrast ratio, but a 2470:1 contrast ratio is tested, not a magnificent result as some entry-level VA panels have a 3000:1 contrast ratio. As there is no HDR support, peak brightness is low compared to the AOC AG322QC4, a 320nits peak brightness is tested, where the official specification claims 350nits peak brightness.
LG 32GK650F rocks a maximum 144hz refresh rate. AMD FreeSync with the low frame rate compensation provides a smooth and tear-free gaming experience. The monitor is not officially G-Sync certified, but it works fine as an adaptive-sync display. If you are the owner of an Nvidia 10 series or later graphics card, you can buy this monitor without worrying. As FreeSync is AMD's Proprietary tech, and it works on AMD cards without any fuss.
The monitor officially leveled as a 5ms response time display. In a fast overdrive setting, response time is close to 6.50ms with an acceptable overshooting error margin. The average response time is 7.8ms using the medium overdrive setting. It is one of the fastest VA panels available in the market. Input lag is quite excellent as the lowest input lag is 3.3ms, where the total latency stays below less than 10ms. In terms of response time and input lag, LG 32GK650F is the winner in a head-to-head comparison with AOC AG322QC4.
LG 34GK950F-B
Ultrawide offers great flexibility in timeline-based editing applications and alternatives to a multi-monitor setup. It also provides a splendid gaming experience, which increases ultrawide gaming monitor demand. If you're looking for a 1440P ultrawide monitor to boost your productivity but also need superb gaming performance at the same time, LG 34GK950F-B is a great monitor to buy.
This 21:9 monitor has a 1900R curve radius. The monitor features AMD FreeSync 2, and VESA DisplayHDR 400 certification. There is another model from LG with dedicated G-SYNC but locked at a 120Hz refresh rate. LG 34GK950F-B offers a full set of gaming features that includes the Dynamic Action Sync, Black Stabilizer, and CrossHair technology.
There are some other high-end ultrawide monitors like Acer Predator X35 available on the market with a higher refresh rate and better HDR implementation, but those high-end monitors are too expensive.
Design and Build Quality: The overall design is very slim and elegant as this monitor has very thin bezels. The matte-finished plastic body is clean, there is no fancy RGB lighting on this model, which we kind of appreciate. The G-SYNC model has LED sphere lighting and costs more. If you can't live without RGB, consider the G-SYNC model.
The stand provides excellent ergonomics, which includes tilt, height, and swivel adjustment. The monitor is VESA 100x100mm mountable to increase the adjustability option. The OSD menu is excellent and quickly accessible as the monitor uses a single 5-way joystick for navigation. There are several premade presets in the OSD, including FPS, RTS, Vivid, and Reader mode, with two customizable options.
LG doesn't include any built-in speakers on this unit. The connectivity options are 1x DisplayPort 1.2, 2x HDMI port, 1X Audio Output, and a USB Hub.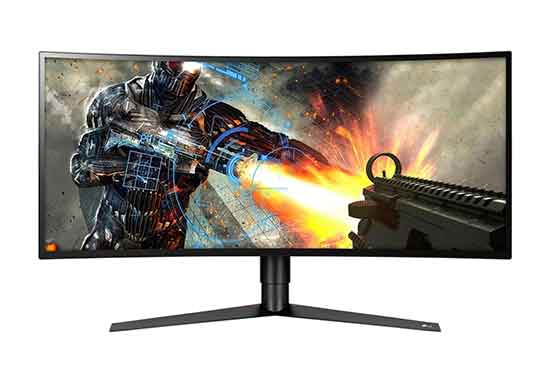 Image Quality and Performance: The 34GK950F-B offers a 3440X1440 pixel resolution and the 34″ inch screen size provides a wider viewable area compared to the regular 16:9 monitor. LG's Nano IPS panel supports a wide color gamut and delivers crystal clear images.
The monitor technically supports 10-bit (8bit+FRC panel) color that generates 1.07b colors. The 34GK950F-B supports a full sRGB spectrum and covers about 96% DCI-PC, though LG claims about 98% of DCI-P3. Similar to other wide gamut monitors, this unit also ships with unclamped color, which generates a bit of oversaturation.
The default factory calibration result is good but not perfect. We consider the sRGB option first as most professional color-managed apps like photoshop use it. In the default unclamped mode, the sRGB grayscale DeltaE average is 2.43 along with saturation and ColorChecker DeltaE < 3.50. The DCI-P3 color accuracy is impressive for grayscale and color checker test results are DeltaE 1.78 and respectively 1.68. The monitor comes with a clamped sRGB mode, but the individual RGB color temperature remains locked.
After adjusting with proper hardware calibration, the grayscale DeltaE remains less than 1.0 and provides professional-grade accuracy. However, color accuracy is not a big deal for gaming, but if you plan to use this monitor for professional use, it surely does a great matter.
Viewing angles are good, and the IPS glow is minimal. The contrast ratio is close to 815:1, which is not bad, but nothing crazy to match the VA panel's figure. With this contrast ratio, gaming in the very dark room is a little bit frustrating as deep black tends to appear gray in dark scenes.
The overall brightness is decent for 360nits peak brightness in SDR content and 410nits in HDR mode. Though LG marketed this monitor with VESA DisplayHDR 400 certified, HDR gaming performance is lackluster. But if you don't care about HDR too much, this is a superb ultrawide gaming monitor that can be used for productivity as well.
The 144Hz panel supports AMD FreeSync 2 in the 48-144Hz range with low framerate compensation. This variable refresh rate monitor works smoothly in both AMD and Nvidia GPU hardware.
LG 34GK950F-B comes with 1ms motion blur reduction features, which brings excellent performance in FPS games. The standard G2G response time is 5ms on paper, but the average response time is close to 6.6ms with fast overdrive mode. Fast overdrive mode introduces some inverse ghosting, but the result is acceptable. Make sure to upgrade the firmware if you purchased this unit, the latest firmware fixes the input lag issue on this monitor. With updated firmware input lag is only 2.8ms, where overall latency is 8.5ms combined with the refresh rate compliance.
MSI Optix-MPG341CQR
Ultrawide monitors are gaining popularity in the gamer community. But only a few ultrawide monitors have a 144hz refresh rate, while the rest is limited to 100-120hz. MSI introduces its Optix-MPG341CQR to take advantage of the growing ultrawide gaming monitor market. It has similar specifications to LG 34GK950F-B, but MSI uses a VA panel instead of IPS. This monitor is cheaper than the comparable LG 34GK3950F-B.
The Optix-MPG341CQR is a 1800R curved display, featuring a UWQHD 3440X1440P resolution that allows more details on games. The monitor comes with a 144hz refresh rate equipped with AMD FreeSync 2.
Design and Build Quality: The Optix lineup is a gaming-oriented series, and MPG341CQR is no exception, comes with RGB in two distinct zones, one on the rear another one placed on the bottom part of the monitor. The RGB lighting is customizable via MSI Mystic Light software. If you're not a loyal fan of RGB like me, you can disable it anyway.
This monitor has a built-in 720P webcam on the front side, which should be enough for normal video chatting. Additionally, it also has a camera cradle that can slide across the top, if you're not satisfied with the built-in webcam. This is a convenient feature to hook up a camera or high-quality webcam. The OSD is managed by a simple joystick that is easy to use, you can also use the MSI Gaming OSD App in Windows to adjust the settings.
The stand provides tilt, swivel, and height adjustment and the overall build quality is excellent. MSI manages a good finish on this monitor, the monitor is made of premium materials.
This monitor features a 1X USB TYPE-C port with 5V/3A charging, 1X DisplayPort, 2X HDMI for display connectivity. It has 3X USB3.1 Gen1 ports and one of them is capable of 18W fast charging. Additional connectivity options are standard 3.5mm earphones out, 1X microphone in along a PC to monitor audio combo jack.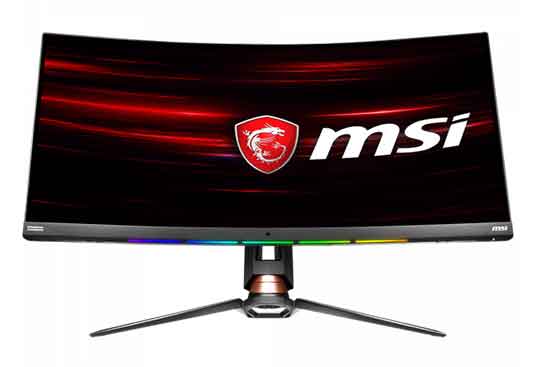 Image Quality and Performance: The Optix-MPG341CQR provides vivid imagery due to the 34-inch panel. Built with a10bit(8bit+FRC) panel, the monitor produces 1.07b colors, delivers vibrant and lifelike colors. The monitor supports a full sRGB spectrum and 84% DCI-P3 color space.
The Optix-MPG341CQR comes with excellent factory-calibrated color accuracy for the sRGB GreyScale DeltaE <1.77 without tweaking the OSD settings. The default Saturation DeltaE is < 2.35 and the ColorChecker DeltaE < 2.037. This is a great result when compared to the counterpart LG model. Some OSD tweaking improves the calibration result marginally, and hardware calibration pushes the color accuracy to a perfect calibrated display.
This monitor features a 2082:1 contrast ratio, which is fair enough as the counterpart LG model is stuck at a 900:1 contrast ratio. Uniformity is a common issue for curved displays and Optix-MPG341CQR has a mid-core uniformity result. As a curved panel, it allows a comfortable viewing angle, and no major issue was found on the test.
The Optix-MPG341CQR rocks 395 nits peak brightness in HDR mode, the monitor is VESA DisplayHDR 400 certificated. Overall, HDR gaming performance is relatively better than normal SDR games. MSI Optix-MPG341CQR rocks the same 144hz refresh rate panel as LG 34GK950F-B and provides immersive gameplay in fast-moving games. This is an Adaptive-Sync display and works on both AMD and Nvidia cards without any issue.
Surprisingly this VA panel has a better response time when compared to its counterpart LG model. While the LG model has an average 6.6ms G2G response time, the Optix-MPG341CQR manages to achieve a 4.57ms with fast overdrive setting. Input lag is also very low as the lowest input lag is just 3.5ms with a combined total latency of 8.1ms. In terms of image quality and color accuracy performance, MSI Optix-MPG341CQR is an excellent monitor.
Final Verdict
This guide covers a wide range of the 1440P 144hz monitors available in the market. We have gone through direct head-to-head comparisons, so you can easily figure out which monitor fulfills your requirements. The manufacturer's specifications are always sweet, without proper research, the after-purchase experience may turn sour. We gathered practical performance data and made an unbiased review for each unit.
Modern IPS and VA panels are fast enough to match TN-level gaming performance with better viewing angles and color reproduction capability. This is why we didn't select any TN panel in our best 1440P 144hz monitor list. However, some 1080P TN panel still dominates the eSports gaming due to fast response time and up to 240hz refresh rate. If you're an eSports gamer, check our best eSports monitors review. Hopefully, this guide will help you to choose the right gaming monitor.